Quick — name a leading lady who boasts both a string of box office hits and long red locks? Chances are you just came up with Bryce Dallas Howard or Jessica Chastain.
But which one? That's the tricky part.
While their names are very different, their faces and fame are similar enough to trip up faithful fans.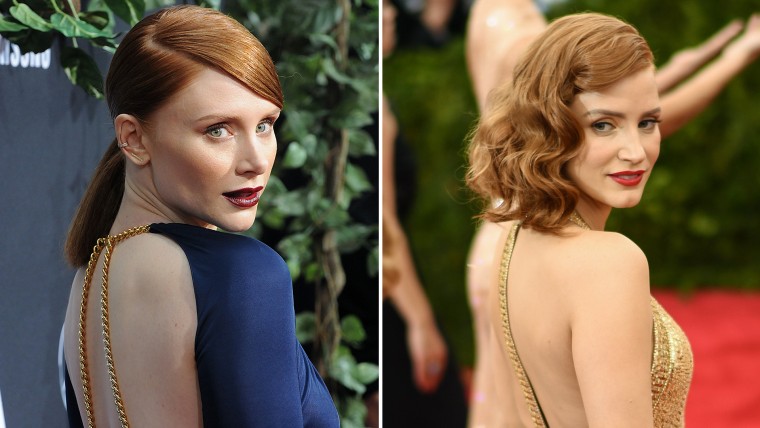 So, to clear things up — or quite possibly just add to the confusion — Howard, star of the highly anticipated "Jurassic World," created a clip in which she lip-syncs along to a song all about the mix-up. And Chastain, star of the also highly anticipated "The Martian," shared the video on Instagram.
"I am not Jessica Chastain!" Howard can be seen mock singing.
The lyrics come from Jon and Al Kaplan, the creators of the oh-so-apt "Jessica Chastain: The Musical."
This isn't the first time the actresses, who both starred in 2011's "The Help," have demonstrated their good humor about the common blunder. Just last month, Chastain tweeted a photo that summed up the situation perfectly.
Got it? Good!
Now if we can just clear up the anchor mix-up on TODAY, or as Natalie Morales summed it up in song Wednesday: "I am not Savannah Guthrie!"
Follow Ree Hines on Google+.