Bryan Cranston is winning awards and blowing audiences away with his performance in a stage adaptation of "Network" these days.
But until recently, he was also winning awards and blowing audiences away as the regular-guy-gone-drug dealer Walter White in "Breaking Bad." Which, as you may recall (spoiler alert) ended in 2013 with White dead.
Still, that hasn't stopped the show's creator Vince Gilligan from forging forward with the critically-acclaimed prequel "Better Call Saul," which focuses on one of "Bad's" supporting characters. And as we recently learned, AMC has greenlit a "Breaking Bad" movie ... though details are sketchy.
What we do know is this: Cranston is all up for returning, if a way can be found. As he told TODAY on Tuesday, "I'd love to do a 'Breaking Bad' movie!"
Still, he isn't quite sure how that would work. "Are they going to show me on a slab or something?" he mused. "I've never seen a script."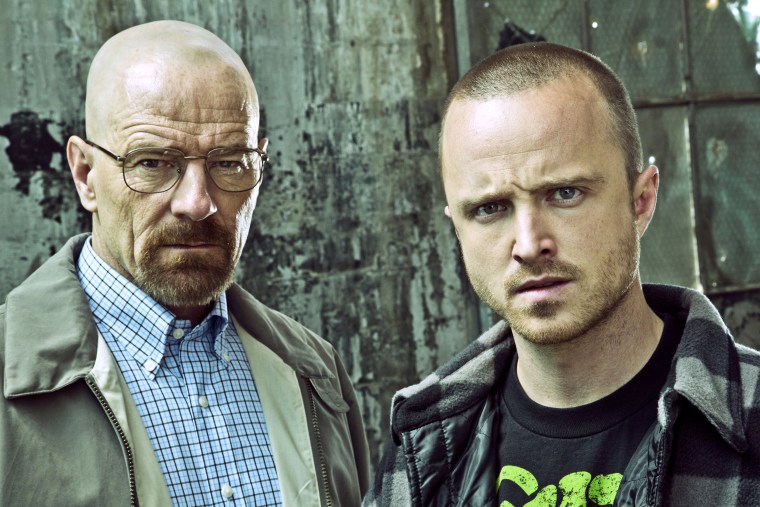 The Albuquerque Journal says the film, with a working title of "Greenbriar," "tracks the escape of a kidnapped man and his quest for freedom." And as The Wrap noted, Gilligan suggested years ago that he'd be interested in telling the story of Jesse Pinkman (Aaron Paul), who played White's sidekick and appeared to escape the final carnage after his boss died.
That doesn't really leave a lot of room for Cranston or White, unless they decide to do some flashbacks.
"There's a lot of hyperbole swirling around that whole thing," Cranston said.
Anyway, as he added, with shooting set to start in November, it probably wouldn't work with his schedule. "I'm doing Broadway now, and that's going to go until March," he said.
"Network" is currently in previews on Broadway and scheduled to open on Dec. 6.
Still, "Breaking Bad" fans can dream!