Thanks to Bruno Mars, Left Shark and a somewhat-secret Destiny's Child reunion, long gone are the days when marching bands were enough halftime entertainment to maintain the attention of Super Bowl viewers.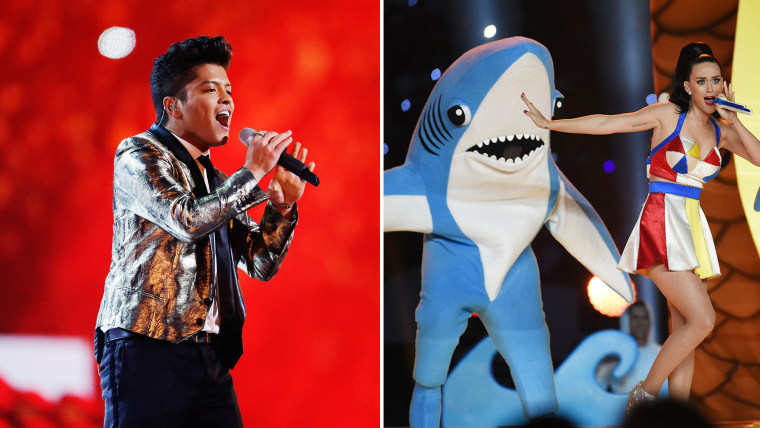 About two hours after Super Bowl 50 kicks off Feb. 7, Coldplay will headline the halftime show, perhaps with a little help from previous collaborators in Rihanna and 2013 headliner Beyoncé. And because the past three decades in particular have yielded some undeniably unforgettable halftime shows, the seven-time Grammy Award winners have some tough acts to follow.
In the meantime, TODAY.com has ranked the 10 most memorable Super Bowl halftime shows from "Oh, yeah, I remember that one!" to "If you don't remember this one, consult a physician immediately." (Keep in mind that "most memorable" and "best" mean two different things.)
10. Bruce Springsteen and the E Street Band (2009)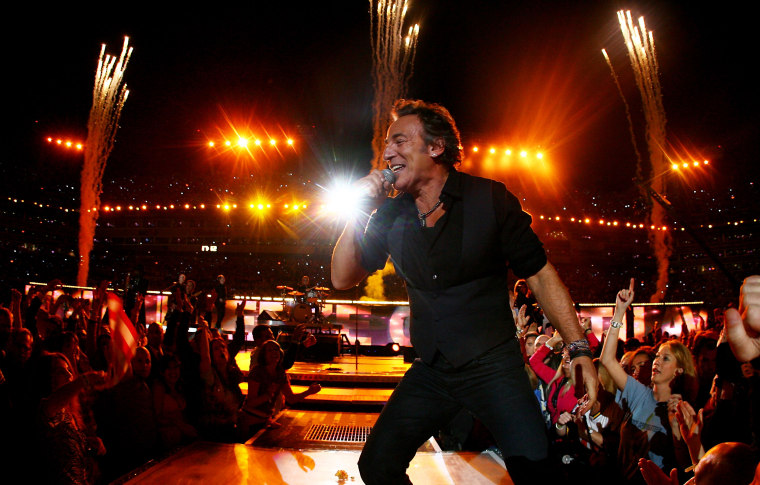 Bruuuuuuce and Co. sneaked onto this list because of the viral moment when Springsteen slid on his knees and accidentally smashed his jean-covered crotch into a TV camera lens. Other than that memorable gaffe, this halftime show falls into the solid-yet-comparably-forgettable category shared by fellow rock icons Paul McCartney (2005), the Rolling Stones (2006), Tom Petty and the Heartbreakers (2008) and the Who (2010).
9. Madonna, Nicki Minaj, M.I.A., LMFAO and CeeLo Green (2012)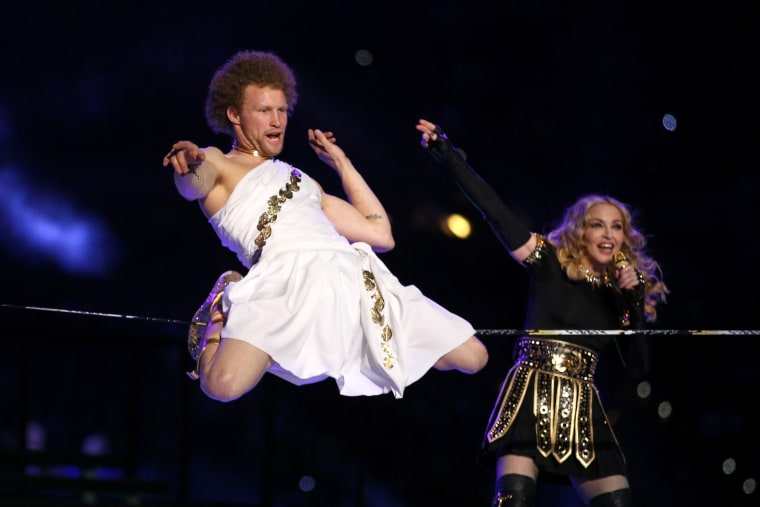 Memorable and Madonna go hand in hand when a live and international audience is involved — especially with an emerging Nicki Minaj in tow — but arguably M.I.A.'s middle-finger flip caused the most commotion. The whole thing yielded an "SNL" sketch lampooning the highs and lows, including Andy Samberg's especially goofy impression of the random tightrope guy, as well as an appearance by "SNL" musical guest Katy Perry, who'd lead her own halftime show three years later.
8. Beyoncé and Destiny's Child (2013)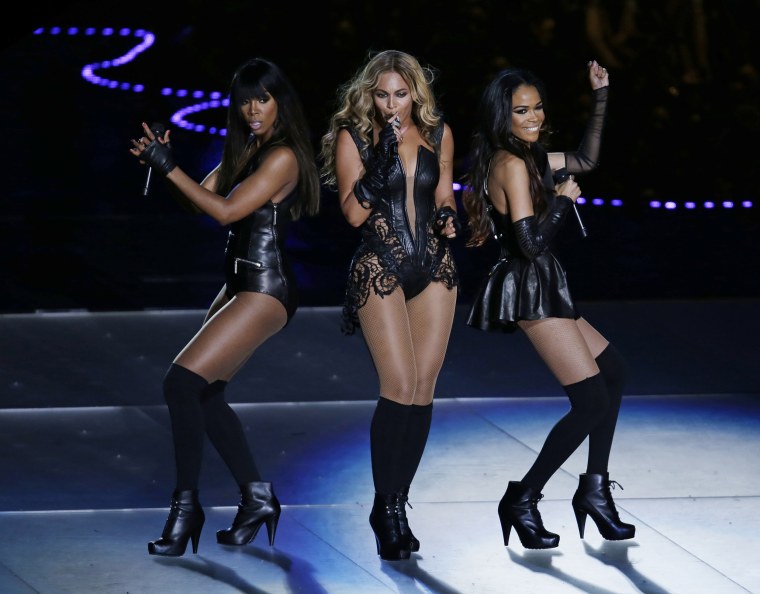 Sure, "Love on Top" and "Baby Boy" sent the Beygency into a Beyoncé frenzy (a Freyonzé, if you will), but when the rumors of a Destiny's Child onstage reunion turned out to be true, Twitter essentially exploded. Teaming up for DC hits "Bootylicious" and "Independent Women," as well as Beyoncé's monster "Single Ladies," the trio lived up to the hype, which, in the social-media age, is almost impossible to do.
7. Aerosmith, 'NSYNC, Britney Spears, Mary J. Blige and Nelly (2001)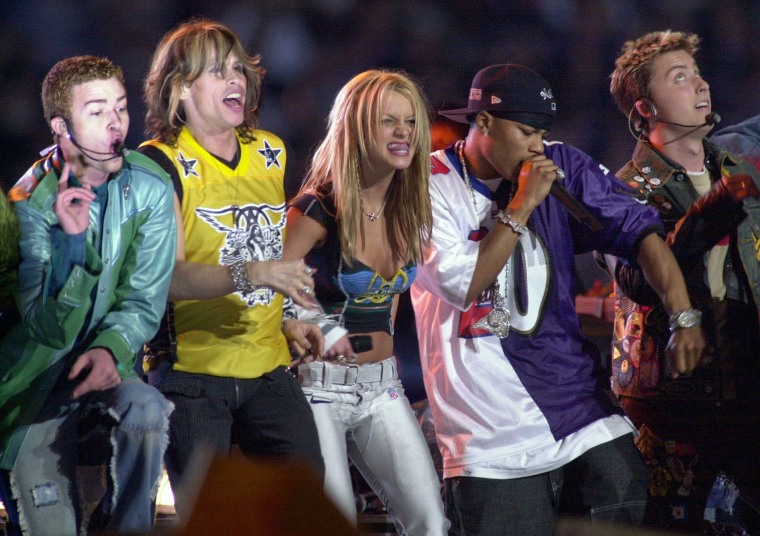 We're not sure what we saw, but we certainly remember seeing it. Ben Stiller's crucial pre-taped introduction/pep talk thing. 'NSYNC's peppy "Bye Bye Bye" awkward segue into Aerosmith's sappy "I Don't Want to Miss a Thing." The athletic-sock-as-bracelet fad that lasted only as long as Britney was onstage. Mary J. Blige and Nelly bringing power vocals and rap skills, respectively, to Aerosmith's "Walk This Way." Loud noises. The only thing missing from this "TRL" all-star spectacular was that MTV show's former host, and current TODAY co-anchor, Carson Daly.
6. Bruno Mars and Red Hot Chili Peppers (2014)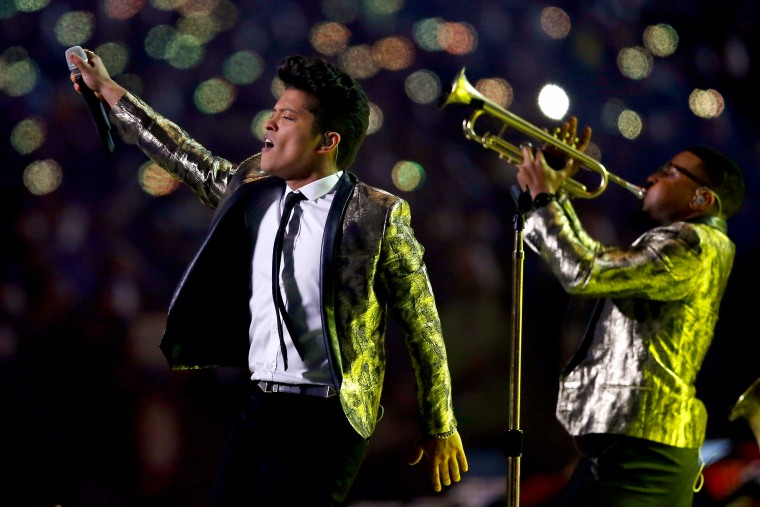 Judging this one by its cliché intro (Dramatic lighting! Kids holding hands and singing in unison!) would be a mistake. With that out of the way, Mars made almost everyone a believer with a soulful and synchronized spectacular that entranced audiences of all ages with the help of catchy tunes, an impeccably dressed horn section and dance moves that would have made James Brown shout with glee. The Chili Peppers were there, too, we guess, but this show was really about the 14-minute trip to Mars.
5. Michael Jackson (1993)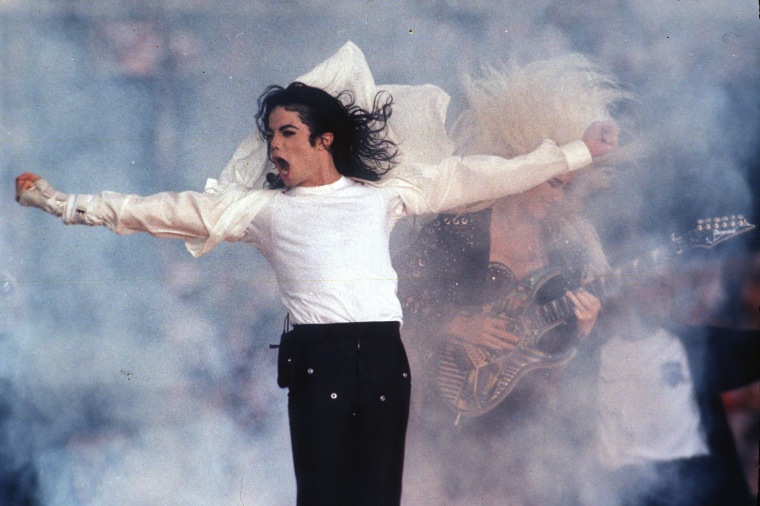 M.J.'s bizarre collection of body-doubles led to a lip-synced amalgam of selected hits and a chorus of more than 3,000 kids. The buildup to this event was staggering, in large part because — with apologies to recurring Super Bowl trumpeter Al Hirt — Super Bowl halftime shows by comparison weren't very memorable before then. Without the King of Pop, this list might be a 49-way tie for least memorable halftime show.
4. Katy Perry, Missy Elliott, Lenny Kravitz — and Left Shark (2015)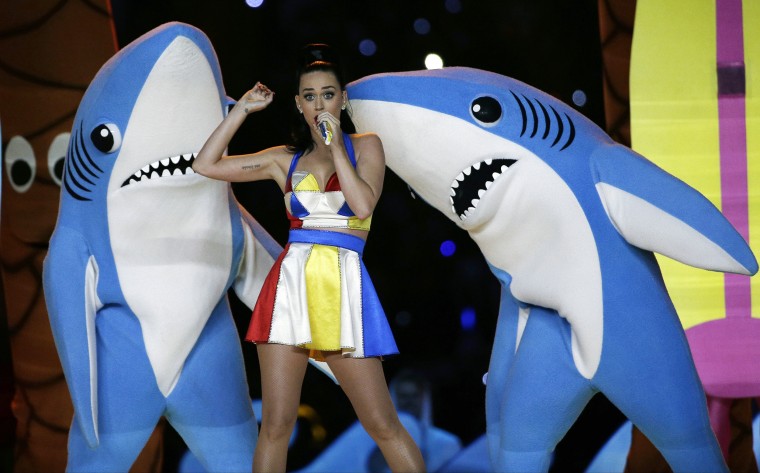 Advertised as headliner Katy Perry with special guest Lenny Kravitz, the performance also introduced a new generation to the genius of Missy Elliott. But the performer who stole the show — and hijacked social media for weeks on end — was the spontaneously named Left Shark, who didn't quite seem to have the dance moves down. Almost lost in the shuffle was Perry, who kept things light and fun while singing her greatest hits, riding a giant mechanical jungle cat and keeping things thoroughly entertaining from beginning to end.
3. Prince (2007)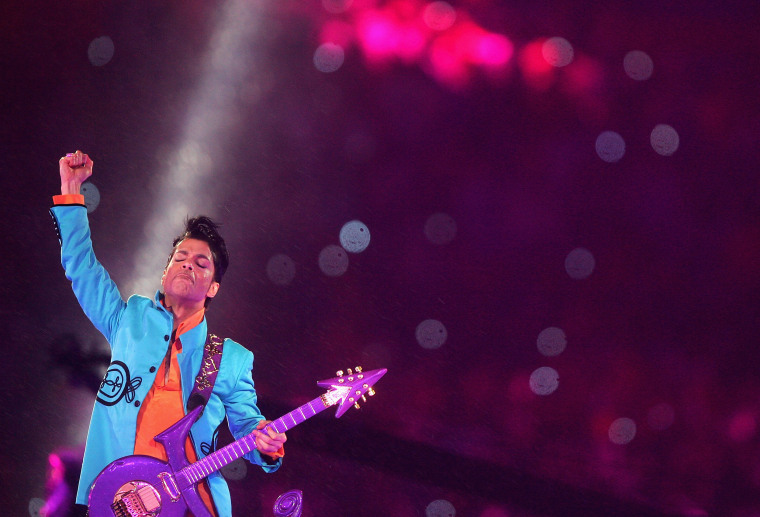 It may not have been the most memorable Super Bowl halftime show, but in this writer's opinion, Prince's gimmick-free exhibition of musical supremacy was the all-time best. Rocking a medley that included "Let's Go Crazy" and "1999," Prince also inhabited captivating covers of "Proud Mary," "All Along the Watchtower," and "Best of You." In the middle of a naturally occurring downpour, he closed with a "Purple Rain" so jaw-dropping, it persuaded rough-and-tumble football fans in the stands to sing along with the coda's soaring falsetto.
2. U2 (2002)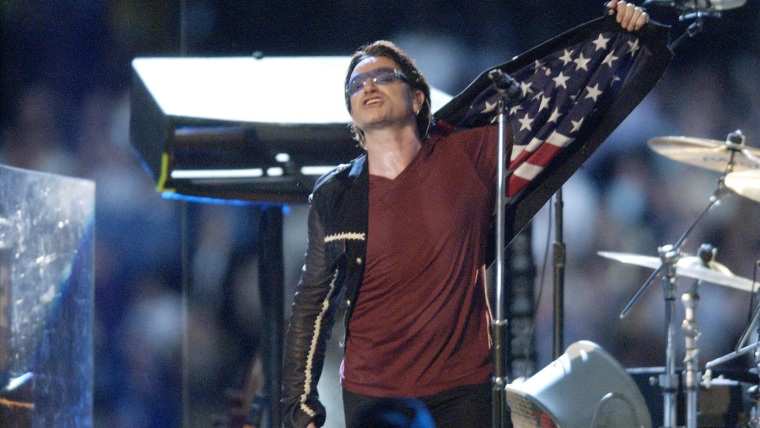 Just months after the terrorist attacks of Sept. 11, 2001, the most emotional Super Bowl performance opened with U2's electrifying rendition of the optimistic "Beautiful Day." Lights dimmed for Bono's reverent take on the song "MLK" while names of 9/11 victims scrolled up the stage backdrop. For the finale of "Where the Streets Have No Name," when Bono shouted, "America!", the crowd responded with a deafening roar, prompting Bono to belt a note that brought goosebumps, and perhaps some catharsis, to viewers still coping with the tragedy aftermath.
1. Janet Jackson, Justin Timberlake, P. Diddy, Kid Rock and Nelly (2004)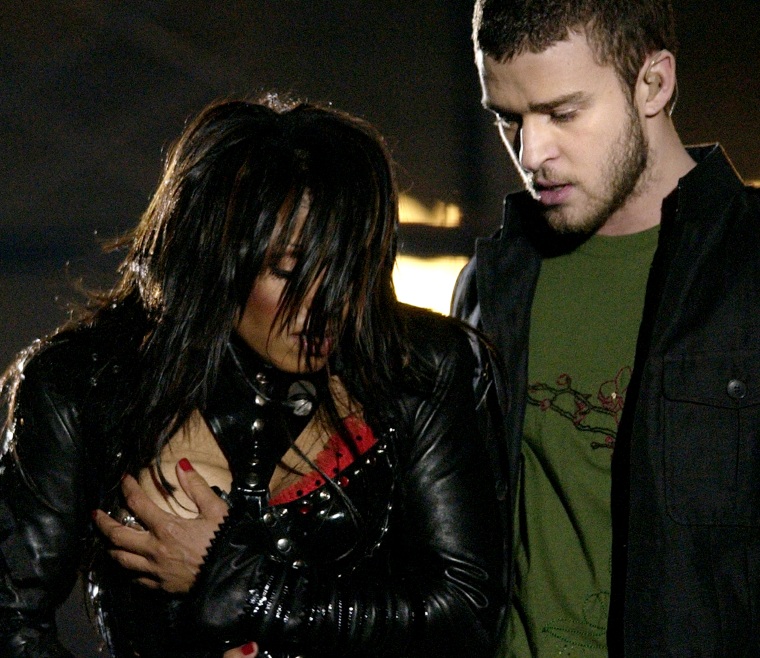 Two words: "Wardrobe malfunction." No matter how you felt about it, this unforgettably revealing moment caused an instant stir and remained a talking-point at water coolers and Supreme Court rulings years after the game ended. You're more likely to remember the resulting cultural rift than the other halftime show performers (P. Diddy, Kid Rock and Nelly were onstage at some point, too, we're told) or even who won the game. (The Patriots beat the Panthers that year, and, yes, we had to look that up.)
Follow TODAY.com writer Chris Serico on Twitter.
From the Boss to Madonna to the Blues Brothers to the most famous "wardrobe malfunction," a look back at memorable Super Bowl shows.