Even one of the world's most successful supermodels has faced criticism about her body — and that's just what Brooke Shields details in a new, candid interview with Porter Edit.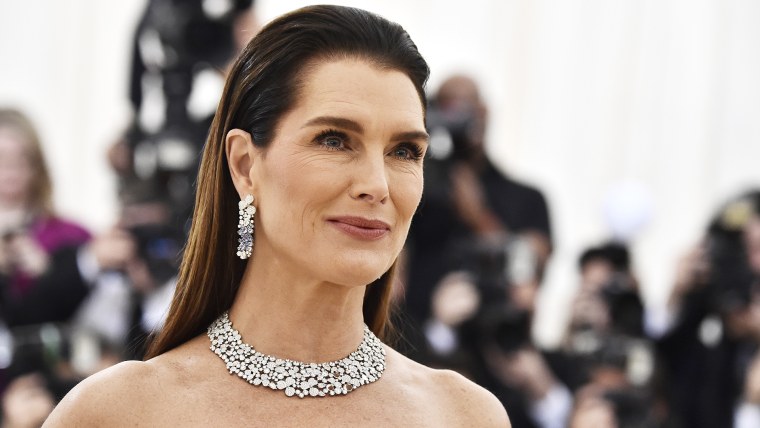 The fashion icon, 53, opened up to the lifestyle publication about her relationship with her mother, Teri, who was her manager since childhood. She revealed that she made Shields question her looks from an early age.
"My mother would get drunk and say: 'Why don't you move your fat ass?' So, I've always believed I had a fat ass," she explained.
Shields' mother died in 2012 after a lifelong battle with alcoholism. The former "Suddenly Susan" actress told Porter Edit that it was screenwriter Chris Henchy, her husband of 17 years, who finally helped her see her body in a positive light.
"I would walk backwards out of rooms, and he'd say: 'No, I want to grab onto you,'" Shields said. "He really celebrated my womanliness and my body. And I needed a man to celebrate me."
Shields was previously married to tennis star Andre Agassi from 1997 to 1999. She broke into the industry as a child actress, but it was her iconic Calvin Klein jeans ad, shot by Richard Avedon in 1980, that solidified Shields as one of the decade's great beauties. But that doesn't mean Shields never struggled with body image.
"I modeled swimwear when I was 15, and even then I didn't think I had a swimsuit body," she told Porter Edit. "I was a cover girl, not a supermodel. I was 'neck up' — the face, the eyebrows — and I was always described as 'athletic'; 'not rail-thin'; 'not a runway model.' Those messages, they seep into your consciousness."
Now Shields is rekindling her modeling career, and learning to embrace her body in the process. Last year, Shields reunited with Calvin Klein to model the brand's new line of lingerie. Most recently she was seen flaunting her stellar body in a red bikini for a Swimsuits for All campaign.
"At 52 years old, I finally feel comfortable and proud of all the hard work I've put into my body," she said at the time.
Shields told Porter Edit that she "really prepared" for that swimsuit campaign.
"I knew that if I didn't look my best, I'd be embarrassed and mad at myself. I stopped drinking beer and wine, and I worked out three times a week. I was the best version of myself," she said, before adding with a smile: "I was also hungry."
It's so inspiring to see that Shields is now comfortable in her own skin — and sending a positive message to all women that any body is a wonderful body!