Has it really been 20 years?
Britney Spears' debut single, "...Baby One More Time," celebrated its 20th anniversary on Tuesday, and the singer marked the occasion with a sweet post thanking her fans.
"It's hard to put into words what today means to me ... 20 years ago, the world heard my music for the very first time! So much has happened since then ... but what I really want to say is thank you to my amazing fans who have been there for me since day 1. Your support over the years has meant the absolute world to me!! Love you all!" Spears, 36, wrote next to a behind-the-scenes clip from the song's video shoot.
"...Baby One More Time," released on Oct. 23, 1998, became a global hit, turning the 16-year-old former Mouseketeer into one of the world's biggest pop stars pretty much overnight.
The catchy single was written by Swedish producer Max Martin, then 27. In an oral history of the song published by Entertainment Weekly this week, Martin revealed he was impressed by Spears when the two first met.
"It was pretty obvious that she had something, even though she was very quiet and very shy," said Martin.
Before long, Spears was recording Martin's hook-heavy song and brilliantly ad-libbing those "oh BAY-BAY BAY-BAY" lines.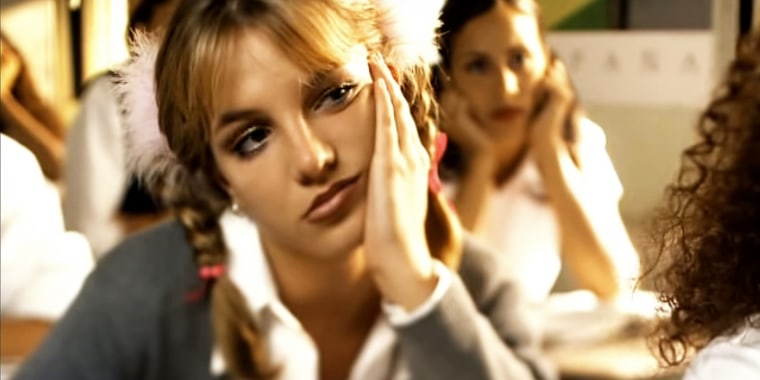 According to EW, Spears also came up with the concept of the song's high school-themed video, telling producers, "I want to be in a school with a bunch of cute boys and do some dancing."
A simple idea made even simpler by budget fashions: Every article of clothing in the video was purchased at Kmart and cost less than $17!
Happy birthday, "...Baby One More Time" — and thanks for the memories!