When award-winning reporter Jimmy Roberts entered a period of frustrations with golf, he decided to ask some of the most famous golfers for advice.  He shares their wise words in his new book. An excerpt.
Slumps are terrible things. Just when golf has allowed you to achieve a relative level of competency, just when you've actually started to feel good about your game, they arrive out of nowhere like Marley's ghost to rattle their chains and terrify. A slump will cause the perfectly sane to talk out loud to no one in particular and without an ounce of shame. They can infect every aspect of your otherwise healthy life, and turn even the most optimistic among us into a Chicken Little.
Just like you don't talk to a Major Leaguer about a no-hitter while he's pitching one, you don't imply a golfer might be suffering a slump unless it's actually sighted, confirmed, and, most importantly, ADMITTED (as if the word itself might have some type of self actualizing mystical power). PGA Tour players can be very touchy on this
subject. Tiger Woods spent a good three months in the winter and spring of 2001 glowering at anybody who had the audacity to wonder if he might be slumping. He'd
gone winless for one of the longest stretches of his young career, but then rattled off three straight triumphs at Bay Hill, The Players, and The Masters. That year I got the "wrong place, wrong time" award, when, after winning The Players Championship he turned contemptuously to me in the post tournament interview and said:
"Nice slump, huh Jimmy?" then sullenly stormed off.
(For the record, many people that fall had suggested Woods was enduring a slump, but I was not one of them. The closest I got was joking a few weeks earlier during the Tour's stop at Doral that Woods was in a slump about the same way the Beatles were slumping any given week in 1964 that they DIDN'T have a number one record.)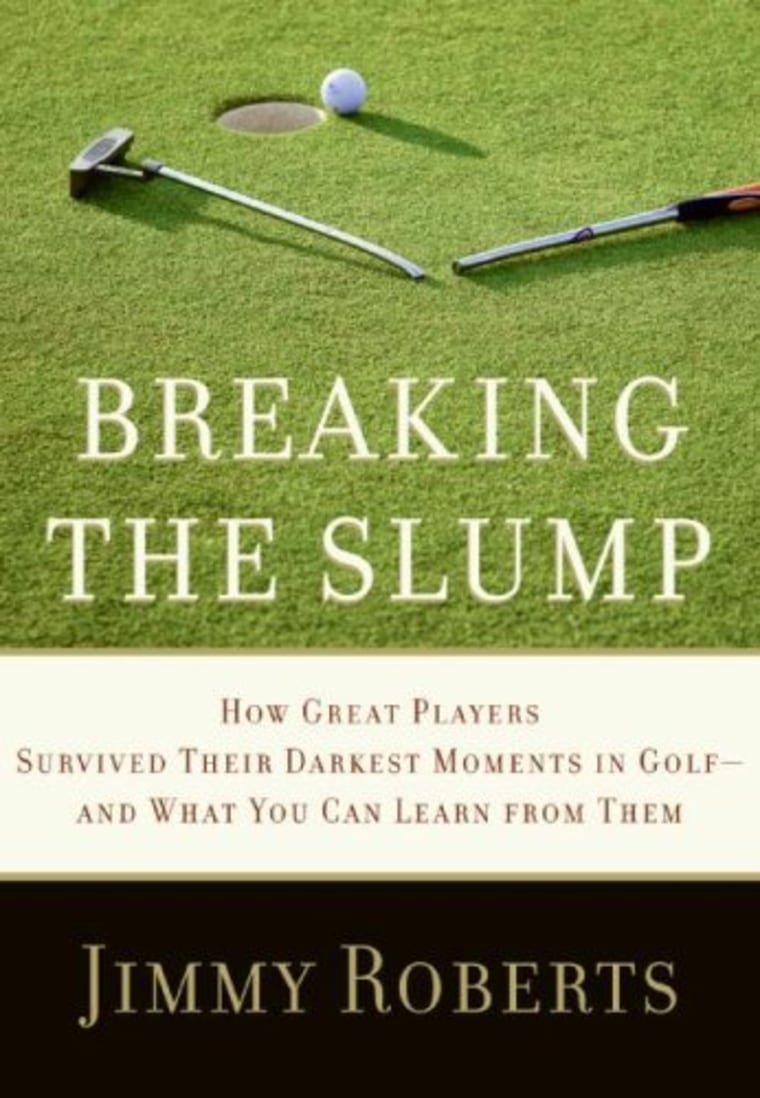 On and off, I've been playing golf since I was seven. When I was 14, I won our club junior 9-hole tournament. When I was 42, I had my first (and so far only) hole-in-one. Those two facts might lead you to believe I can play … that perhaps I'm one of those awful people who plops down next to you in the grill room with a dour face, complaining about the "horrible" 79 he just chopped his way through.
Actually, where I come from, there's no such thing as a horrible 79. I am mediocre …at best. My greatest accomplishment in the game was vowing to get my USGA Handicap Index down to single digits before my 50th birthday, and actually doing so.
I grew up a child of relative privilege in Westchester County, New York, about 45 minutes north of New York City. We belonged to a country club, and every weekend my
father would play. He had the most amazing swing: the take-a-way was the slowest most deliberate move you could ever imagine. But once he got to the top, there was a
frightening explosive contraction that made you think perhaps someone had fired a gun at the swing's apogee -- only my father had heard it -- and it had scared the shit out of
him. Think a slower version of Ernie Els on the back swing and a faster version of Hubert Green going the other way. Dad was frustrated by the game but dedicated. One year he won the "C" flight of the club championship. After Dad teaching me didn't quite work out (disaster), I ended up on the lesson tee with the head pro. Jack Kiley had slicked back hair and wore Sansa-belt pants. I imagine he had just the look that made all the Laura Petrie-type moms swoon just a little bit. I was a fairly athletic kid, and he helped me to develop a reasonable swing. But it was one which contained a near fatal flaw: way too much lateral movement. In the parlance of the industry, there was not enough rotation, and too much sliding. The result was a slice I would fight for the next 35 years.
In the spring of 2000, I joined NBC Sports. I would cover Wimbledon and the Olympics, Major League Baseball and a few other things, but mostly I would cover golf.
That meant joining a broadcast team which not only loved the game, but also played it at every possible opportunity. For the 12 previous years at ESPN and ABC, I might have
played a total of 15 rounds of golf while on the road covering big events. NBC was a totally different animal. The first event I worked for my new employer was the 2000 U.S. Open at Pebble Beach. In my first four days on the job, I played four rounds of golf: Spanish Bay, Del Monte, Cyprus Point, and Pebble Beach. It was the round at Pebble on my very first day of work that proved to be the slap in the face that changed my attitude about the game.
On Saturday morning, we recorded our U.S. Open Preview Show. I joined host Dan Hicks, and expert commentators Roger Maltbie, Gary Koch and Mark Rolfing as we shot the on camera portions of the show just off of Pebble's 10th Green. When we finished, producer Tom Roy clapped his hands and shouted: "Alright, good job everybody. We've got two foursomes. We better hustle over to the first tee."
Now there are a few things to understand about what was about to happen. I was going to play golf with my new colleagues. Not only was this one of the hardest golf courses I had ever seen, but the custom among this group was to play it all the way back. ALL-THE-WAY. Those in the group who weren't former touring pros like Maltbie and Koch were just really good, like Tom Randolph, our co-producer who was an all-America, honorable mention at UCLA and Captain of a golf team that would include future PGA Tour winners Corey Pavin, Steve Pate, and Tom Pernice. Roy, my boss, was
the son of a golf pro, who himself once harbored an ambition to try and play the Tour. So here I was, nervous and overmatched. I'd like to say the next four and a half hours
went well. They didn't. "Catastrophe" would have been a charitable characterization. Talk about a good walk spoiled, the low point came on the 12th hole. As I stood on the tee box of the par three, out popped Maltbie, who had decided not to play. Just as I sent a hozel-rocket screaming to the right at shoe-top level, I look up to see him laughing hysterically. And there in his hand, a small camera. I wish it was only humiliating, but it seemed so much worse. Hole by hole, I felt my credibility with my new colleagues slowly evaporating. As I walked alone to find my ball, I could only imagine what they were thinking: "Why would we ever hire this clown? He could be the worst golfer I've ever seen."
Beautiful afternoon, incredible place, and it was the worst single day I've ever had on a golf course. I vowed that afternoon I would never be humiliated like that again. And so like some golfing Rocky Balboa, I started looking for museum steps to run and sides of beef to hit. I took lessons with Harvey Lannak, an incredible instructor at Westchester Country Club, and I watched my friend Gary Koch closely each time we went to play…and then leaned heavily on his expertise. I spent hours on the range at PGA Tour events watching the best swings on planet earth and then ran back and tried to duplicate what I had observed. Butch Harmon looked at my swing. So did David Ledbetter and Peter Kostis. But mostly I just beat balls. And slowly –very slowly --I got better. There were watershed moments. One year, I played in the pro-am at the Arnold Palmer Invitational at Bay Hill. I went to the range early, and tried to find the most distant
corner in which to warm up. Just as I was almost through, I heard a mocking nasal twang: "Oh this ought to be good. Let's see what you got".
It was Fred Couples, and he had rounded up a hand full of other players. I would have much rather simply left them with the mistaken notion I was a good player, than hit even one shot and demonstrate I was not, but they were having none of it. Finally, I stuck a tee in the ground, and with sweat pouring down my forehead, hit a very respectable drive with a nice soft fade. I picked up the tee, put my driver back in my bag, and confidently strutted past the now-silent golfers.
"So Fred", I said. "I guess the next time you shoot 79, I can insist you stop by to talk with me, right?"
I didn't suck anymore.
And that's the world I lived in for a few years. Golf was exciting. I didn't count my score on each hole in relation to "fives" anymore. The game was now about the pursuit of par. Now that I could hit the ball, I worked on the subtleties of the game: bunker play, trajectory, flop shots. One day I looked up on the range and realized my ball flight was no longer left to right. My god, I was drawing the ball!
I wasn't going on tour, but I was solidly in the mid eighties. My handicap sunk to 9.8. Life was good. And then something happened.