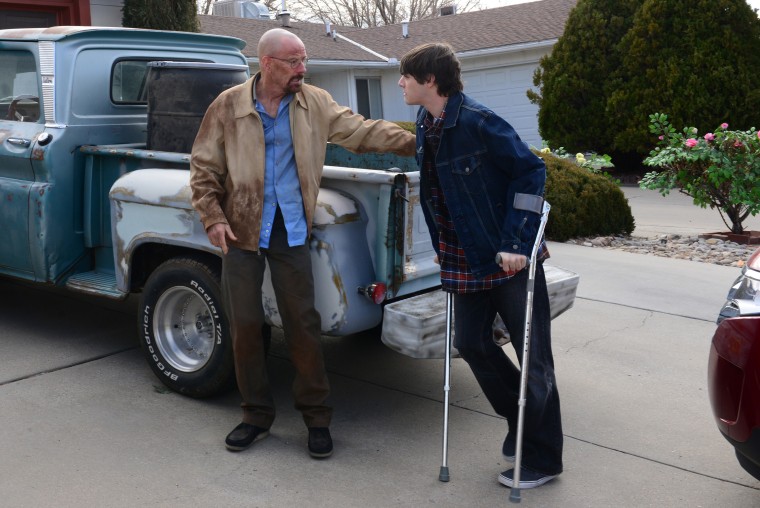 Imagine having Heisenberg as a father. 
For five seasons, that was RJ Mitte's job as the adolescent Walter White, Jr. on "Breaking Bad." For most of the series, Walt Jr., who later nicknamed himself Flynn, worshipped his father, played by three-time Emmy winner Bryan Cranston. Until he learned his father was drug lord nicknamed Heisenberg and, worse, he was responsible for the death of Uncle Hank (Dean Norris) whom young Walt adored. 
Mitte's last speaking scene on the Emmy-winning drama was as memorable as it was poignant. When Walter comes out of hiding to call his son and explain he is going to send him $100,000, Walter Jr. tells him he does not want his money because he will never forgive him for killing Uncle Hank. "Why are you even still alive? Why don't you just die already?" he screams into the phone before hanging up on his crushed father. In the series finale, Walter White, Sr., tried to make amends as best he could, considering the destruction he left behind. But he never got to speak to his son again; he was relegated to just watching him arrive home from school through a window. 
Mitte, 21, who has a mild form of cerebral palsy, has said publicly he wanted to play a teenager with cerebral palsy because he thought it offered him an opportunity to enlighten viewers. He attended the series finale screening party that actor Aaron Paul threw at the Hollywood Forever Cemetery on Sunday night, attended by crew members, castmates and thousands of fans.
"It was such an honor to see it with everyone and see how it had all come together," Mitte told TODAY in an interview. "It really was a masterpiece. We had amazing closure." 
Q: Does that mean you are having an A-1 day?
A: I am having an A-1 day. I don't know about Junior but I am having an A-1 day. It was insane (Sunday) night. Everything that has come from the pilot to now, the writers were so amazing in what they brought to life. It was such an honor to be a part of that.
The last interaction Flynn had with his father was in the penultimate episode, which was heart-wrenching to see. What was it like filming that phone call with Bryan Cranston? Were you on set together?
It was really rough taping that. It was a very emotional day. Bryan was there for my side of it and I was there for his. I think Junior had a lot of things building on top of him and I just harnessed it the best I could and thought how would I react in this situation? He's losing everything. Everyone has already lost so much but they've lost it over time. Junior lost everything in less than 24 hours. He's lost his friends, his family, his life, his father, even. He lost his uncle which was like a father figure to him. Everyone had time to adapt and to get ready for this transition except for Junior. It was more of a shock than anything.
Junior and Walter never spoke again. Do you wish they would have?
No, I think that Junior has a lot of things to work out before he can move on. The way it ended is how it really ends. That's real life. I think Junior would find forgiveness but everything that transpired and led him to the emotional place that he is in is all his father's fault. If there weren't so many lies ... everything that happened and everything that transpired is unforgivable. Over time, you can forgive. But it was just too soon.
Do you think Flynn will accept the money?
I don't know. It's 10 months and 2 days away. Well, 10 months and a day now. (Laughs). We'll see what happens. I think that Junior will take the money and do what's right for his family. He'll take care of his mom and his sister and be there for them like he should.
We heard that everyone was cheering at the cemetery when Jesse (Aaron Paul) killed Todd (Jesse Plemons).
Yeah, it was insane! Everyone cheered and clapped. People were so ecstatic. Jesse Plemons is the nicest guy you'll ever meet but his character has this air of innocence he gives him, and that just makes it that much more worse. It really was that much more worse. You're killing me, come on!
What was it like to have Bryan Cranston as a pretend dad?
Bryan was such a pleasure. Bryan and Anna Gunn — Mom and Dad were a blast. I learned so much from them. We all joked around a lot. We all were very close. We were very lucky to have the bond we had. I was new to the industry and they embraced me so well. I will always learn from what they have taught me. It was like a seven-year acting class and I was lucky enough to be a part of it.
You're so lucky to be on such a big show so early in your career. Are you spoiled?
I am totally spoiled. I'm such a script snob now. I'm so bad. I will read something and go, what's this (expletive)? Come on really? Really? We don't need this. I'm bad. I'm really, really bad.
So where do you go from here?
Wherever they hire me! (cracks up). I have a couple of things in the works. I just had a meeting that went very well today. I'm also executive producing a documentary about a missing persons case ("Vanished: The Tara Calico Story"). I like comedy, I like drama. I like to create characters. I like to be other people and live other lives. I'm down for anything. I like action, I like romance, I like comedy, drama. "Breaking Bad" had it all!
What will you miss the most about working on the show?
I will miss the people. I will miss my "Breaking Bad" family, the cast, the crew, everyone that's been a part of it. We had almost all of the same people throughout the years. We had an amazing cast and crew in New Mexico. We were so lucky to do what we did. We had a one-in-a-one-million opportunity and we seized it.
Did you keep anything from set?
I have my crutches. Everyone took something sentimental to them. I know Bryan and Aaron got tattoos. I still want to get one!
A lot of people still rooted for Walt. Is that strange to you?
It's not surprising to me at all. He's a character to root for. You're talking about a man that is doing what is necessary for his family. Yes, it's for him but he originally had good intentions. He lost himself along the way. But in the end, he found peace for the most part. And I think everything that has played out was just brilliant. (Show creator Vince Gilligan) was awesome. Maybe (Walt Sr.) didn't get everything he wanted. Junior and Skyler didn't forgive him. But he took people out, he took everyone down. He crumbled an empire. You have to remember he was in the empire business. 
How did you feel when you saw him dying at the end of the show?
I was sad. I'm still a little sad. It's weird. I have yet to fully understand my emotions about it, to be completely honest. I don't quite know. I feel that everything that happened was Walt's own choice. He did this for him. He admits it. He did this for him. He needed this. This is what he wanted. It's not exactly what he wanted but this is what he wanted. Everything that played out, everything that happened, all the drama, all the pain — he caused it. He deserved everything he got. He wanted this life. It was so brilliant, and I was lucky enough to be a part of it.