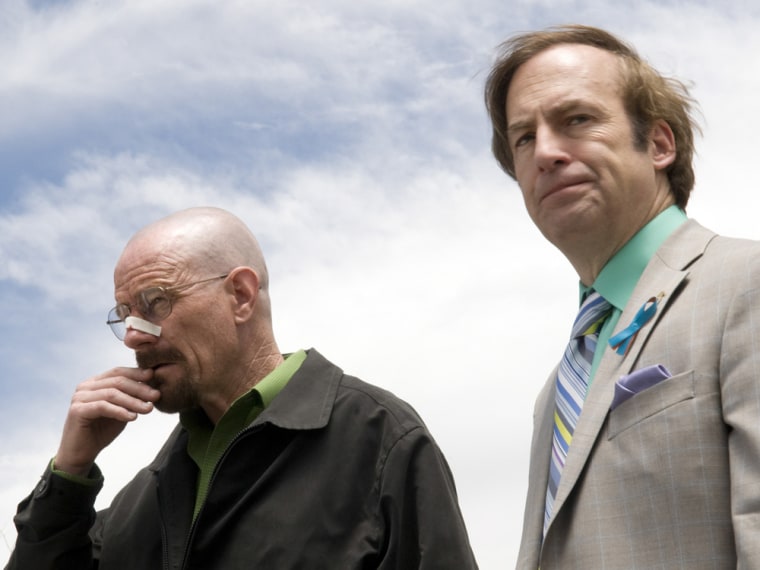 European and Latin American fans of "Breaking Bad's" unscrupulous lawyer, Saul Goodman, won't have to wait long to see his "Better Call Saul" spin-off.
Episodes will be available to Netflix subscribers in Europe and Latin America shortly after their U.S. airing on AMC, beginning in 2014, it was announced today. The complete first season of "Saul" will be available to Netflix members in the U.S. and Canada shortly after its season finale. The deal makes Netflix the exclusive subscription service for "Saul," as it is in certain areas for its predecessor "Breaking Bad."
More from THR: How AMC almost lost 'Breaking Bad' spin-off to Netflix
"Breaking Bad is widely recognized as one of the great TV experiences in this new golden age of television," Ted Sarandos, Netflix chief content officer, said in a statement. "It has also proven very popular with Netflix subscribers around the world. This spin-off promises to continue its tradition of powerful storytelling. We are proud to be in business with Sony Pictures Television to bring Saul Goodman to our subscribers around the world."
Sony Pictures Television president Steve Mosko added: "Coming off of the overwhelming success of 'Breaking Bad,' we're excited to continue our collaboration with Vince (Gilligan), as well as Peter Gould, and that fans around the world will be able to embrace 'Saul.'"
"Better Call Saul" will star Bob Odenkirk, reprising his "Breaking Bad" character, unscrupulous lawyer Saul Goodman. The series will focus on the years before he became Walter White's attorney. The prequel was created by Gilligan and Gould and is being produced by "Breaking Bad" studio Sony Pictures Television. Gould will run the series. He created the Saul character during season two of "Breaking Bad."
More from THR: Vince Gilligan reveals details of 'Saul' spin-off
Netflix is often credited with helping to boost ratings for "Breaking Bad" by allowing people to catch up on past seasons of the show via its streaming service.
Netflix was eager to be the primary home of "Better Call Saul," with AMC almost losing the series to the streaming service. Netflix was one of multiple distributors, including FX and WGN America, that was ready to pounce on the prequel if AMC could not reach a licensing deal with Sony, The Hollywood Reporter previously revealed. Netflix was seen as an especially strong suitor with deep pockets.
Gilligan and Gould are still working through the plot for Saul, but they foresee the series being set in an office with a much lighter tone than "Breaking Bad." The duo made a formal pitch this summer to AMC, which argued with Sony over money for longer than expected before deciding to move forward.
The tentative plan is to have Saul on the air sometime between August and October of 2014, THR reported, but AMC has yet to announce a premiere date. Gilligan is slated to direct the pilot.