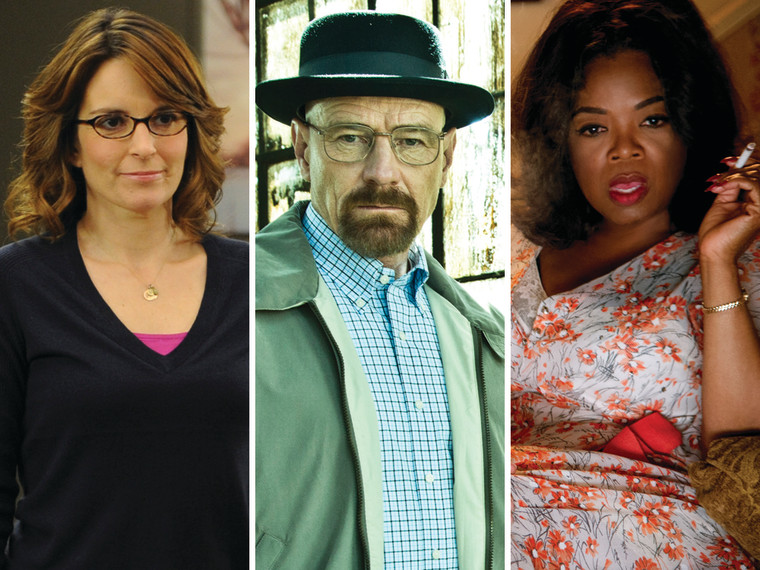 The 20th Annual Screen Actors Guild Awards nominations were announced Wednesday morning, and if the list is any indication, two series that have already said so long — "Breaking Bad" and "30 Rock" — will be a couple of the big stars of the show when the ceremony takes place in January.
"Breaking Bad's" Bryan Cranston received a nod in the outstanding male actor in a drama series category, alongside "Boardwalk Empire's" Steve Buscemi, "The Newsroom's" Jeff Daniels, "Game of Thrones'" Peter Dinklage and "House of Cards" star Kevin Spacey. It's a category that should prove to be interesting, given Daniels surprise win over Cranston at this year's Emmy Awards.
"Bad's" leading lady, Anna Gunn, led the way in the outstanding actress in a drama. She's up against "American Horror Story's" Jessica Lange, "Homeland's" Claire Danes, "Downton Abbey's" Maggie Smith and "Scandal's" Kerry Washington.
The whole 'Breaking Bad" ensemble will face off against a not-so-surprising roundup of mostly cable-based hits, including "Boardwalk Empire," "Game of Thrones," "Homeland" and "Downton Abbey."
As for "30 Rock," it too may be gone, but the SAG Awards prove it's not forgotten.
Star Alec Baldwin will compete for comedy series actor honor against Jason Bateman ("Arrested Development"), Ty Burrell ("Modern Family"), Don Cheadle ("House of Lies") and perennial favorite Jim Parsons ("The Big Bang Theory"), while show creator Tina Fey has some stiff competition from Mayim Bialik ("The Big Bang Theory"), Julie Bowen ("Modern Family"), Edie Falco ("Nurse Jackie") and this year's Emmy winner, Julia Louis-Dreyfus ("Veep").
Again, there are no suprises in the ensemble category, with "30 Rock" facing "Arrested Development," "The Big Bang Theory," "Modern Family" and "Veep."
But of course, the SAG Awards are about more than small-screen honors. Also announced Wednesday were the top contenders in the motion picture categories.
"12 Years a Slave" and "Lee Daniels' The Butler" dominated, with both films well represented in most the major categories, save for lead actress in a motion picture. In that category, "Blue Jasmine's" Kate Blanchett, "Gravity's" Sandra Bullock, "Philomena's" Judi Dench, "August: Osage Coutney's" Meryl Streep and "Saving Mr. Banks'" Emma Thompson are all in the running for the award.
But among supporting female actors, Oprah Winfrey received a nod for her role in "The Butler." Winfrey, who's been the subject of Oscar buzz since before the film's release, will be up against "12 Years" star Lupita Nyong'o, "American Hustle's" Jennifer Lawrence, "August: Osage County's" Julia Roberts, and June Squibb for her performance in "Nebraska."
As for the men, Chiwetel Ejiofor ("12 Years a Slave"), who's also been the subject of Oscar buzz for months, and Forrest Whitaker ("The Butler") are nominated alongside Tom Hanks ("Captain Phillips"), Bruce Dern ("Nebraska") and Matthew McConaughey ("Dallas Buyers Club"), while Michael Fassbender ("12 Years a Slave"), Daniel Bruhl ("Rush"), Barkhad Adbi ("Captain Philips"), Jared Leto ("Dallas Buyer's Club") are nominated for their supporting roles alongside late actor James Gandolfini for his role in "Enough Said."
The cast noms pit "12 Years a Slave," "American Hustle," "August: Osage County," "Dallas Buyer's Club" and "The Butler" against each other, which only begs the question, "Where's 'Captain Phillips' in that round up?"
The SAG Awards will be simulcast live on both TNT and TBS on Jan. 18 at 8 p.m.