Bre Tiesi says she doesn't have to explain her relationship with Nick Cannon to anyone. In Season Six of "Selling Sunset," that stance becomes a plot line.
Tiesi gets into an episode-spanning tiff with fellow cast member Chelsea Lazkani, who is skeptical of Tiesi's relationship with Cannon. Tiesi and Cannon share a son, Legendary Love. He also has 11 kids with five other women.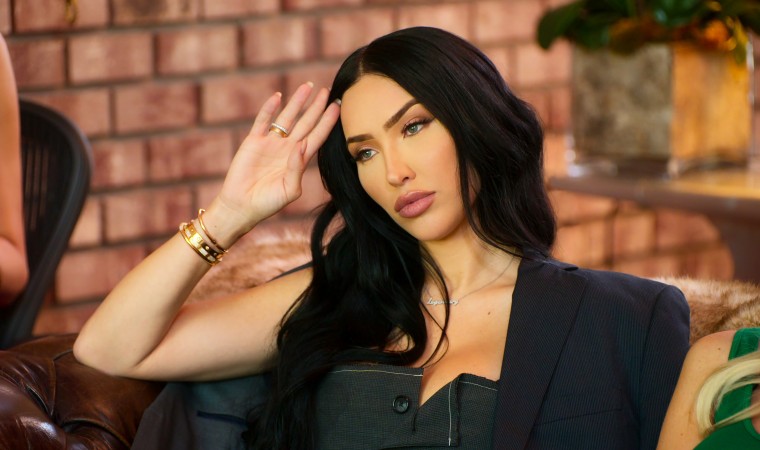 Lazkani, a married mom of two, tells the camera she finds Cannon and Tiesi's relationship "rather off putting." She questions how Cannon is able to spend adequate time with each of his children.
Simmering tension comes to a head in the finale, when Tiesi tells Lazkani, "You're judging me based off of my man and how he lives his life. You do not have to understand my relationship. Nobody does, because I do not give a f--- if they understand my relationship."
By the end of Season Six, the two have not reached a place of mutual understanding. Lazkani responds, "Maybe I'm too freaking conventional or traditional. I don't get it, girl," to which Bre says, "You don't have to."
Tiesi tells TODAY.com that Cannon is a "great father" to their son.
"You can tell with my child that they're very bonded and happy and I'm very happy. So, he's a great dad and he's a great person," Tiesi shares of Cannon and her son.
On Mother's Day, Cannon made headlines when he said he accidentally mixed up the cards he was going to give to the mothers of his children.
"I got the cards mixed up," he said on his radio show "The Daily Cannon."
"So when one baby mama reads the card about how I feel about another baby mama ... If I would have just got some generic s--- that everybody else got, that wouldn't have happened," he continued.
Although fans roasted him online, Tiesi says she had no idea that incident had happened.
"I don't know anything about that. He didn't mix up my card, so I have no idea," she laughs. "I got my card."
In June 2022, Tiesi announced that she had welcomed her son with Cannon. The real estate agent shared a few photos of her labor and delivery and said she had an "all natural unmedicated home birth."
Tiesi tells TODAY.com the announcement was her idea. "He was very supportive of whatever I wanted to do. Obviously, I was the one who was physically going through it so whatever he could do to support me, he did," she says.
Cannon previously said he prefers his babies' mothers to announce the pregnancies or births in their own manner.
"I allow everyone to have their process and I support it," he said on "Big Boy's Neighborhood" in May 2023.
That said, Cannon had a hand in picking out their son's name.
"It was going to be Legend, and he likes Legendary, so I ended up liking that as well," Tiesi says.