Bradley Cooper, the hunky "Hangover" star with the piercing blue eyes, is PEOPLE magazine's Sexiest Man Alive for 2011.
Cooper, 36, heads a list of 123 "super hot guys" that includes actors Ryan Gosling, George Clooney, Robert Pattinson and Justin Timberlake to name a few (more photos here.)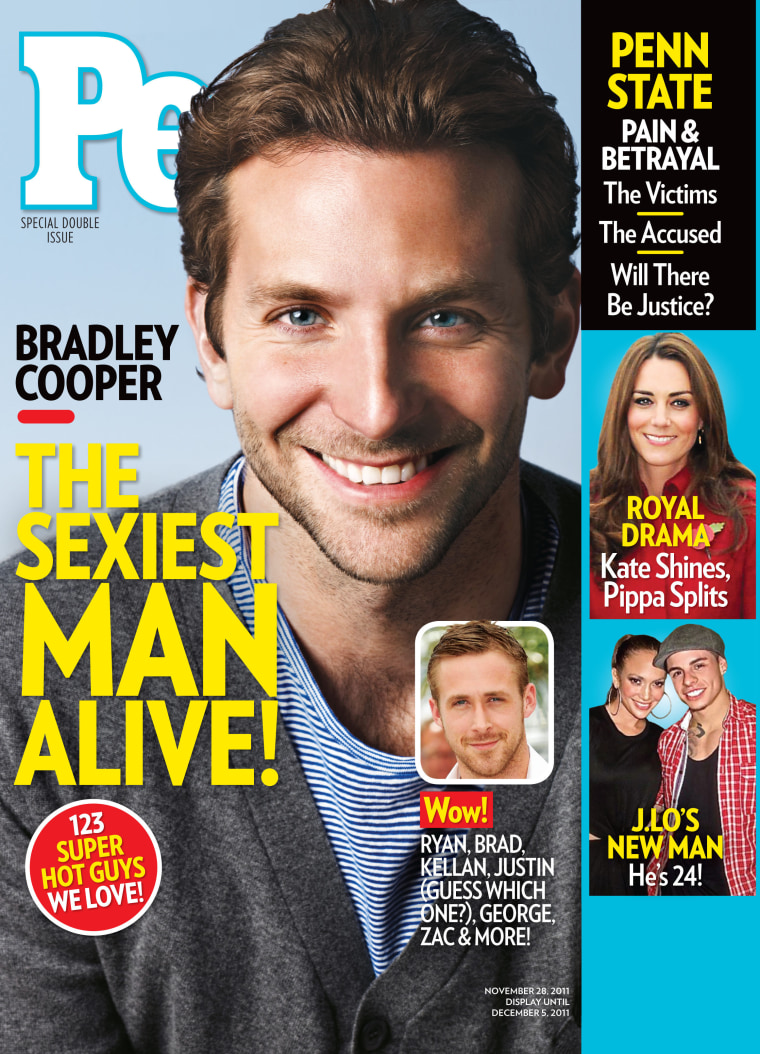 "I think it's really cool that a guy who doesn't look like a model can have this [title]," Cooper told the mag. "I think I'm a decent-looking guy. Sometimes I can look great, and other times I look horrifying."
On TODAY: Watch the magazine's reveal
PEOPLE says the actor -- who has also starred in "Limitless" and "The A-Team" -- is especially close with his mom. "My mother is going to be so happy," Cooper says of his first thought upon learning he had been crowned Sexiest. He also thought he was being "Punk'd."
Cooper dated actress Renée Zellweger for two years until their split in March and has been linked to Jennifer Lopez in recent months, but says he's just a "single 36-year-old male." He takes the title from 2010 winner Ryan Reynolds.
Scoop's Courtney Hazlett wrote here in June that the revelation that Cooper was fluent in French made him even more attractive.
We've assembled a few video highlights below for those looking for more of a Cooper fix.
So what do you think? Did PEOPLE make the right choice? Share your thoughts in the comments if you agree ... or feel someone was robbed!
Related content: