Bradley Cooper plays the title character in the upcoming Broadway revival, "The Elephant Man," a story that inspired the two-time Oscar nominee to become an actor, he revealed Tuesday.
Stopping by the TODAY set with co-stars Patricia Clarkson and Alessandro Nivola, Cooper recalled how he first learned about the story as a child when his dad showed him a film version.
"It was the reason why I wanted to become an actor, because of David Lynch's movie," he told TODAY's Matt Lauer. "And then I discovered it was a play, and I did it for my thesis in grad school."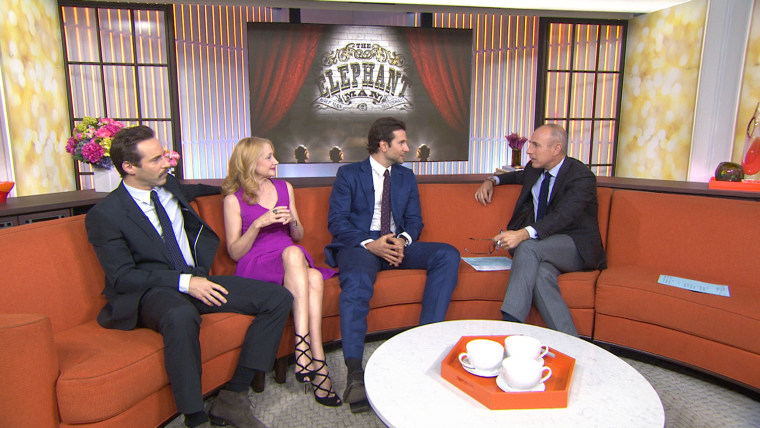 "The Elephant Man" tells the story of Joseph Merrick, a man whose severe physical disfigurement leads many to miss his profound intelligence. Cooper and his co-stars, who first performed the play in 2012 as part of the Williamstown Theatre Festival in Massachusetts, spoke about their current production, which opens on Nov. 7:
On how the play differs from movie versions: The most obvious difference is that Cooper doesn't wear prosthetics to reflect Merrick's deformities. "That's the conceit of the play, is that a beautiful man plays him," Clarkson said.

On the way Cooper contorts his body for the role: Cooper noted each of his predecessors, including David Bowie and Billy Crudup, have done it differently. "For me, it just starts with the breath and then it sort of just happens." Clarkson added that Cooper's transformation is "quite breathtaking."
The takeaway for the audience: "It's an incredibly profound experience to watch this man we've all fallen in love with, Joseph Merrick, that we love deeply," Clarkson said. "You watch this journey, and it's very funny and incredibly heartbreaking at the same time."  
On the play's message about humanity: "A lot of it is what it is to be human," Nivola said, "because this man is so disfigured that he almost looks like an animal and has been treated like an animal all of his life." Yet, Clarkson added: "He's the most civilized of us all.
Lauer noted the play is a very serious production, where there's no room for a case of the giggles, which Cooper is known for — most recently during his visit with Jimmy Fallon on "The Tonight Show." 
Cooper also has a record of getting near-hysterical when he and and TODAY's Willie Geist get together, like during an interview prior to last year's Golden Globes. Here's a flashback to when that bromance started: