Brad Pitt's walk on the red carpet at the Los Angeles premiere of Angelina Jolie's new film "Maleficent" took a dramatic turn Wednesday night when a man rushed the star actor.
A Los Angeles Police Department spokesperson confirmed to NBC News that a man was arrested on the red carpet at the El Capitan Theatre on Hollywood Boulevard. Law enforcement sources also confirmed that the man jumped a barrier and punched Pitt. 
Vitalii Sediuk, 25, was booked on suspicion of misdemeanor battery at the LAPD's Hollywood Station in lieu of $20,000 bail.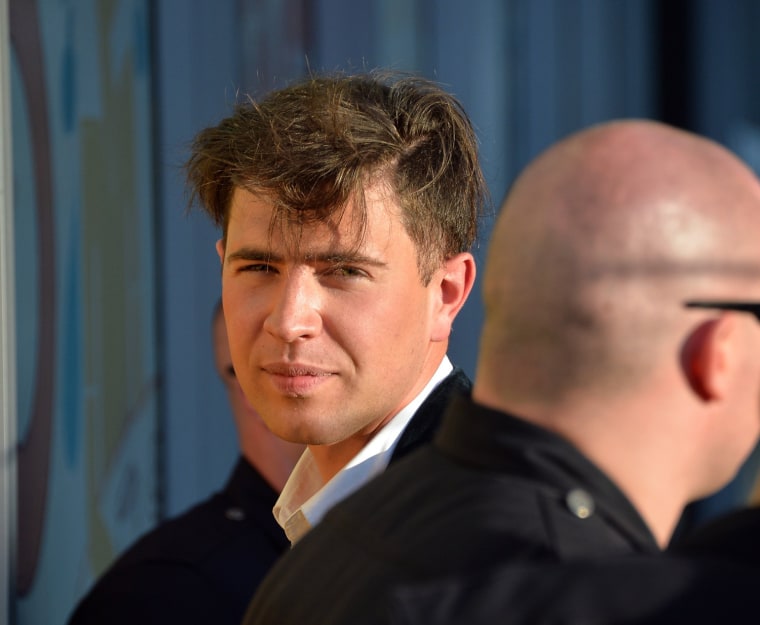 Sediuk is a Ukrainian serial prankster of sorts who has targeted celebs at other events. Photos on the Daily Mail site and on E! Online showed bodyguards and police wrestling the man to the ground and away from Pitt.
Pitt and Jolie were photographed smiling and waving to fans who lined up to cheer on the stars of the new Disney film.

On May 16, Sediuk was dragged off the red carpet at the Cannes Film Festival after crawling under the dress of actress America Ferrera at the "How To Train Your Dragon 2" premiere.
At previous events he has hassled stars including Leonardo DiCaprio, Bradley Cooper and Will Smith.

Andrew Blankstein of NBC News contributed to this report.
Follow Kurt Schlosser on Google+