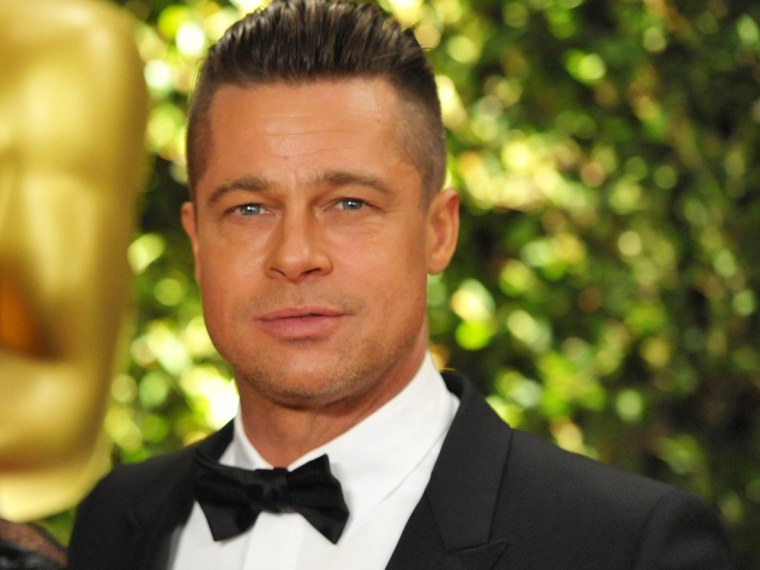 Movie star. Father of six. Humanitarian. Producer. Wine maker. Furniture designer. Home builder. Motorcycle collector. Chanel No. 5 pitchman. Yodeler.
On Brad Pitt's 50th birthday, it's safe to say that the male half of Brangelina has made the most out of his five decades on earth. To think the three-time Oscar-nominated actor never finished college — he just needed to write one more paper — and used to have a general problem with follow-through, as he told Esquire this summer.
Now, he's engaged to Angelina Jolie, his partner of seven years and mother of his six children. He's had a string of successful movies, and the Maddox Jolie-Pitt Foundation continues to assist with crises around the world. In October, Pitt told TODAY that he was "curious" about turning this AARP-eligible corner and that "so far I haven't minded it a bit."
Maybe that's because, as he told Esquire, he hasn't "known life to be any happier."
Ever since his breakthrough in "Thelma & Louise," nothing slowed the actor's meteoric rise to stardom.
A movie-goer all of his life, Pitt has said in interviews that he always sensed growing up in the Midwest that the world was much bigger than his upbringing indicated. When he quit college two weeks before graduation to drive to California and find himself, he said he "just knew."
"I just knew that there were a lot of points of view out there," he told Esquire. "I wanted to see them. I wanted to hear them. I always liked film as a teaching tool — a way of getting exposed to ideas that had never been presented to me. It just wasn't on the list of career options where I grew up. Then it occurred to me, literally two weeks before graduation: If the opportunity isn't here, I'll go to it."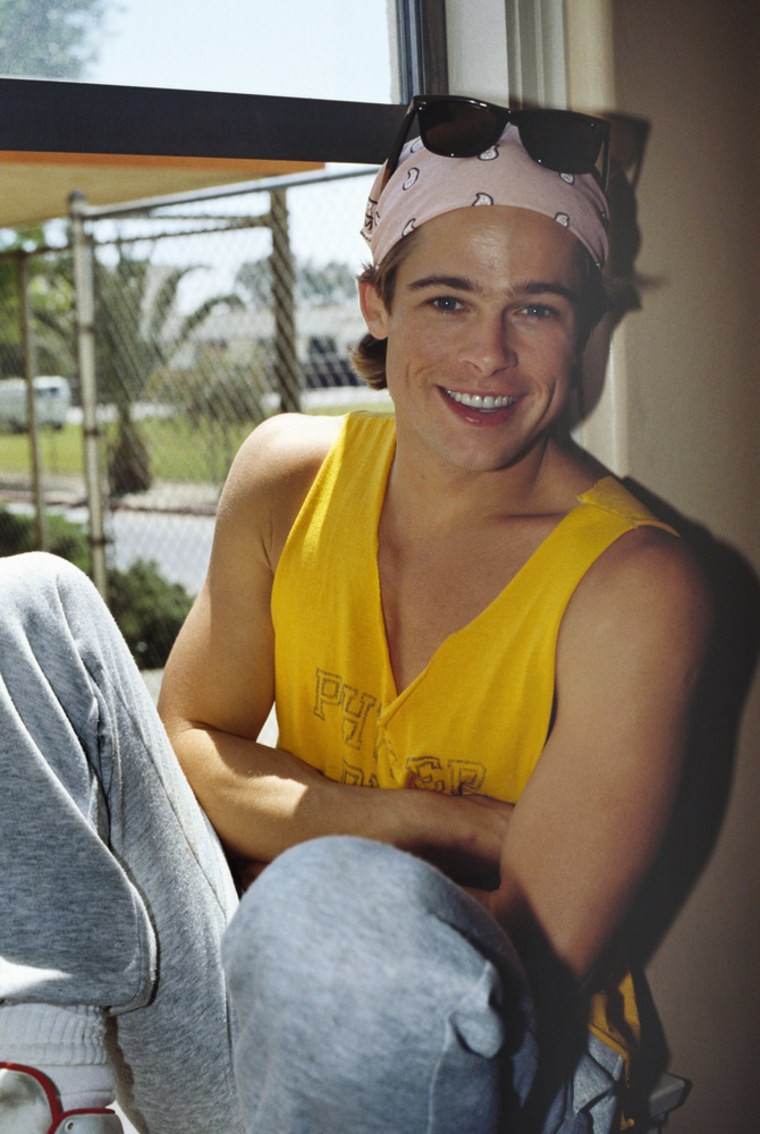 And that he did. Without ever having performed as a child, Pitt took acting classes in Los Angeles in the late '80s and booked supporting roles in movies and television until he landed the part as Geena Davis' petty criminal lover in "Thelma & Louise" and became a national sex symbol. From there, Pitt began to prove himself with meatier roles in films like "A River Runs Through It" and "Legends of the Fall," for which he received his first of five Golden Globe nominations, and "Seven." In 1996 he won the Globe for his work on "Twelve Monkeys," which also earned him his first Oscar nomination. 
Pitt's portrayal of a boxer in "Fight Club" earned him critical acclaim and opened bigger doors that led to roles in "Troy," "Mr. and Mrs. Smith" (where he met Jolie), "Babel," "The Curious Case of Benjamin Button," "Inglourious Basterds," and "Moneyball," among others.
His friend and "Ocean's Eleven" co-star George Clooney recently called him the "biggest movie star in the world" and said he admires how Pitt handles the celebrity aspects of his success.

"It's not easy for him," Clooney said. "But he tries to be the most honest version of Brad Pitt that he can be. And he also remains unavailable. He's still a giant movie star because you can't get to him. That doesn't mean that I don't think of him as incredibly talented and smart and all those things. But you also can't get to him."
Pitt's secret, whether he's being asked about his looks, his relationship to Jolie or why he partook in those hilarious Chanel No. 5 commercials, is to stick to the plan: "I stay blissfully naive to the chatter."
It's probably why his fans can take him seriously when he's starring and producing in the Oscar-nominated "Moneyball" and the Golden Globe-nominated "12 Years a Slave" or crack up with him when he stands on a rooftop and yodels with Jimmy Fallon just because.
Happy Birthday, Brad.