Everybody wants to see Brad Paisley perform on TODAY for the Citi Concert Series!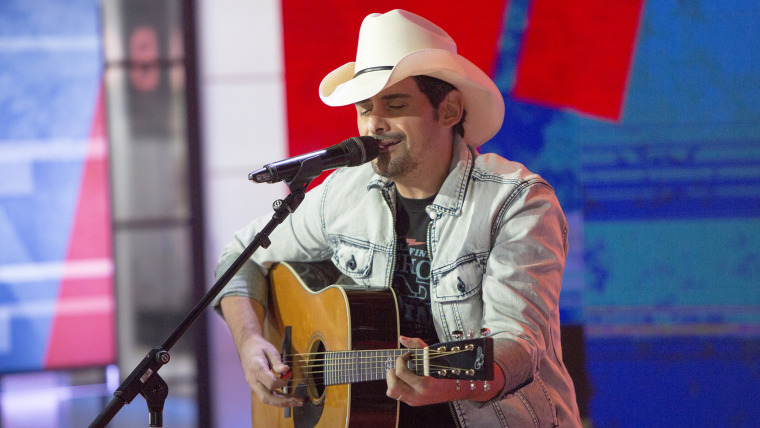 Including, apparently, all the raindrops in the sky — which seemed to show up all at once Friday morning. But that was certainly not enough to deter the king of country music, whose latest album "Love and War" was released in April.
There was some question about whether he'd get to perform outside or inside — water and electronic equipment, even sheltered, tend not to mix well, and besides: all the fans would get drenched.
Charlie was prepared, though:
And Paisley came out a little early to meet with his rain-soaked fans:
"We've done concerts in worse than this," he joshed to the TODAY anchors.
He and TODAY's Matt Lauer also bonded over their love for superheroes, and he revealed between songs that sometimes his fans remember the lyrics to his songs better than he does.
Ultimately a decision was made to bring the whole shebang indoors for a more intimate, acoustic performance of tunes like "River Bank," "Today," "Last Time for Everything" and "Mud on the Tires." But don't worry, the smaller group of fans cheered pretty darn loud!
Of course, that crowd included TODAY's Hoda Kotb:
For those unfamiliar with the charming musician, it's time to get to know him: As leader of the "Country Nation" (one of his song titles), the West Virginia native has earned three Grammys and 14 Academy of Country Music Awards, and 24 No. 1 hits. His witty attitude reaches even non-country fans and his tours are considered legendary. He's even hosting a comedy show on Netflix on Aug. 15 called "Brad Paisley's Comedy Rodeo"!
Give the man credit: as he proved on TODAY, he knows all about improvisation. Thanks for sticking around, Brad!
Follow Randee Dawn on Twitter.