Most of us suffer the remembrances of our awkward youth through family pictures or shaky home videos. Actor Ellar Coltrane's formative years — from ages 7 to 19 — were chronicled by Oscar-nominated filmmaker Richard Linklater for the groundbreaking coming-of-age epic, "Boyhood." Coltrane sat with TODAY.com to recount his experience starring in the unusual film and talk about what's next.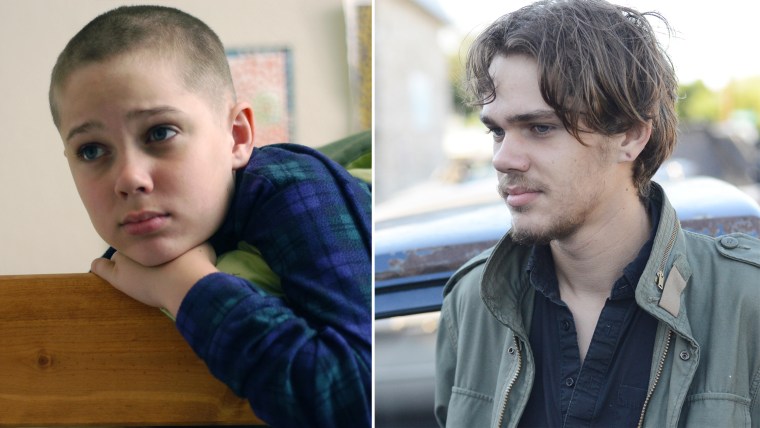 In "Boyhood," Coltrane plays Mason, the youngest child of divorced parents Olivia (Patricia Arquette) and Mason Sr. (Ethan Hawke). Shot for just a few weeks every year since 2002, the film focuses on Mason's evolution from a dreamy child to a burgeoning artist entering college, all achieved without makeup, CGI or camera tricks. Mason simply grows up before viewers' eyes.

Sign up to have top entertainment news sent directly to your inbox.
Coltrane said the ambitious undertaking didn't faze him when he was cast at age 6. "You take things as they are when you are young and go along for the ride," he noted. "As I got older and began to understand the scope of the project, it had become a part of my life. So the idea of not wanting to do it never really occurred to me."
It helped that the actor's mother and father were totally on board with the long-haul project. "My parents are pretty out there, so there's not much typical about my childhood," Coltrane laughed. "Something I was just talking to Ethan (Hawke) about was that the most structured part of my life was working on this film. It was the only commitment I ever had. I wasn't in school. I never did sports. I never did anything officially in any kind of institution, really."
As with Linklater's "Before" trilogy of films (starring Hawke and Julie Delpy), the director sought story input from the cast throughout the film's production. 
"When I was younger, I was just there, and it was more of (Linklater) pulling information out of me to use in his work and working with the other actors," Coltrane explained. "But as I got older, it was very much a collaboration. Between the shoots, he would call me and take me to lunch, and tell me where he was at with the script and the character, and what might be happening that year. He would ask me about similar experiences that I had had to what Mason might be going through, and the different dynamics between me and friends, girlfriends or family members."

Coltrane was quick to clarify, however, that "Boyhood" is not biographical.
"(Linklater is) also telling his own story (of) how he grew up, learning to make art and being interested in perception over achievement. There are very few of my direct life experiences reflected on the screen. It's more the dynamics and the way you go about things as life unfolds, like the way the relationship with your parents changes over time."
Over the 12 years of shooting, Coltrane did not see any of the assembled footage — and for that he's grateful. "It would have completely changed my experience and performance if I had that image in my head of having seen myself on screen," he said. "It is really intense to watch now, and as a 10-year-old it would have totally messed with my head."
Now of college age, Coltrane said he's struggling to figure out his next steps. "Everyone is asking me if I want to be an actor. Acting can be an outlet to express very genuine things, so when I find the right project, I want to continue acting. But I am very wary," he admitted. "I think there is a lot wrong with the entertainment industry, and I don't want to fall into selling myself to make money. I am very glad that I got to work on a project like this because it set the precedent for how I want to go about creating art in the future."
"Boyhood" opens in theaters Friday.