The John Adams High gang is back together!
"Boy Meets World" stars Ben Savage, Danielle Fishel, Rider Strong and Will Friedle reunited Friday to meet with fans at the Wizard World Chicago Comic Con. While they were there, the crew took it upon themselves to re-create a famous cast photo that really tugs on those nostalgic heartstrings.
Fishel, 37, who played the sweet Topanga in the '90s coming-of-age series, took to Instagram on Friday to share the throwback photo alongside the new one. In both, she is seen embracing on-screen love interest Cory (Savage), with Shawn (Strong) and Eric (Friedle) crowded around them for one big group hug.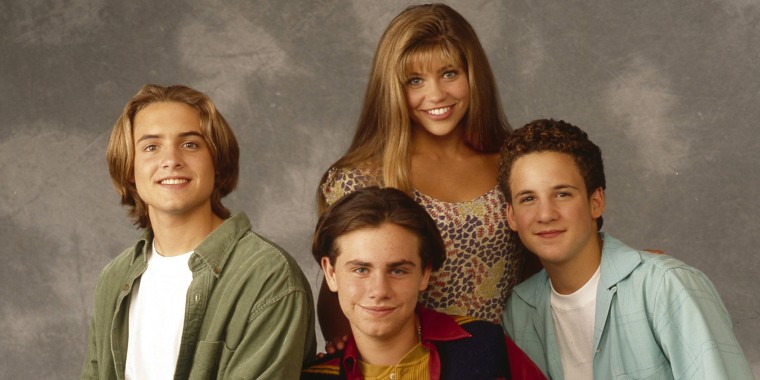 We have to hand it to them — they really nailed it. Strong is even sporting the same playful, open-mouthed grin!
"We hate each other," Fishell joked in the caption.
"Still rocking the muppet mouth," Strong captioned the same photo posted on his Instagram.
Savage, meanwhile, shared a snapshot posing with just Friedle, his lovable on-screen brother.
"Family dinner," he wrote. All that's missing is their classic childhood home!
As we know, the "Boy Meets World" clan always loves a good reunion. Just last spring, the same three guys reunited for some silly photos at Awesome Con in Washington, D.C.
There have also been some personal milestones to celebrate among the cast: In July, Savage reunited with Matthew Lawrence (who portrayed Shawn's half-brother, Jack) to celebrate his former co-star's engagement to dancer Cheryl Burke. Meanwhile, Fishel went off the market in March, getting engaged to producer Jensen Karp.
It doesn't seem like the "Boy Meets World" cast has let the years get in the way of their friendship one bit. (Debates about the TV show's fence, however — well, that's a different story.)