This story discusses suicide. If you or someone you know is in crisis, call 988 to reach the Suicide and Crisis Lifeline. You can also call the network, previously known as the National Suicide Prevention Lifeline, at 800-273-8255, text HOME to 741741 or visit SpeakingOfSuicide.com/resources for additional resources.
Never one to shy away from the spotlight, Pamela Anderson once again bares all in her new memoir, "Love, Pamela" — but this time, it's her soul she's baring. Anderson is also the subject of a Netflix documentary out Jan. 31. 
Through a mix of verse and text, the former "Baywatch" actor and Playboy model candidly reflects on her life, traumatic childhood and string of troubled relationships.
The memoir also offers a revealing look inside her rocky marriage to Mötley Crüe drummer, Tommy Lee. 
Their turbulent relationship has most recently been the subject of the Hulu miniseries "Pam and Tommy," a drama Anderson has publicly disavowed, calling it "crushing" during an interview with Variety.  
Aiming to set the record straight on her life, rise to fame, headline-grabbing scandals, and, yes, the sex tape, Anderson uses the memoir, along with a new Netflix documentary, "Pamela, a Love Story," to share her story using her own words, with "no ghostwriters, no collaborators or book doctors." 
"Let's just say this journey has been … therapeutic?" Anderson writes in the book. "I must write my own book, or I'll die. The drama …"
And dramatic it is. Here are the biggest revelations from "Love, Pamela."
She wished an abusive babysitter would die — then she did
Born and raised off the coast of British Columbia, Canada, Anderson's parents were 17 and 19 when they had her.
With "slicked-back hair and ocean eyes," her dad Barry liked street racing and her mom Carol was a petite "bouncy, giggly-blonde."
When they'd go out, Anderson writes that a young, female babysitter "sexualized" her very early on, "forcing (her) to play weird games."
The last straw, she says, was when the babysitter told her Santa Claus wasn't coming because she was a "bad girl."
"I ran after her in tears, calling her a liar . . . and clumsily stabbed her with a candy-cane-striped pen in her chest," Anderson writes. "'I hope you die!' I screamed through tears."
When the babysitter was killed in a car accident shortly after, Anderson says she believed it was her "magical mind" that led to it.
"I carried that my entire young life," she writes. "I was very careful about what I wished for from then on."
She's been an animal lover since childhood, even when it hurt
Anderson writes that as a child, she often got into mischief, flooding the kitchen sink with water in the middle of night, mixing her mother's spices into the butter and even buttering the cat.
Though she'd get in trouble, she says in the book that it was "exciting."
However, there was a much darker side to her childhood. When her cat "Momsy" gave birth to kittens, she brought them in the house despite being told by her father not to.
When he discovered the kittens, he drowned them in front of her as punishment.
"I felt like I died that night, too," she writes.
Physical and sexual assaults marked her childhood
In the book, Anderson writes that "Love, Pamela" is about "abuse, struggle, and overcoming," referring, in part, to a series of violent physical and sexual assaults that occurred before she turned 18.
At 12 or 13, she writes that a friend brought her to meet up with "an older guy" who assaulted the "Baywatch" star after offering to give her "a back rub." 
In another incident, a high school boyfriend became violent after becoming angry with her, "kicking me over and over, until he physically kicked me out of his car while he was driving," Anderson writes.   
Soon after she began going out with "a new boy" who was "in a gang," because she thought he'd be "good security" in protecting her from the previous abusive boyfriend.
However, after a night out with his friends, Anderson says that he and "four, maybe six boys," held her down, assaulted her and that she "blacked out."
Weighing less than 100 pounds until she was in her twenties, she writes that she was "definitely stunted."
"Some say because I was so athletic," Anderson says in the book. "Others say because of trauma. It was unbearable for me."
She punched her father
 Anderson moved out of her parents' home at the age of 17 after "multiple attempts to rescue my mom from dad." 
Though Anderson says her mother tried leaving her father many times throughout Anderson's childhood, she always returned to him. The final straw for Anderson came when she discovered her dad "trying to hold (her) mom's face to an element on the stove."
Her blood boiled, she says, and she "barreled toward (her) dad and punched him in the jaw." She says they never spoke of it afterward, but Anderson writes that she was disappointed in both her parents and with herself for "resorting to an uncontrolled violent act after witnessing something violent. Violence begets violence," she writes.
Anderson confirmed her parents are together in her documentary.
And was stalked by an ex-boyfriend
Though Anderson moved away from her hometown, she continued to see one of her high school exes on and off.
During one of their "off" times, Anderson writes that he tried to run her over in his car. 
On a different occasion, when he saw her walking home in a dress he didn't approve of, he told her if she wanted to "run around naked" he'd help, proceeding to rip the dress "almost completely off (her) body."
Locked out of her home, Anderson says she "curled up in a ball behind a bush, crying, in almost nothing but (her) red high heels."
She was 'discovered' at a Canadian football game
Wearing jeans and a Labatt Blue t-shirt, Anderson went to a BC Lions football game. After being shown on the Jumbotron, she was invited to come onto the field for a drawing and became an instant sensation with fans.
Dubbed the "Blue Zone Girl," Anderson was asked to do a commercial for Labatt's beer and not long after, Playboy called, requesting a test shoot.
"They had been looking all over the world for the right girl and they thought it might be me," she writes.
But success came at a cost. When her volatile boyfriend heard she was on the phone with Playboy, Anderson says he "ran into the kitchen and threw a tray of silverware at (her) head."  
Anderson writes that she crawled on her hands and knees "till it was safe to stand up and run out the door."
She recalls a sweet romance with Mario Van Peebles
In "Love, Pamela," Anderson writes she had a "mad crush" on actor and director Mario Van Peebles after she appeared as an extra on his show "21 Jump Street."
She says she didn't know what to say when he called and invited her out to dinner, but that they ended up "tangoing through the streets all night long."
The pair dated for a short time. Anderson writes that Van Peebles had a "refined" house that was "wild at the same time," citing a "Tarzan swing" he had in the bedroom. After hiking to the Hollywood sign, she says they "made love for the first time in a field of long, soft grasses, as horses ran by."
He might have even proposed, but Anderson says in the book that she thought he was joking. Later, it hit her that "he might've actually been proposing."
Go behind the scenes with these compelling memoirs
'Discreet naughtiness' at the Playboy Mansion
 A Playboy model, Anderson frequently attended parties at Hugh Hefner's mansion. Though they were "no orgies," she says that she never knew what she'd walk into.
"At the Mansion's parties, people were tangled together in every nook, seminude, sprawled on silk cushions or rolling in the grass." 
In powder rooms designed for "discreet naughtiness," Anderson writes that while going to fix her lip gloss, she discovered Jack Nicholson, a frequent visitor to the mansion, with two women who were "giggling and kissing up" the actor.
Anderson says there were a "whirlwind" of other personalities at the Mansion, too.
"Was that Tony Curtis? James Caan? There's Rambo, surrounded by pretty girls. I met so many people that night, names and faces I slightly recognized — Chachi, Spicoli, maybe, could that be Cher?" she writes.
Upon meeting Playboy founder Hugh Hefner for the first time, Anderson says that she felt his "energy and charm" and that it "made (her) skin burn."
Calling him a "mythological figure," she writes that he laughingly told her, "We're going to have to keep an eye on you."
'Now we're even': Anderson recounts an encounter with Tim Allen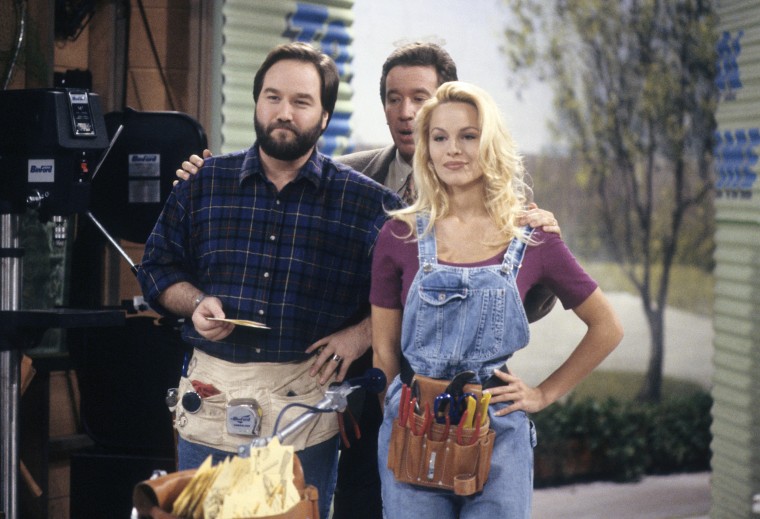 Along with starring in "Baywatch," Anderson also had a recurring role as Lisa the Tool Girl on the Tim Allen ABC sitcom "Home Improvement."
On the first day of shooting the television show, Anderson writes in the book that she walked out of her dressing room only to find Allen in the hallway in his robe. "He opened his robe and flashed me quickly — completely naked underneath."
She says Allen remarked that "it was only fair" because he'd seen her naked (presumably in 'Playboy'), saying, "Now we're even."
"It was the first of many bizarre encounters where people felt they knew me enough to make absolute fools out of themselves," she writes of the exchange.
Allen refuted the allegation, saying in a statement to NBC News, "No, it never happened," he said. "I would never do such a thing."
She says cosmetic surgery turned into a 'vicious cycle'
Anderson writes that she felt a kinship to the late artist Frida Kahlo. Much like Kahlo, she, too, craved someone to love her beyond her image, which she says felt "superficial" and "materialistic."
Caving into pressure to increase her bust size, Anderson says she suffered complications and injuries from the procedure, leading to more surgeries, resulting in what she says became a "vicious cycle."
"I joked that my breasts had a career of their own, and I was just tagging along," she writes in the book, saying the decision to have plastic surgery was ultimately "Un-thought-through," and led to "years of sordid attention I wasn't ready for."
JFK Jr. wanted to meet her
In the mid 1990s, Anderson says she was asked to pose for the first cover of a new magazine called "George."
"John F. Kennedy Jr. wanted to meet me," she writes. For the shoot, she says that she was photographed naked behind an American flag and that the "charming" Kennedy called during the shoot to apologize for not being there in person.
"I was embarrassingly giddy on the call, making noises I didn't recognize — some kind of squeal? I couldn't get off the phone fast enough," she writes.
According to Anderson, Kennedy tried reaching her again, after the shoot, but that she was too shy to call him back because he was "way out of (her) league."
The memoir includes details about meeting and marrying Tommy Lee
Anderson's headline-making relationship with Tommy Lee began when the pair met on New Year's Eve 1994. According to the book, the Mötley Crüe drummer approached her, shirtless, with just "tattoos and nipple rings," and licked the side of her face.
The two exchanged phone calls and a few months later, Lee followed Anderson to Mexico where she was doing a photoshoot. They married within days.
Lee proposed by putting a friend's skull ring on Anderson's finger. They made it official the next day in an impromptu oceanfront ceremony dressed only in swimsuits.
She says she and Tommy Lee 'never made a sex tape'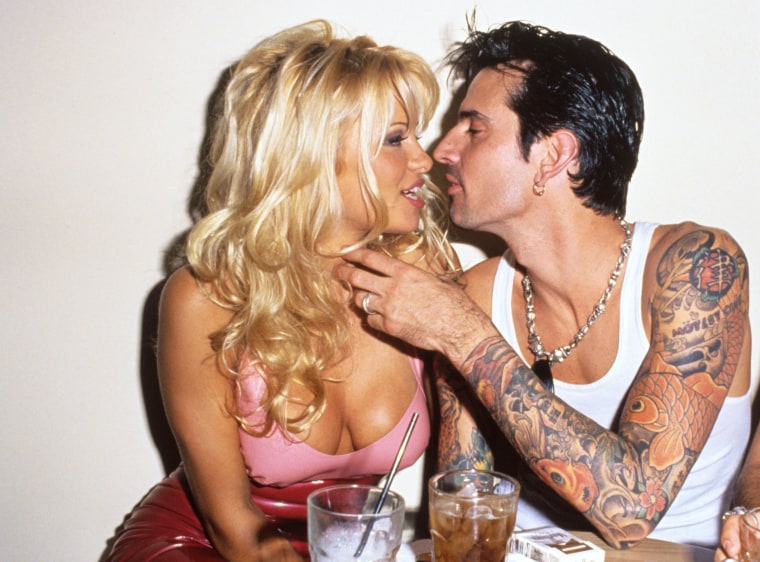 After moving in together, it took Anderson and Lee months to realize that they were missing a safe from their garage.
 The safe contained various personal effects including the bikini Anderson wore at their wedding, a collection of champagne corks and a video of them having sex. 
According to Anderson, they were just passionate newlyweds, "two crazy, naked people in love," who "filmed each other, always."
Anderson writes that the leaked tape "ruined lives" and her marriage."It's unforgivable that people, still to this day, think they can profit from such a terrible experience, let alone a crime," she writes. 
Between the tape, the demands of parenthood and constant scrutiny by the paparazzi, Anderson says that the couple was tired and overwhelmed.
During a heated argument, Anderson writes that Lee "lost it," and "his eyes went black" before throwing her and seven-week-old son, Dylan, "into the wall," then taking their other son, Brandon, and "running down the street with him." 
Anderson says she called the police, who arrived to find her "bleeding and marked up, in shock."
Lee was arrested and sent to jail in 1998, serving a six month term for the felony spousal abuse case. Lee pleaded no-contest to the charges that he kicked Anderson while she held Dylan.
They divorced in 1998 during what Anderson says was the "hardest, lowest, most difficult point of (her) life."
She took pills and became a 'bowlegged skeleton'
While still married to Lee and shooting "Baywatch," Anderson writes that she felt like she needed to be "on" 24 hours a day. To help keep her going "a bit longer," she began taking ephedrine, a diet pill.
"I liked how the pills kept me awake," she writes and says that while she could get more done, the side effect was losing weight until she was down to 105 pounds.
Looking like a "bowlegged skeleton in a bathing suit," she says that while doing scenes for "Baywatch," even the smallest waves would knock her over.
At the same time, Lee's escalating jealousy on the set of the show, coupled with her desire to make everyone happy, drove her to the "end of (her) rope."
"Confused, sad, tired, not in my right mind," she writes that she got into the bathtub, swallowed "a bottle of Advil with vodka," before throwing it all up and falling asleep in a "pool of Advil-red vomit."
Kid Rock and Tommy Lee's brawl at the VMA's
In 2006, Anderson married Kid Rock (the stage name of Robert Ritchie) after meeting the musician at a charity concert. "I was helpless in the face of his rock-star advances," she writes.
However, her ex, Lee, interfered in the relationship, which Anderson believed caused them to break up "few times."  
Anderson says she and Ritchie divorced after he saw her in the movie "Borat," and called her "a whore and worse" upon seeing a reference to her "sex tape" in the film.
The love triangle came to a violent head when Anderson, Ritchie and Lee attended the 2007 MTV Video Music Awards, and Ritchie and Lee got into a physical altercation.
After a bitter red-carpet exchange in which Anderson says Ritchie walked by her and said, "Look what the cat dragged in," the three were seated near each other.
Anderson writes that Ritchie watched as she playfully sat in Lee's lap, "fuming from his seat across from us."
Tensions boiled over during an Alicia Keys' performance when Ritchie and Lee "dove at each other" with "fists flying," and that the situation was "a setup." 
"MTV must have been thrilled," she writes. "I told the press waiting outside that we were bamboozled."
'The catalyst of everything good in her life'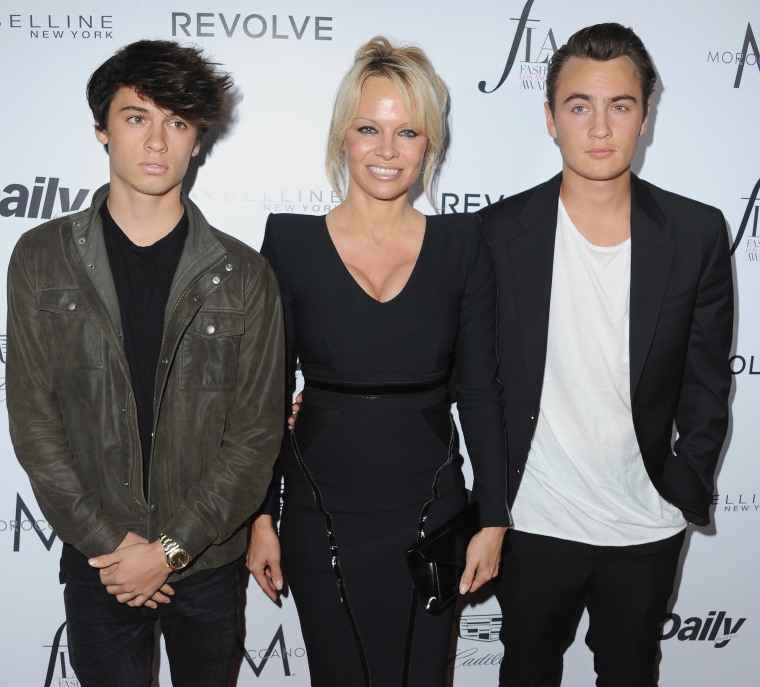 In the acknowledgements of "Love, Pamela," Anderson thanks sons, Dylan and Brandon Lee, saying, "this was your idea," and that even though she was "hesitant," they knew that she "needed to take back (her) life story."
"I can breathe better and move forward now with grace," she writes.
Anderson also offers thanks to ex-husband, Tommy Lee, writing, "Thank you for just being you, and for being the catalyst of everything good in my life."
Before closing, Anderson says that the memoir isn't a "woe-is-me" book, but rather "a celebration" of "imperfect people living imperfect lives and finding the joy in that."
If you're struggling with an eating disorder and need help, information or resources, visit the NEDA website or call 1-800-931-2237.