Author Colleen Hoover currently holds six of the top 10 spots on The New York Times's paperback fiction best-seller list and sold 8.6 million print books in 2022 — more copies than the Bible, according to NPD BookScan.
With stats like those, it's safe to say Hoover's books are everywhere right now – including on Kylie Jenner's nightstand.
The 25-year-old Kylie Cosmetics founder took to her Instagram story on Thursday, Jan. 5 to share a snap of the book she is currently reading, "It Starts With Us." Published in October 2022, the book is the long-awaited sequel to Hoover's global hit "It Ends With Us."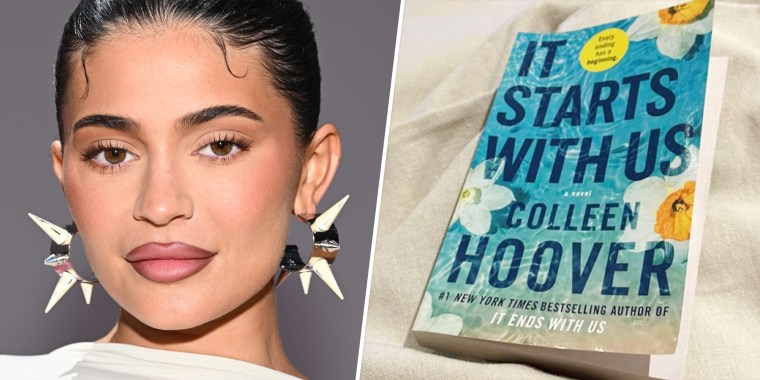 "It Ends With Us," published in 2016, follows the story of Lily Bloom, a recent college graduate and florist who falls for with neurosurgeon Ryle Kincaid while she recounts growing up with domestic violence. History repeats itself when Lily finds herself navigating a physically abusive relationship of her own An old childhood love, Atlas Corrigan, reenters Lily's life to try and remind her what real love looks like. 
The book, originally published in 2016, gained traction in 2020 thanks to BookTok (a niche of TikTok in which book lovers post content and recommendations), and helped place Hoover in New York Times' bestselling lists years after its release leading to 768,700 copies sold in 2021, a dramatic uptick from the years prior.
Hoover's sequel "It Starts With Us" has equally dominated the book charts, selling a record-breaking 800,000 copies on its first day alone.
Picking up right where the first book left off, "It Starts With Us" follows Lily and Atlas' second chance at love. The book reveals more of their past and their present problems with Lily's jealous ex-husband, Ryle.
Jenner first publicly counted herself among Hoover's readers when she posted a picture of "It Ends With Us" on her Instagram Story in 2021 with the caption, "Read this today. And I'm kinda sad it's over." Hoover responded to Jenner's attention with an Instagram post saying she put on her "Kylie Jenner pants."
She's not the only Jenner to moonlight as a literary tastemaker. Jenner's sister, Kendall, frequently is photographed reading. Rather than popular fiction like Hoover, Kendall tends to veer toward essay collections, short stories and alternative reads like Chelsea Hodson's essay collection "Tonight I'm Someone Else;" Lang Leav's collection "Sea of Strangers;" Darcie Wilder's "Literally Show Me a Healthy Person."
Kendall and Kylie, consider this your formal invitation to join in on Read With Jenna's Streaking With Jenna initiative, geared at keeping a reading streak in 2023. There are enough Colleen Hoover books to last you until at least June!