Judy Blume has written books for (almost) all ages. Her storied publishing career began in 1969 with her children's book, "The One in the Middle is a Green Kangaroo," and she went on to break barriers with middle grade and young adult novels and explore the complexities of life in her adult literature.
Now, at age 85, would the author ever consider penning a story geared toward older adults?
While walking the red carpet at the TIME100 gala in New York City on April 26, she told TODAY.com — and it didn't take her long to answer.
"No," she said of writing a book geared toward old adults, then pointing to herself with a smile and saying, "That would be me." 
She said she's "done" with writing, aligning with a recent The Atlantic interview that her 2015 adult novel "In an Unlikely Event" may be the last book published by Blume.
But, it certainly isn't her last project.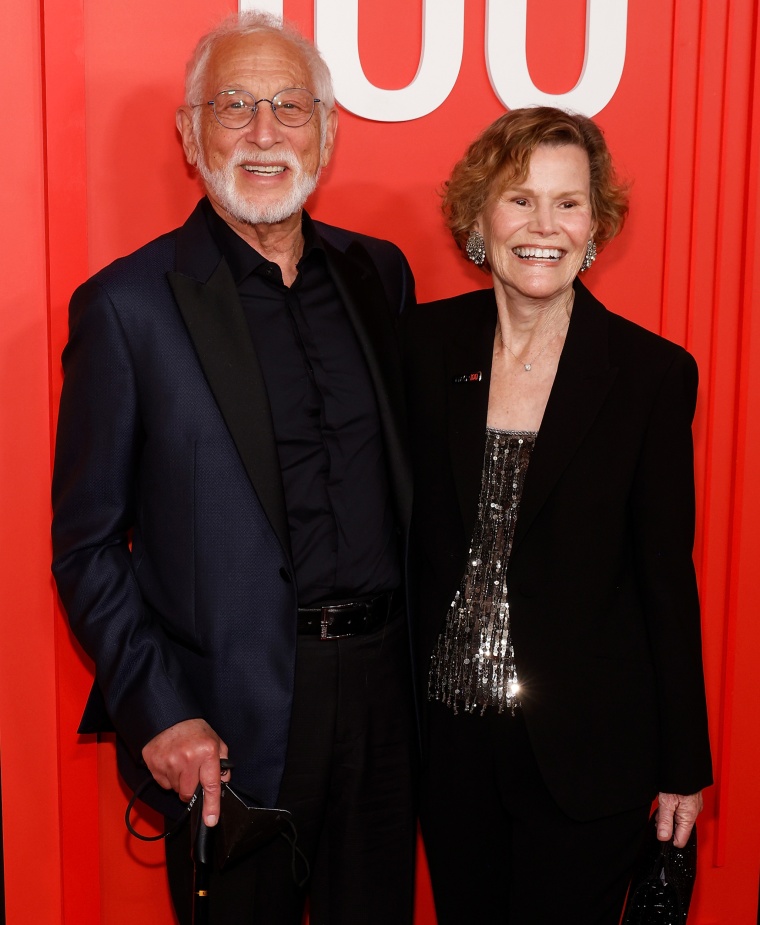 In 2018, Deadline reported that Judy Blume had officially sold the screen rights to "Are You There God? It's Me, Margaret" to be adapted into a film, and nearly five years later, the film debuted in movie theaters across the country.
"It happened just after I said to my agent, 'Margaret's' off the table, I'm not selling 'Margaret,' no, tell everybody out there in Hollywood land, no 'Margaret," Blume said on TODAY Jan. 12 of making her novel into a film. "But then I got this letter — a remarkable, and a passionate, and a funny, intimate letter from Kelly Fremon Craig, the writer (and) director, and she was very persuasive."
Blume went on to say that she feels "wonderful" about the movie released on April 19, 2023, because she loves how the film turned out — even more than her own book.
"How many authors of the book can say, 'I think the movie is better than the book?'" Blume said.
During the same TODAY appearance, Blume also discussed how "Margaret" was banned from library shelves in the '80s. When Hoda asked what explanation she was given as to why parents didn't want their children to read her books, Blume exhaustedly said, "Menstruation?"
"But today, it's even worse, because we got over the '80s and we said, 'That's it,'" Blume continued. "And now, book banning is back in a huge way, and a really frightening and destructive way, because it's uber political."
Just two months after her TODAY interview, Florida's Martin County School District removed her young adult novel "Forever" from its shelves.
While Blume is no stranger to book bans, the push for censorship never ceases to disturb her.
"They're trying to pass laws about what we can think, what our kids can think, what they can know, what they can talk about," Blume said in a recent interview with NPR. "There's legislation going on right now that says that girls in elementary school are not allowed to speak about menstruation ... I mean, where are we? What country is this?"
But nothing can stop the influence her books has on future past, present and future generations.
"It's not just a certain generation ... it's all the generations," Blume said during her time on TODAY in January.
"I didn't know what I was doing when I wrote the book, believe me, I had no idea what I was doing, and so it just came out spontaneously and ... I never dreamed that it would reach so many people or that it would mean so much."