In the opening pages of "Worthy," Jada Pinkett Smith describes the "hellfire" of hopelessness and depression that led to her to contemplate suicide in 2012.  
It's one of many revealing and vulnerable admissions in the new memoir which pulls back the curtain on the "Red Talk Table" host's complicated childhood on the streets of Baltimore, relationship with rapper Tupac Shakur and decades-long marriage to actor Will Smith, among other revelations.   
Writing that she felt like she was "walking the plank of doom," Pinkett Smith says that the low point in her life came just before her 40th birthday and was due, in part, to a "broken heart" resulting from her failing marriage to Will Smith, as well as undiagnosed complex trauma and PSTD.  
In the new book, Pinkett Smith says that she was able to work through the difficult time with the help of "Mother Aya," or ayahuasca, a plant-based psychedelic drug that she says gave her a "new deep willingness to live."   
The story sets the stage for the rest of the memoir, which is as much a therapeutic catharsis for the actor as it is an insightful look into one of Hollywood's most well-known couples and the ups and downs that accompany living in the spotlight.  
From the history behind Smith's stunning Oscars slap to Pinkett Smith's years-long separation from husband Will Smith, here's what we learned from "Worthy."  
Pinkett Smith and Will Smith have been separated for years 
After nearly 20 years of marriage, Pinkett Smith writes that she was in a "chronic state of discontent" and that her relationship with Smith had reached the point of "irreconcilable differences" in 2016.  
"It was nobody's fault. As much as I wanted him to love me, that would never happen if I didn't love myself. And the same applied to him. Will and I had pictures in our mind of what a happily married couple was. And our pictures didn't match." 
Rather than divorce, they decided to "separate in every way except legally."  
According to Pinkett Smith, the reason the couple didn't divorce outright was because of a vow she made to Smith prior to their wedding.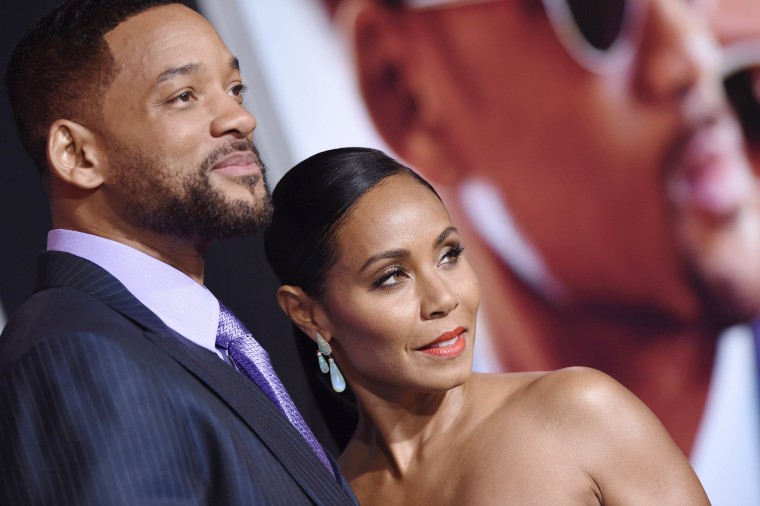 She writes that Smith's team wanted him to get "a prenup."
When he asked her about it, she responded, "If we're going into this marriage with the possibility that divorce could happen, then I don't think we should do this," and continued by telling Smith, "I'm not going to start the end of our marriage in the beginning." 
Pinkett Smith says that Smith "agreed without hesitation," cementing their commitment to be in the relationship for the "long haul." 
When their marriage faltered, it's that conversation that Pinkett Smith says kept them together.  
"I could never break the promise I'd made all those year ago in Will's mother's backyard — that we would never be in a position to need a prenuptial agreement because we would never need a divorce."  
Speaking to TODAY on Oct. 15, Pinkett Smith said she and her husband are working to reconcile.
"There's no finding another great love, and I think that's the point," she said. "It's like we are in a place now that we are in a deep, healing space. And we are really concentrating on healing the relationship between us."
"There's no divorce on paper. We really have been working hard. That's the whole thing. We are working very hard at bringing our relationship together. Back to a life partnership."
During her appearance on the "On Purpose with Jay Shetty" podcast, Shetty read a letter penned by Will Smith about the memoir.
"I applaud and honor you. If I had read this book 30 years ago, I definitely would've hugged you more," Shetty said, reading the letter.
Tupac Shakur proposed to Pinkett Smith  
After meeting at the Baltimore School for the Arts, Pinkett Smith and rapper Tupac Shakur formed a lasting "bond that would impact my life forever," she writes. 
Though they were close, Pinkett Smith discloses that the nature of their relationship was platonic and that after trying a kiss when they were teens, they realized that there was "no romantic chemistry between us … at all."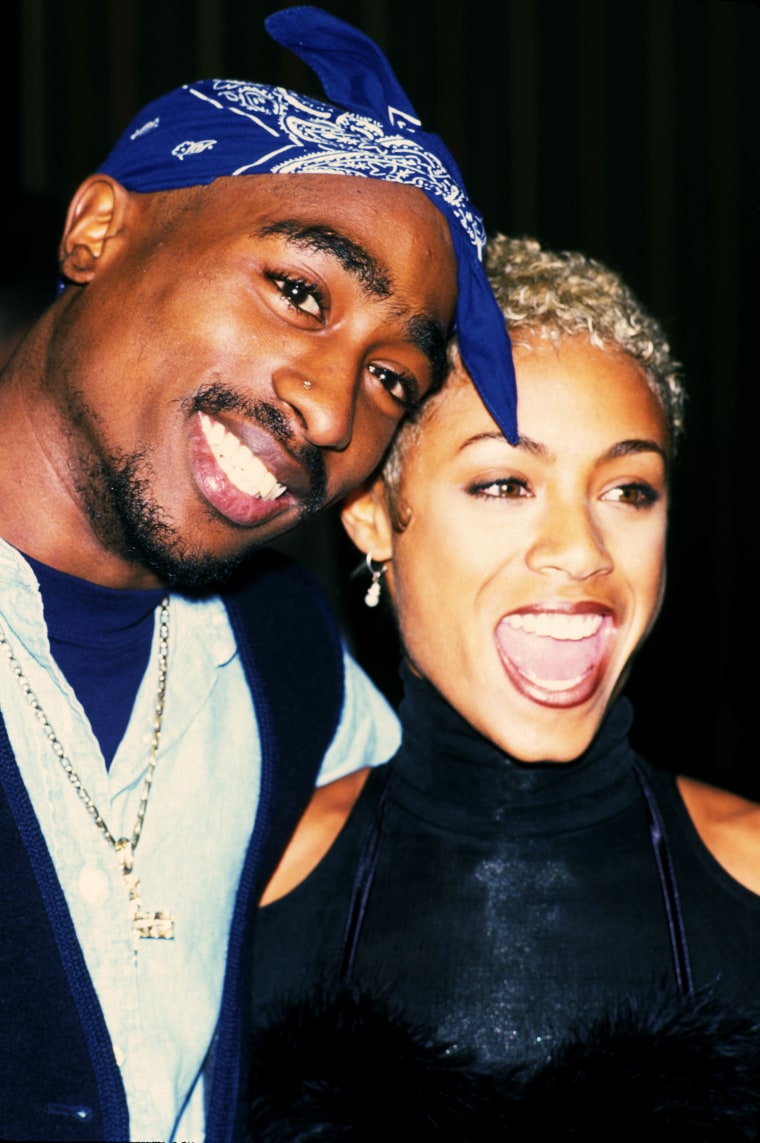 Despite that, while being imprisoned in Rikers Island for sexual assault in 1995, Shakur sent Pinkett Smith a letter asking her to marry him. Shakur was released pending an appeal in 1995.
"The last thing I ever expected was a formal marriage proposal from Tupac," she writes. "He asked me to answer as soon as possible because his entire existence depended on me saying yes."   
Though she briefly considered the proposal, Pinkett Smith writes she turned the musician down after realizing he wanted their relationship to be physical but that she simply "couldn't do it."  
Pinkett Smith dealt drugs 
Pinkett Smith writes that she grew up in Pimlico Heights in Northwest Baltimore with an abusive father who once "in a violent rage punched mother in the stomach" and a mother so drug-addicted family members had a contingency plan in place in the event of her death.  
"My aunt Karen was worried enough about this that at one point, she asked my mother for guardianship should (my mother) overdose or worse," Pinkett Smith writes. 
During her teen years, Pinkett Smith says that she began dealing crack as a way to secure "financial stability and mobility." 
"The idea that I could gain some financial freedom by selling drugs just seemed practical to me — to make a way for myself in a landscape where so many awful things were happening," she writes.  
Though her acting career began to take off in the late 1980s, Pinkett Smith says she continued to deal and, at one point, "set up shop" in a woman's apartment, selling drugs out of a first-floor window.  
On more than one occasion, Pinkett Smith writes that she was robbed while dealing. During one of them, she recounts having a gun barrel pressed against her forehead. "In terror, I fall back into the recliner I'm usually posted in and pee my pants," she writes.
She participated in the Rodney King riots  
After going to the University of North Carolina School of Arts for one year, Pinkett Smith dropped out and moved to Los Angeles to pursue acting.   
When the Rodney King verdict was read and the officers in the trial were acquitted of assault charges for beating King, Pinkett Smith recalls that she and a friend joined the crowds of people who took to the streets in protest.   
"We all felt the pain and humiliation of entrenched dynamics protecting those who had no regard for Black life," she writes.  
She continues by saying, "In expressions of anger, frustration, and the need to be heard, many got caught up in the tide that would render unintended consequences as we grabbed stuff out of local stores." 
At that time of her life, Pinkett Smith writes she believed that justice meant "an eye for an eye," but in hindsight reconsiders. "That night of looting and burning down businesses destroyed resources we needed in our community, and we felt it," she writes.  
Will Smith refused to stay overnight because her house was haunted 
After her initial success in Hollywood, Pinkett Smith writes that she rented a two-story townhouse.  
"Every friend who came to visit was happy for me and made sure to claim their guest bedroom," she says.  
The only problem? Her friends were convinced the place was haunted, saying things like, "Somebody sat on my bed last night while I was sleeping! But no one was there!" 
Pinkett Smith writes that her "invisible housemates" didn't bother her, but definitely made her houseguests feel uncomfortable. Will Smith refused to stay over at her house after spending just one night there. 
"The one thing that did not work for Will was staying over at my place, mainly because it was haunted," she writes. "To me, there was nothing foreboding about the spirits there. But Will, like my friends, was creeped out." 
She and Tupac Shakur weren't speaking when he died 
 Upon his release from prison, Shakur and Pinkett Smith met for lunch, where she writes that they had an argument.  
"His whole vibe has changed since his association with Suge," she says and writes that after expressing her concern over Shakur's new "get-down," it kicked off a "hailstorm of rage" in which the rapper accused Pinkett Smith of having gone "Hollywood."  
"Next thing I knew, he was done talking, and so was I," she says in the memoir.  
Despite the heated disagreement, Pinkett Smith says she believed they would eventually patch things up, but that it was up to Shakur to break the ice first. A year went by in which they didn't speak and before they could repair the riff, he was murdered in Las Vegas.   
"I never once saw myself on this planet without him here, somewhere, on it," she writes. "I felt a huge piece of love for me leave the world, a part of myself gone. In its place was rageful sadness."   
Pinkett Smith bought her own wedding ring 
 After discovering she was pregnant, Pinkett Smith writes that Smith proposed by insisting they get they tie the knot saying, "there was no way I was going to have a baby without him marrying me."  
Saying she was "scared as hell," she recounts going to Harry Winston in Beverly Hills the next day and buying herself a "pear-shaped diamond" and explains why. 
"By buying my own ring, I took some measure of control and sent the message to myself: 'All right, get with the program,'" she writes.  
In the days leading up to the wedding, Pinkett Smith writes that Smith was "hyper-focused" on work and "wasn't really paying attention to the wedding-to-be-or-not-to-be." 
Her mother, Adrienne Banfield Norris, was a different story, and the "Red Table Talk" host says she felt pressured to have a wedding even though she preferred to exchange vows with Smith in a small, mountaintop ceremony.
"But leave it to Adrienne to plead her case to Will," she writes in the book. "After she cried her eyes out on the phone, Will took her side, assuring her we would indeed have a wedding after all," and the couple married in Baltimore on New Year's Eve in 1997.  
She and Tom Cruise rode motorcycles together  
After becoming friends on the set of the movie "Collateral," Tom Cruise and Pinkett Smith discovered they had a mutual love of motorcycles and went riding together on Cruise's dirt-bike track. 
Attempting to jump her bike off a ramp, she writes in the book that she wasn't able to manage the landing and was thrown. After ensuring Pinkett Smith was alright, she says Cruise suggested they stop for the day.  
"I looked up at him and asked a really important question of him and of myself: 'How many times have you reminded me to not let fear stand in my way? If I don't get back on this bike right now and do another lap, I may never get on a bike again.'" 
Pinkett Smith writes that in response, Cruise smiled and helped her get back on her feet.  
Cruise isn't the only celebrity to have given her advice. Pinkett Smith writes that during a lunch with Warren Beatty, the actor told her that she could come off as "abrasive" at times and suggested she allow her "delight" to show through more often.  
"This was the first time anyone had taken the time to put this to me in such a nonjudgmental way, and I appreciated it," she says of the encounter. 
Keanu Reeves also made an impact on Pinkett Smith. According to "Worthy," the pair read together for "The Matrix," when she was up for the role of Trinity. The two had "zero" chemistry, though she later appeared in a "Matrix" sequel. Even so, they became friends and says that Reeves, encouraged her to pursue her passion for music by ignoring the judgement of others and to "just have fun."  
The 'worst heartbreak' she ever felt was her son moving out 
Pinkett Smith says her son, Jaden, announced that he'd decided to move out in 2013.   
"Jaden was an early bloomer, wise beyond his years, and a restless seeker," she writes and says because of that, she had told husband, Will, that they'd be "lucky to keep him here" past 16.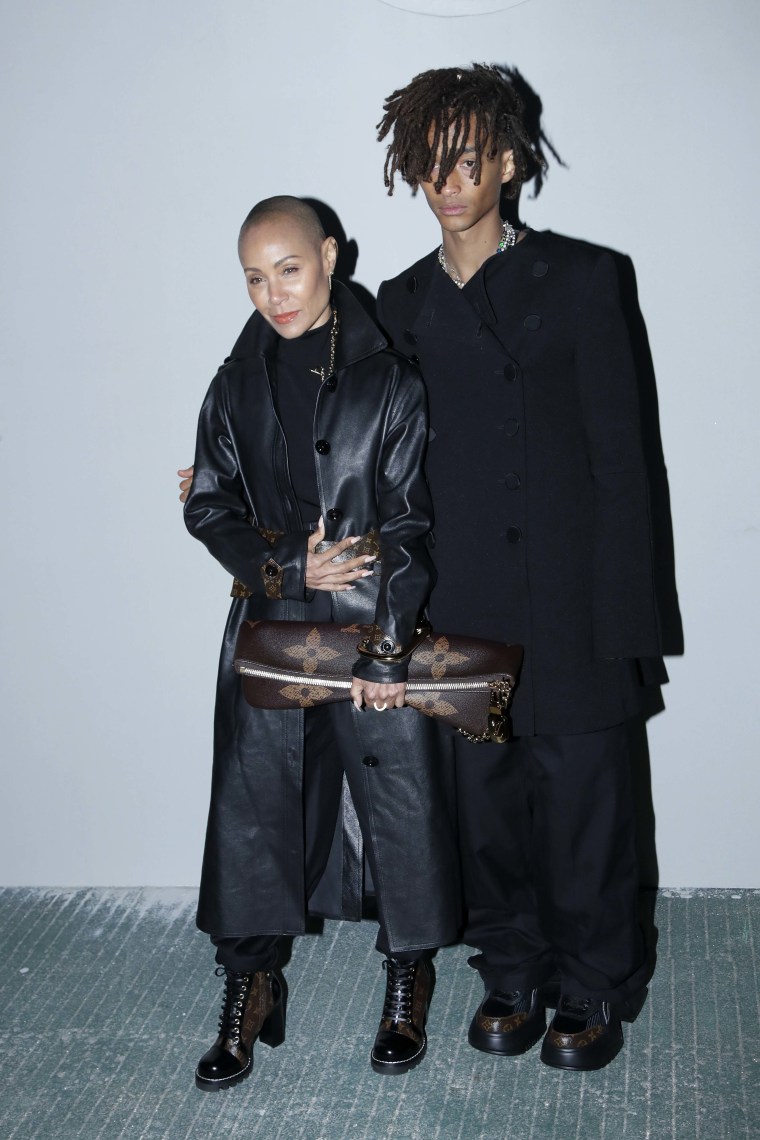 Pinkett Smith says she wasn't fully surprised, then, when at 15, Jaden said that it was time for him to leave. "I need something different, Mom. It's nothing personal. I love you," she writes of the conversation.  
In that moment, Pinkett Smith says her response was pivotal in either breaking her son's "determination to face life's adversity on his own terms" or, worse, risking "losing him for a very long time."  
So, she let him go.  
Once he was gone, Pinkett Smith says in the memoir, "A flood of tears fell from my eyes. I did my best to keep from wailing, to maintain some control in the midst of the worst heartbreak I had ever felt."  
Will Smith's surprise over her 'entanglement' wasn't 'true' 
During the couple's revealing 2020 episode of "Red Table Talk,' Pinkett Smith and husband, Will, opened up about her "entanglement" with singer August Alsina.  
According to Pinkett Smith, Smith wasn't originally supposed to be on the show with her, but later decided to join.  
"Frankly, I was surprised. Pleasantly so," she writes. "Considering we weren't together, and given where we were sitting in our relationship as the time, that was unexpected." 
She says that it felt like a "powerful offering" but was then surprised when the conversation with Smith took an unexpected "turn," with Smith seemingly conveying he'd "been done wrong." 
"At this point, Will had been free as a bird for the last four years, living his life on his own terms," she writes, saying that Smith "reframed" her relationship with Alsina to appear as though it had "been a secret to him, when that wasn't true."  
"Here's where I should have stopped the conversation," she says in the book. But not wanting to "oppose" her husband publicly, she says she instead "took the blame."  
They ended the "Red Table Talk" conversation on a lighter note which Pinkett Smith says actually belied a deeper truth.   
"Will got in a final stinger," she writes. "Laughing, but truly serious, he proclaimed that we were okay, but with the caveat, 'I'mma get you back first …'" 
Pinkett Smith writes that she also laughed, but was serious when she replied to him, "You gonna get me back? I think you've gotten me back … we're good on that," she says and continues by writing, "I took a more honest stand on my own behalf, knowing all that had transpired between us." 
Chris Rock asked her out on a date 
Pinkett Smith says that she got to know "another side" of actor and comedian Chris Rock while the pair filmed and promoted the 2005 animated movie "Madagascar" together.  
"I found him to be quirky, with an unexpected sweetness, and very intelligent, with a biting wit that's impressive if you are on the right side of it," she writes of Rock. 
The "Red Table Talk" host says she would later feel the burn of being on the wrong side when Rock targeted her during his 2016 Oscars' monologue, a year that she and Smith publicly sat out the awards' ceremony out over a lack of nominations for industry members of color. 
"Why me, when there were so many others who had been even more vocal?" she writes.  
The dig was even more baffling to Pinkett Smith given that she says Rock once asked her out.  
"At one point, during rumors that Will and I had divorced, Chris even called to ask me out on a date. Once he found out I wasn't divorced, we laughed, and he apologized profusely, and life went on." 
TODAY.com reached out to Rock for comment. He did not respond.
The history behind the Oscars slap goes way back 
According to Pinkett Smith, the "holy slap" — as she refers to the moment when husband Smith struck Rock during the 2022 Academy Awards — was the result of "decades of disrespect" between Smith and Rock that began long "before either of them knew I existed." 
Though she doesn't explain the origin of their bad blood, she writes that it began in the 1980s with "a big ole misunderstanding that I don't have enough therapists or lawyers to begin to explain. And it just kept festering."   
Despite the years-long tension, in which she says she and Smith were "dragged across many stages by Chris's jokes," by the 2022 Oscars she writes that she "believed us to be cool."   
However, when Rock came out on stage, she recalls in the book that she "immediately felt a trainwreck coming" and had the sense that Rock wasn't going to be able to "help himself."  
After making the jab over her alopecia, Pinkett Smith says she rolled her eyes, not because of the dig at her, but for all the people "whose condition was far worse than (hers)."  
Though she says she wasn't shocked by the subsequent blowback she received, she was surprised at the narrative that Smith had slapped Rock over "me as the adulteress wife who had now driven her husband to madness with the command of one look."  
"The vitriol in the coming days did come faster and more furiously than I'd predicted," she writes. "Blaming the woman is nothing new. And I was clear on that." 
Oscars night brought her and Smith closer 
Pinkett Smith says in the book that after being separated for years, she and Smith began therapy in 2022. Though she was reluctant, she writes that the experience proved to be "life-changing." When Smith invited her to join him for awards season (including the Oscars), she says in the memoir that she was "pleasantly surprised." 
"Our movement back into therapy and his invitation for me to be at his side for awards season told me that we weren't ready to give everything up just yet."  
After the historic slap, Pinkett Smith writes that her first thought was that the incident was all part of an orchestrated skit.  
"It's not until Will yells from his seat back up at Chris to 'keep my wife's name out your f-----' mouth,' and then repeats it, that I perceive the gravity of the situation," she explains in the memoir.
She says she can't tell "his story" of why Smith did it, but that "it had everything to do with Will's own personal battles, which unfolded on a world stage."   
Rather than turn her back on him, as she says many people did following the radical moment, Pinkett Smith writes that she knew "for the first time in six years since our breakup" that she'd stand by him "as his wife, no matter what." 
"The Holy Slap helped me learn how to walk hand in hand with Will, with all the bats and gremlins, the part of him that had been banished deep into his darkest exiled lands, and to be a torch of love for him until he could find his own."  
They did ayahuasca together this year
According to the memoir, Pinkett Smith, Smith and other close friends and family joined in an "aya journey" together in early 2023.   
She writes that at the end of the ceremony, she "looked over at Will and felt … differently," she says. "Our multilayered, complicated history didn't change the undefeated truth — that I could no longer deny our spiritual bond." 
Pinkett Smith writes that in the moment, she said to Smith, "You are a king of my heart" and in reply Smith told her that she was the queen of his.   
"We both understood that these declarations were not a romantic nature," she concludes in the book. Instead, they were "forged in some extreme fire" and that she and Smith were able to "bask in the truth of what remained — unconditional love."