If you're a Colleen Hoover fan, or even if you're not a Hoover fan, you've probably heard of "It Ends With Us."
Hoover's 2016 novel is among her most popular books — and at this point, they're all popular. Thanks in part to the enthusiasm of BookTok, Hoover has catapulted to hold the first three places on the New York Times' paperback fiction bestseller list simultaneously and sell more books than the Bible in 2022.
But when Hoover surprised her CoHorts with news "It Ends With Us" was becoming a coloring book on Jan. 10, fans questioned whether the dramatic novel could survive the adaptation into other mediums — and whether it should make the leap at all, given its themes of domestic abuse and trauma.
A day of criticism later, plans for the coloring book were dashed, with both the author and publisher, Atria Books, responding to the controversy.  
Hoover took to her Instagram Story on Jan. 11 to post a message. "The coloring book was developed with Lily's strength in mind, but I can absolutely see how this was tone-deaf," Hoover wrote.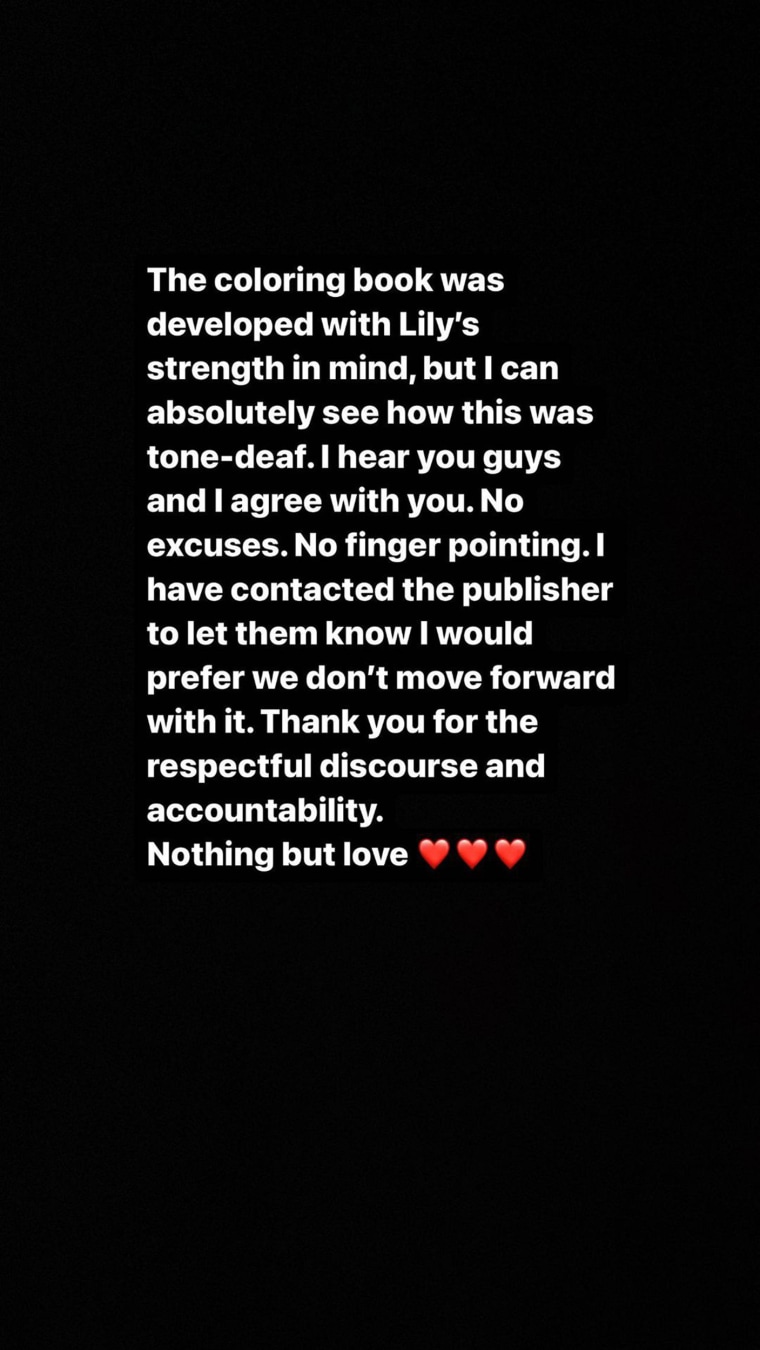 "I hear you guys and I agree with you. No excuses. No finger pointing," she continued. "I have contacted the publisher to let them know I would prefer we don't move forward with it. Thank you for the respectful discourse and accountability. Nothing but love."
Atria Books also confirmed that the coloring book project was canceled following a flood of online criticism from readers. 
"Atria Books will not move forward with the publication of The Official It Ends with Us Coloring Book," the publisher wrote on Instagram. "We developed this book to be uplifting and empowering, mirroring Lily Bloom's story; we appreciate the feedback and discourse and have the greatest respect for Colleen Hoover's fans. Thank you for the honest conversation and passion for the world Colleen has created in her books and the characters within."
"It Ends With Us" is a story of a young woman fighting to break the cycle of abuse that has defined her life: First, her childhood living with an abusive father, and then a marriage to a controlling neurosurgeon. Lily Bloom finds a different kind of love with Atlas Corrigan, an old childhood friend, who offers her a pathway out of her stifling relationship with Ryle Kincaid. 
After news of the coloring book broke, "It Ends With Us" fans immediately pointed out the dissonance between the book's subject matter, domestic abuse, and the coloring book format.
One Twitter user suggested the move "romanticized" Lily's journey. Another said the coloring book was "beyond tone deaf and harmful." TikTok was similarly abuzz.
The publisher's website said the coloring book, which had been set for release on April 4, would "immerse" readers in Lily's world with 30 illustrations of the novel's "most iconic scenes and settings," in addition to quotes.
The description led to online confusion, with one Twitter user recalling a specific scene in the book between Lily and Ryle in which he pushes her down the stairs. 
Despite the book being canceled, readers continued to express their disappointment towards the author, with one person saying they were "extremely disappointed and disgusted" that Hoover thought the coloring book was a good idea to begin with.
For fans, "It Ends With Us" holds an important place in the Hoover canon. Micha Meyer, 26, from Kansas, who has read nine of Hoover's books including "It Ends With Us," tells TODAY.com she applauded the novel's discussion around domestic violence as someone who has experienced a similar relationship.
However, she believes marketing the book as romance can be harmful to a younger audience.  
"The book is being marketed as a romance book, which is misleading to consumers as the heart of the book is about abuse and violence," Meyer tells TODAY.com. "To me, I worry that young readers will now pick it up to read due to the marketing and will come in contact with themes such as domestic violence and abuse." 
Meyer believes a coloring book would have only added to the confusion.
"To me, this is the most harmful thing I have seen an author and publisher do in recent years. A coloring book based on a book about domestic violence is harmful, disrespectful, and truthfully, just gross." Meyer says, adding that she is "no longer reading" Hoover due to this "insensitivity."
"I am glad to see it canceled but it never should have been a thing in the first place."
Not everyone shared the reaction. Leticia Farnezes, 28, from Nova Lima, Brazil, who has read 15 of Hoover's books including "It Ends With Us" over the past four years, could not wait to get her hands on a copy of the coloring book.
"Although it brings a story related to domestic abuse, the book brings the importance of having supporters that will help you overcome and get out of an abusive relationship. It also contains a lovely friendship and true love," Farnezes tells TODAY.com.  
Before learning about the cancelation of the book, Farnezes believed opposers of the coloring book should have waited to see the contents of the book before making any conclusions. 
"I am sure Colleen and her team have chosen the imagery that brings joy and love to the readers while they read 'It Ends With Us,'" Farnezes says. "I understand why many people felt hurt, especially the ones who have suffered domestic violence. I was hoping to get my signed copy. However, I believe she made the right choice."
Nessa Snow, 40, from Portugal, who has read nine of Hoover's books over the past two years, agrees the book does not promote domestic violence.
"What it shows is the beauty of the beginning, which is a truth for many many cases, and then the darkness of when someone tries to make sense of what is going on and has to find the strength to end things," Snow says.
In fact, Snow wasn't surprised by the coloring book proposition. "Like it or not, it's one of her most famous books, why would they not choose to go with it first? People who like a certain book tend to buy merchandise related to it. If you don't like the book, don't buy it, don't read it," she says.