Bono has revealed he almost died during the making of U2's latest album, which explores the theme of mortality.
The 57-year-old lead singer reveals in the latest issue of Rolling Stone magazine that the undisclosed ordeal contributed to the subject matter of their latest album, "Songs of Experience."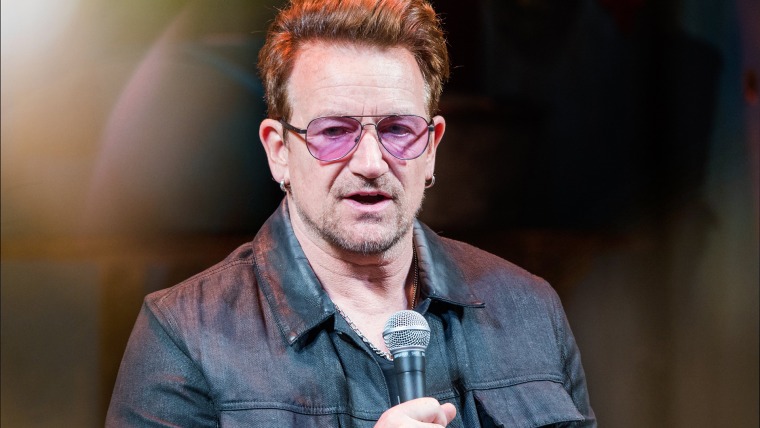 "This political apocalypse was going on in Europe and in America, and it found a perfect rhyme with what was going on in my own life,'' he said. "And I have had a hail of blows over the years. You get warning signs, and then you realize that you are not a tank, as (my wife) Ali says. Edge has this thing that he says about me, that I look upon my body as an inconvenience."
He did not want to discuss any details of the near-death experience.
"It's just a thing that ... people have these extinction events in their lives; it could be psychological or it could be physical,'' he said. "And, yes, it was physical for me, but I think I have spared myself all that soap opera."
"Especially with this kind of celebrity obsession with the minutiae of peoples' lives – I have got out of that," the singer explained. "I want to speak about the issue in a way that lets people fill in the blanks of what they have been through, you know? It's one thing if you were talking about it in a place of record like Rolling Stone, but by the time it gets to your local tabloid it is just awful. It becomes the question that everyone is asking."
It was the latest scare for Bono, who told Rolling Stone that doctors wanted to biopsy him for throat cancer in 2000 but thankfully everything ended up being fine. He also broke his arm in a bicycle crash in 2014 that he called a "comic tragedy."
"But the thing that shook me was that I didn't remember it,'' he said about the accident. "That was the amnesia; I have no idea how it happened. That left me a little uneasy, but the other stuff has just finally nailed me. It was like, 'Can you take a hint?'''
His undisclosed health issue meshed with themes he was already exploring on the latest album.
"Well, strangely enough, mortality was going to be a subject anyway just because it is a subject not often covered,'' he said. "And you can't write 'Songs of Experience' without writing about that. And I've had a couple of these shocks to the system, let's call them, in my life. Like my bike accident or my back injury. So it was always going to be the subject. I just didn't want to be such an expert in it."
Follow TODAY.com writer Scott Stump on Twitter.