Friday marks the long-awaited release of Adele's new album, "25," so what better day — or number — to list the reasons we love her?
Items are listed in chronological order.
1. TODAY hosted her American television debut in the summer of 2008.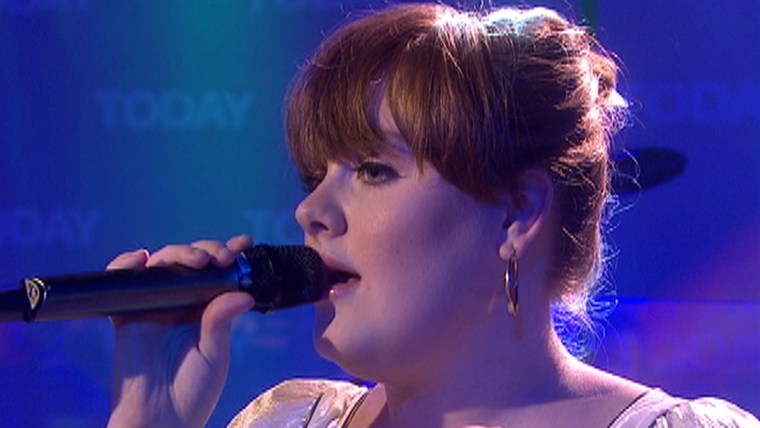 You're welcome, America.
2. She's a "Best New Artist" Grammy winner who's actually worthy of that title.
The notoriously cursed and confounding category — whose winners often fade as quickly as they emerge — appeared to get it right on Feb. 11, 2009, when Adele walked away with her first of 10 Grammys (and counting).
3. She had a fantastic response to Karl Lagerfeld, who'd claimed she was "a little too fat."
Adele brushed off the body-shaming with class. "I've never wanted to look like models on the cover of magazines," she told People in February 2012. "I represent the majority of women and I'm very proud of that." Lagerfeld later apologized.
She's continued to be a positive force for body image, as evidenced by a recent appearance on SiriusXM radio. "I do have body image problems, for sure," she said Nov. 16. "But I don't let them rule my life at all."
4. She delivered an incredible Grammy comeback performance after enduring vocal problems.
Fans who worried vocal-cord surgery might stifle Adele's pipes breathed a sigh of relief at the Feb. 12, 2012 ceremony, when Adele brought the house down with a rousing rendition of "Rolling in the Deep."
5. She seems grounded about fame.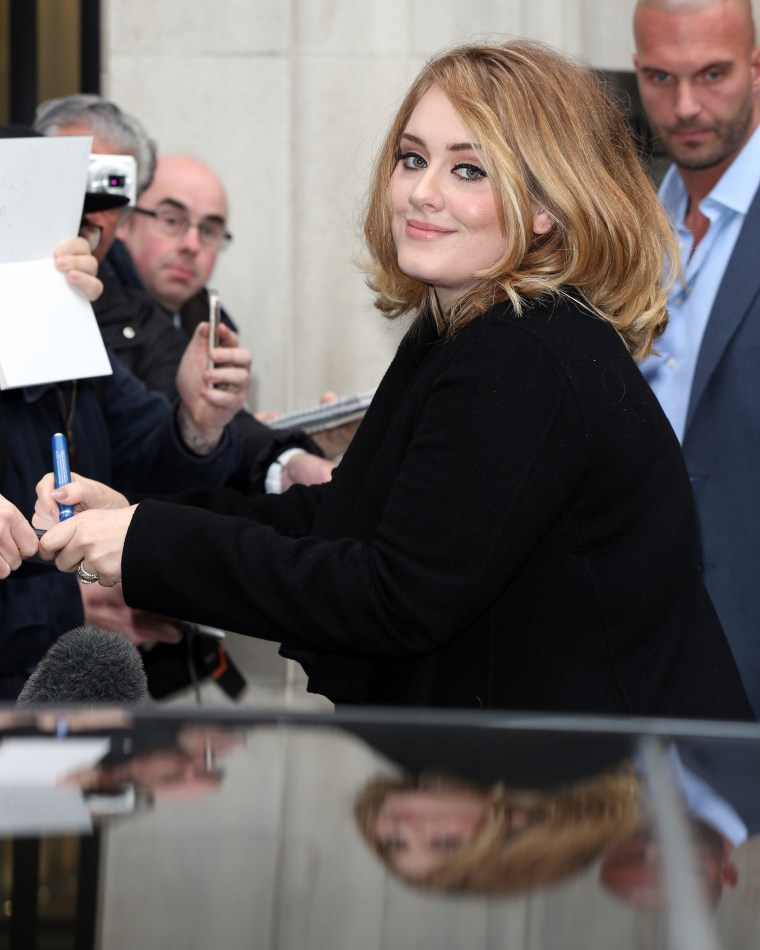 While chatting with TODAY's Matt Lauer in May 2012, she insisted she did not want to be a celebrity who's "in people's faces, you know, constantly on covers of magazine that I haven't even known I'm on." She added, "I just wanna make music. I don't want anyone chatting about me, really. I still hope I have a little bit of clout in 10 years. All I've ever wanted to do is sing."
6. She joined the cool-mom club in October 2012, when she gave birth to Angelo James Konecki.
"It's [bleeping] hard," she'd later tell i-D magazine. "I thought it would be easy. [I thought,] 'Everyone [freaking] does it, how hard can it be?' Ohhhhh. I had no idea. It is hard but it's phenomenal. It's the greatest thing I ever did. … It used to be that my own world revolved around me, but now it has to revolve around him."
7. She attended the 2013 Golden Globes ceremony with another new mom as a "night out" — and went home with an award for "Skyfall."
"We've literally come [here] for a night out," she told the A-list audience on Jan. 13, 2013. "I was not expecting this."
8. Her Academy Award acceptance speech a month later was short and sweet.
While thanking a list of people at the Feb. 24, 2013, Oscars ceremony, she choked up while mentioning her "Skyfall" songwriting collaborator, Paul Epworth, who "made me believe in me all the time." Before yielding the rest of the acceptance-speech time to Epworth, she concluded with a shout-out to her boyfriend, Simon Konecki: "I love you, baby!" The song also nabbed the first Oscar for a James Bond film in a category other than sound or special effects.
9. Her real Oscar (and her son's tinier replica for "BEST SON") made for an adorable tweet after her award-winning weekend.
"Thanks for having us Hollywood!" she tweeted March 3, 2013.
10. She used multiple emojis to celebrate passing her driving test.
Perhaps the frequent award winner wanted to thank the driving academy, assuming one taught her the rules of the road leading up to this tweet posted Oct. 11, 2013. Beep beep!
11. She's not just music royalty; she's in with British royalty.
Prince Charles bestowed the musician with the Most Excellent Order of the British Empire medal at Buckingham Palace on Dec. 19, 2013.
12. She loves her fellow moms, even the ones who don't accompany her to the Golden Globes.
This Mother's Day tweet from March 30, 2014 proves it.
13. She's impressed the "Queen of Soul," Aretha Franklin.
As a TODAY guest on Oct. 3, 2014, Franklin followed up calling Adele a "terrific artist" by performing "Rolling in the Deep." Praise doesn't get much higher than that.
14. She's an advocate for universal clean-water access.
Since 2013, Adele annually has tweeted her support for World Water Day, a United Nations initiative to "make a difference for the members of the global population who suffer from water related issues."
15. She dressed up as her "hero" George Michael for her 27th birthday.
On May 6, 2015 — a day after her 27th birthday — Adele tweeted a photo of her celebratory look, a tribute to her "hero," fellow British singer George Michael. The so-called "Singing Greek" raved about Adele's "Faith"-ful costume, wished her a happy birthday, and retweeted the awesome pic to his Twitter followers.
16. She dropped the mic (in the good way) when she greeted fans with her "Hello" video.
After taking time off to raise baby Angelo and otherwise take a break from the burdens of superstardom, Adele reintroduced herself to the music world with the powerful new single and accompanying video on Oct. 22, 2015. To call it a hit would be an understatement, as the YouTube video had been viewed more than one-third of a billion times within three weeks of its release.
17. She could be one of the fastest to claim EGOT status.
She already has 10 Grammys and an Oscar, fulfilling the "GO" portion of the major American award-show quadruple-crown (Emmy-Grammy-Oscar-Tony). Now, with her theatrical performance in the "Hello" video, perhaps the "E" and "T" awards are on the way, if she follows the advice of that video's director, Xavier Dolan. "He said I was quite good," she told i-D magazine in an article published online Oct. 27, 2015. "I had to cry and everything. You know what, I feel like a bit of a [jerk] after saying for all these years I'd never act, because I really enjoyed it." Of course, if there's an Adele jukebox musical and/or a jaw-dropping song performance that's televised, she could become an EGOT icon that way, too.
18. She posted this ridiculously cute #TBT Instagram/Twitter photo of herself.
Her Oct. 29, 2015, Instagram pic is further proof front teeth aren't a prerequisite for being adorable.
19. "Hello" already has broken at least eight records (and sold many more).
Yahoo's Nov. 2, 2015, article has all the details, but to cut to the chase, "Hello's" phenomenal reception is unprecedented in at least eight ways, including two instances that broke impressive (albeit recent) records set by Taylor Swift.
20. She's credited her son as a major reason she returned to show business.
"I don't know if I would've come back had I not had my kid," she told Rolling Stone in a cover story published online Nov. 3, 2015. "When I had him, it made everything all right, and I trusted everything because the world had given me this miracle, you know, so I became a bit of a hippie, an Earth mother."
21. "Hello" has encouraged dialogue among many of her fans, including this cute kid.
While there's no definitive number to quantify the number of exes have reconnected thanks to Adele's haunting ballad, we do know "Hello" has inspired at least one little boy to continue the conversation in a viral Vine video posted early this month.
22. "Hello" has become an instant (and international) go-to cover song.
Look, as sad as "American Idol" fans are sad that show is coming to a close, be grateful we don't have to be subjected to a subsequent season of every single auditioner singing "Hello" with superfluous melisma. But this South Korean teenage girl's stunning performance earned every last one of her 10 million YouTube views.
23. She's more than just "Hello."
Just three days before the release of "25," Adele's team released a new video for a follow-up track, "When We Were Young." Although it might not have shaken mainstream radio listeners the same way "Hello" did, the more subdued "When We Were Young" showed off her live-performance chops and racked up half a million YouTube views within hours of its release.
24. Her Radio City Music Hall concert from earlier this week will air as a one-hour special on NBC.
Speaking of live performances, NBC will use footage from Adele's Nov. 17 showstopping concert for its Dec. 14 broadcast of "Adele: Live in New York City."
25. She'll perform on TODAY on Nov. 25!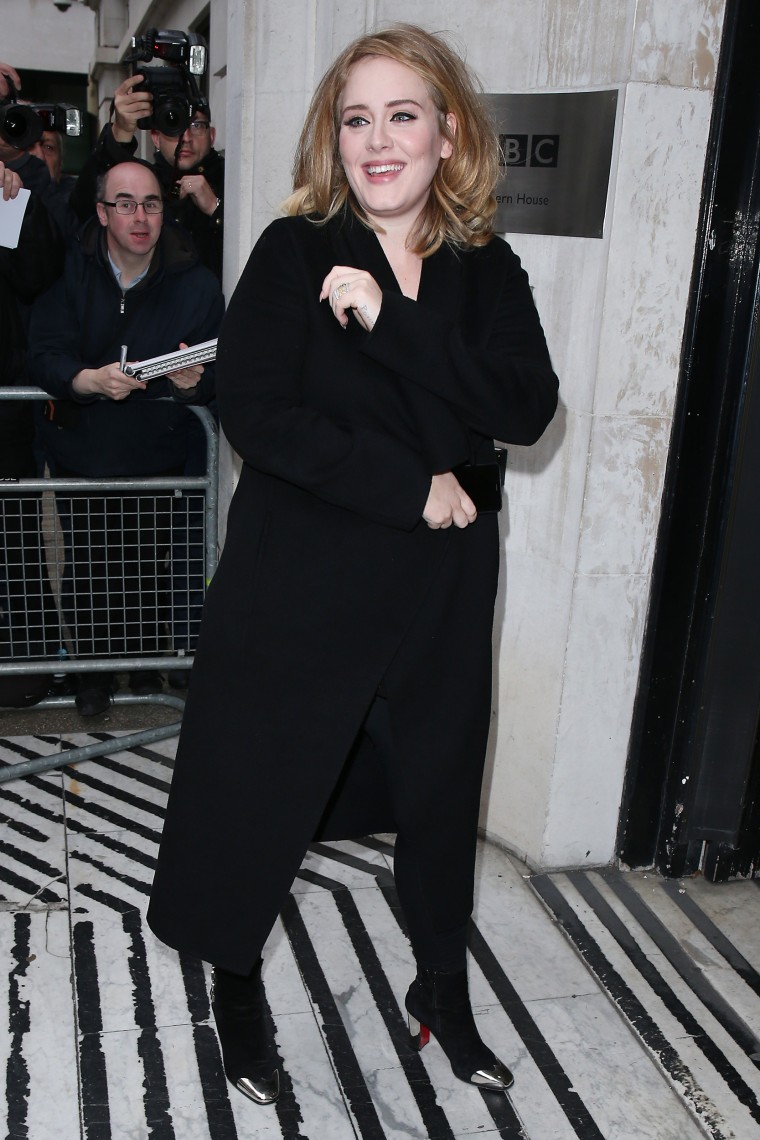 This list comes full circle: Just five days after fans familiarize themselves with every last note and lyric of "25," she'll perform on TODAY. "Hello" again, Adele!
Follow TODAY.com writer Chris Serico on Twitter.