'Bob & Carol & Ted & Alice'
Paul Mazursky has had a fabulous career in Hollywood as an actor, comedian and director, the latter with such landmark films as "Harry and Tonto," "An Unmarried Woman" and "Moscow on the Hudson." But if his debut effort behind the camera — an audacious comedy called "Bob & Carol & Ted & Alice" — had bombed, he might never have worked again.
Instead, "Bob & Carol & Ted & Alice" became a smash upon its release in 1969, and Mazursky was on his way. It was billed as a sex comedy, complete with poster shot of stars Robert Culp, Natalie Wood, Elliott Gould and Dyan Cannon in bed together. But the picture dealt more with themes of love, commitment, honesty and trust, which is why it struck such a public chord. Wood must have known they had a hit on their hands, because she eschewed her salary of $750,000 and instead took a percentage of the gross, which amounted to $3 million in her pocket.
The story begins when Bob (Culp) and Carol (Wood) attend the Esalen Institute, a group therapy retreat nestled in a mountain resort, where free expression is urged in both mind, behavior and attire. When they return, they transfer their experiences there to their repressed friends, Ted (Gould) and Alice (Cannon). From that point, the foursome struggle with the idea of being a foursome.
The picture was embraced by the public, and by the Academy, which bestowed four nominations, including supporting nods for Gould and Cannon, and a Best Original Screenplay acknowledgement for Mazursky and Larry Tucker.
"Bob & Carol & Ted & Alice" is a terrific film that, because it confronts relationship issues that are timeless, does not feel dated today. It's out now on a DVD that's worth your effort.
The disk isn't chock full of extras, but the ones available are splendid. The group commentary (what else?) involves Mazursky, Culp, Gould and Cannon, and it's one of the best you'll ever hear. These people are among Hollywood royalty, yet they sound like old friends getting together to reminisce about a glorious time in their lives. There are more priceless tidbits for movie buffs in this DVD commentary than you'll hear in 10 others combined.
There is also a decent featurette called "Tales of Bob & Carol & Ted & Alice," filmed at the Lee Strasberg Institute in L.A. Mazursky is interviewed on stage in front of an audience, and he offers some insight into this film and his career in general, including his misadventures as a failed standup comedian.
Get in bed with a friend – or friends — and check out "Bob & Carol & Ted & Alice."
Columbia Tristar Home Entertainment,  $19.94
'Stepford Wives: Widescreen Special Collector's Edition'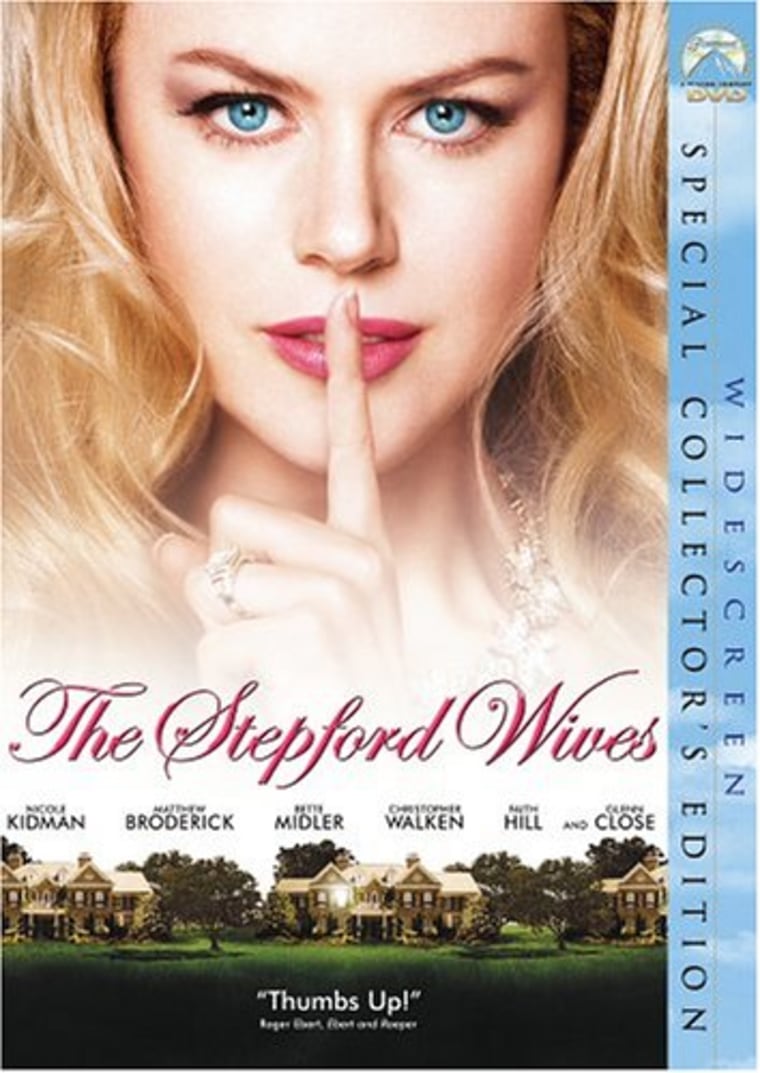 Ever since the remake of "The Stepford Wives" went into production, there were rumors of trouble on the set. Like most rumors, you don't really know what to believe. Some of Hollywood's finest pictures were rife with turmoil during production. There was a chance this one could develop into a classic.
I said "a chance."
This new "Stepford Wives" — now on DVD in a special collector's edition — turned out to be a stinker. It's a shame, because the cast — which includes Nicole Kidman, Matthew Broderick, Bette Midler, Christopher Walken and Glenn Close — is glorious. The screenplay was written by Paul Rudnick, who penned the Kevin Kline comedy, "In and Out"; this isn't close to being as funny as that. And the director is Frank Oz, once called "Miss Piggy" by Marlon Brando, who helmed "What About Bob?" and "Bowfinger," among others.
But this was an experiment gone awry. It lacks consistency of tone. The characters are not worth caring about. There might be one or two chuckles in this "comedy," but that's only if you're in a good mood. The only aspects that might rise to the level of excellence are the production design (by Jackson De Govia) and costumes (Ann Roth). The cinematography by Rob Hahn also deserves kudos.
The rest is as lifeless and empty as the robots it tries to portray.
So why watch?
It's hard to recommend such a mess. But "The Stepford Wives" might be worth your time for its train-wreck qualities. You won't believe Kidman would ever sign on to this, as well as the other actors. You'll marvel at how strange and disjointed the story is, and how a maelstrom of ideas can devolve into nothing. You won't be appalled by watching; rather, you'll be mystified in a "What were they thinking?" kind of way.
The special features on this DVD are passable, but even most of those are somewhat disappointing. The filmmakers were going for a campy quality in "Stepford," yet the primary behind-the-scenes featurette — "A Perfect World: The Making of The Stepford Wives" — is too straightforward and bland. The commentary by Oz is run-of-the-mill. Even the gag reel isn't funny, which is a very bad sign.
View this at your own risk. When a Stepford wife goes kerplooey, her head explodes. If you see this expecting great entertainment, yours may, too.
Paramount Home Video, $29.95