It never fails: Amid the glitz, the glamour, the jokes and the speeches, every awards show has us scratching our heads over some important unanswered questions. Here's what Sunday night's 72nd annual Golden Globes ceremony had us wondering about — see if we answered something that had you doing a double-take, too.
See the complete winners list here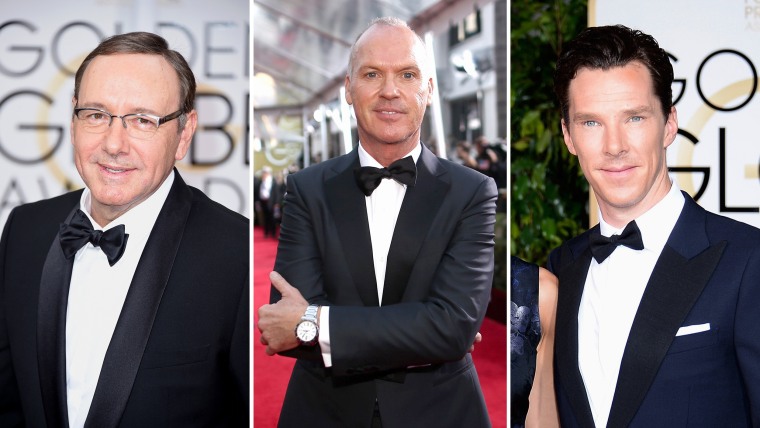 What did Kevin Spacey say that got bleeped out?
After eight nominations, it's no wonder Spacey was a little excited when he got the prize for best actor in a TV drama for his role in Netflix's "House of Cards." "This is the eighth time I've been nominated," he said. "I can't [bleeeeep] won one." We think you can figure it out, but in case you were wondering, yes, that was an enthusiastic F-bomb followed by "believe I won one."
Mr. Photobomb strikes ... but who was he?
"Birdman" star Michael Keaton was enlisted to take a photo of Meryl Streep posing with comedian Margaret Cho, dressed in a North Korean army uniform, but someone else had to get into the act — that perennial photobomber Benedict Cumberbatch. 
Was there an 'Entourage' spoiler at the Globes?
Talk about on location! The "Entourage" movie isn't due out until June, but we know there'll be at least one scene that takes place on the red carpet — because the filmmakers did a little shooting on the Golden Globes red carpet just before the big event kicked off!

Why wasn't there an In Memoriam segment?
It's a staple of most Hollywood awards shows — at some point in the ceremony, there's a pause in the festivities as those in the industry take a look back at the talented individuals who passed away during the previous year. So why wasn't there an In Memoriam segment on Sunday night's show? Due to the lighter atmosphere of the event (which includes casual jokes and free flowing booze), the Golden Globes presentation has skipped the memorial roundup in recent years. The Hollywood Foreign Press Association — aka the group behind the Globes — prefers to offer up a solemn online tribute instead.
What did Ricky Gervais mean when he said he didn't want to have a 'John Travolta moment'?
For those who neither watched last year's Oscars nor paid attention to the kerfuffle afterward, the recap is this: Travolta bumbled when introducing Idina Menzel prior to the "Let it Go" singer taking the stage to belt out the "Frozen" megahit. Gervais said he still watches the video of Travolta introducing "Adela Dazeem" on YouTube every night: "It's brilliant."

Who was 'Transparent' showrunner Jill Soloway referring to in her speech?
Leelah Alcorn was a transgender Ohio teenager who committed suicide in late December, and it was her name that Soloway name-checked when she gave her heartfelt speech following her show's win. "This award is dedicated to the memory of Leelah Alcorn and too many trans people who die too young," said Soloway. "And it's dedicated to you, my trans parent, my moppa. You're watching at home right now. I just want to thank you for coming out, because in doing so you made a break for freedom, you told your truth, you taught me how to tell my truth and make this show. And maybe we're going to be able to teach the world something about authenticity and truth and love. To love."

What made Michael Keaton get so emotional during his acceptance speech?
Keaton made a lot of references to family when he picked up his best actor Globe, talking about his hardworking father and his own family origins. But he got positively teary when talking about his son, Sean, a songwriter whose music has been recorded by Madonna and Demi Lovato, among others. Clearly, he was just one very proud papa.
Was it hot in the Beverly Hilton's ballroom or was it just the star wattage?
No, it was seriously hot. That's why everybody looked like they were sweaty (they were), and why Cumberbatch's photobomb shows him popping up without his jacket on. Paramedics were even called when someone passed out at his table, but he was subsequently determined to be OK. Actors, they suffer for their art! Update: On Tuesday, a spokesperson for The Beverly Hilton told TODAY.com in a statement: "The air conditioning in the International Ballroom was fully operational during Sunday night's event. However, we sincerely regret if any of our guests experienced any discomfort as a result of the temperature in the room."