"Blazing Saddles – 30th Anniversary Special Edition"Over the years, most of us have associated Mel Brooks' "Blazing Saddles" with flatulence around a campfire, a candygram for Mongo, a toll booth in the middle of the desert and a town full of Johnsons. But as Brooks points out, it was racism — or rather, the fight against it — that served as the driving force in this classic comedy.
Certain words, situations and attitudes were permitted in 1974 when this picture was made that would never be allowed now in our politically correct times. But Brooks didn't use these elements lightly. Instead, he created a Western in which a black sheriff (Cleavon Little) rides in to save a town both from dastardly outside forces, and from itself.
During this effort, Brooks skewers just about every aspect of racial prejudice while keeping the laughs coming. It is this daring combination, and not just a series of wickedly funny gags, that makes "Blazing Saddles" worthy of a 30th anniversary celebration.
Little, a Broadway performer before getting this part, is wonderful as Sheriff Bart. Gene Wilder, at his deadpan best, is splendid as the gunslinger Jim, whose friends call him…Jim. Madeline Kahn, as the German dance hall girl, is a riot. And Harvey Korman is delightful as the diabolical Hedley Lamarr.
The film is out in a special edition DVD that is a real treat for fans of Brooks in general and this gem in particular. There is a commentary by Brooks, yet even though it is billed as a "scene-specific commentary," Brooks spends most of the time talking about how the picture got made in the first place. This information is duplicated somewhat in a featurette called "Back in the Saddle," which also talks about the picture's evolution. There is some enjoyable tidbits about the writing process, including the fact that Richard Pryor wrote much of the Mongo material while Brooks penned the Black Bart stuff. Also on the writing team was a young Andrew Bergman, who went on to write and direct "The Freshman" and "Honeymoon in Vegas."
Also included are additional scenes, the theatrical trailer and an excerpt from a short documentary about Kahn. In addition, there is a little-seen TV pilot called "Black Bart," starring Lou Gossett, a proposed spinoff of "Blazing Saddles." When you watch it, you'll understand why some great works should be left alone and never remade.
Comedies that stand up over 30 years are extremely rare. "Blazing Saddles" is at the top of that very short list.
Warner Brothers Home Video, $19.97
"The Station Agent"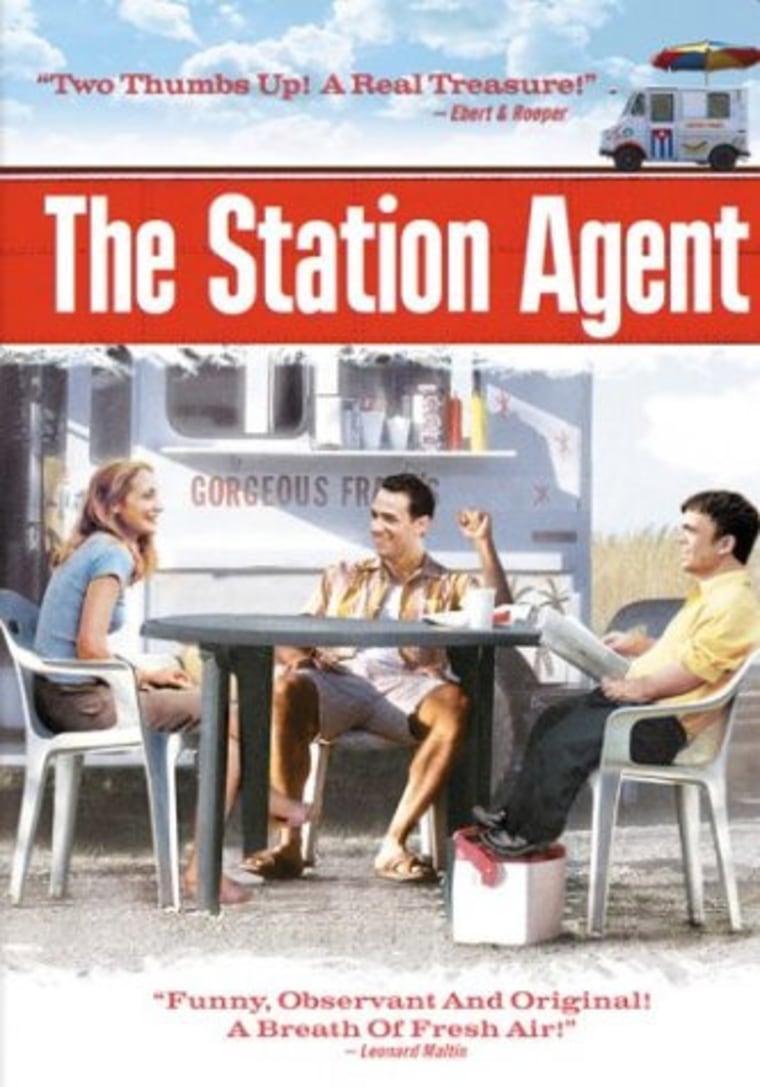 Some pictures have "Sundance favorite" written all over them well before they ever unspool on a big screen. "The Station Agent" has that indie pedigree. It weaves a story of friendship between three characters, a little person, an artist and a colorful snack vendor. It all takes place at an abandoned railroad station. All that's missing is Parker Posey.
"The Station Agent" won three awards at the 2003 Sundance Film Festival — the audience award for best drama, a best screenplay nod for writer-director Tom McCarthy, and a best performance trophy to Patricia Clarkson. The entire project seems as if it was created to fit a set of criteria for indie success rather than being an earnest effort in and of itself.
Peter Dinklage plays Fin, a diminutive young man fascinated by trains who inherits an old train station in New Jersey. He goes to live there, and in doing so encounters a "troubled" artist (Clarkson) and a motor-mouthed Cuban (Bobby Cannavale). Of course, all three bond because they're lonely and they need each other. What did you expect, a gunfight?
If the movie is a minimalist dramedy, the DVD is positively skimpy. There are deleted scenes and a fairly entertaining commentary featuring all the major players, including McCarthy, but that's it. I assume because this is such a low-budget affair that a "making of" featurette was out of the question. But nowadays, how hard is it to get somebody with a mini-digital video camera to shoot some behind-the-scenes footage, knowing that there will be a DVD release down the road?
"The Station Agent" is worth checking out for Oliver Bokelberg's photography, John Paino's production design and some decent performances. But don't expect too much. Just as there is little reason to spend much time at an abandoned train station, there is also little reason to build your itinerary around this film.
Miramax Home Video, $29.99