Even though Adam Levine and Blake Shelton's "The Voice" bro-mance is the stuff of legend, it turns out the Maroon 5 frontman did not make the guest list to the country star's wedding this past July.
Shelton wed Gwen Stefani on July 3 in front of about 30 people on their ranch in Oklahoma but Levine was not in attendance.
In an episode that aired on Dec. 6, Shelton jokingly told daytime talk show host Ellen Degeneres that he didn't invite Levine because of an interview the pop singer gave on Degeneres' show back in April.
"I don't support their marriage," Levine had laughed in his appearance on the show. "She's so cool, and he's not."
When DeGeneres tried to say that Shelton is "very funny and very smart," Levine conceded that Shelton is "vaguely charming."
"I'll go to the wedding, and I'll object," Levine replied. "I will probably not be invited, now that I'm saying this on live television, but I'll be there, somehow."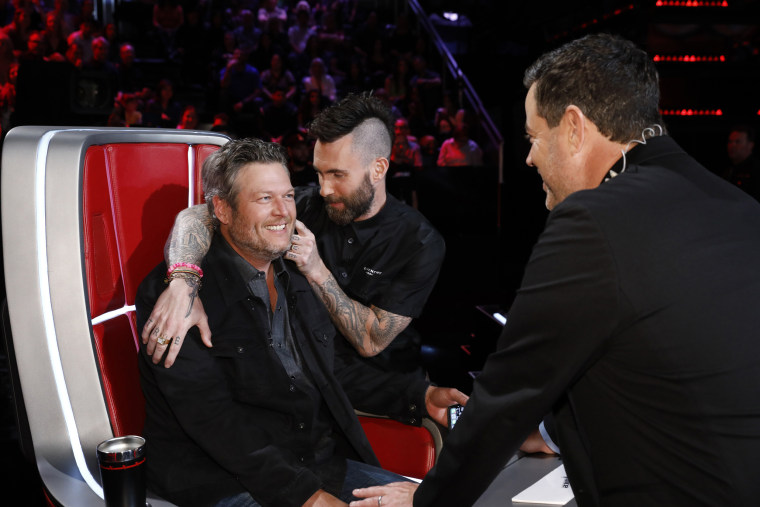 "That's the reason we didn't invite to him to the wedding," Shelton quipped to DeGeneres on Dec. 6, "is that interview he did on your show."
When DeGeneres speculated that Levine would have been present had he not given that interview, Shelton replied: "We'll never know."
"I purposely did not invite Adam Levine to my wedding and I think it's funny," he laughed, adding it had been a small event.
"It was awesome," he concluded. "It was exactly what it needed to be."
Levine isn't the only star who has made a stink about not getting a coveted invite to the nuptials.
Comedian Jimmy Fallon asked Shelton why he wasn't invited to the wedding in an episode of "The Tonight Show" that aired on Dec. 2.
"I didn't hear from you or anything, you know, personally," Fallon quipped to the country crooner. "You know what, not much planning went into it, I understand. Who puts planning into a wedding, you know?"
"We only had room for one NBC host at the wedding so we had Carson (Daly)," Shelton replied.
Carson, who hosts "The Voice" and regularly appears on TODAY, served as the officiant for the ceremony.
Fallon joked he followed the wedding on Twitter and asked if Shelton had saved him a piece of cake.
"You're always trying to make me feel like Super Dave Osborne," a flustered Shelton told Fallon. "We talked about this last time! And then I come across as the grumpy guy."