In what sounds like a match made in "Voice" heaven, Blake Shelton and Gwen Stefani have confirmed that they're an item.
A representative for Shelton told TODAY, "Blake and Gwen work together and are both single and have recently started dating."
Stefani, 46, addressed speculation that she and Shelton, 39, were romantically linked during an appearance on "On Air With Ryan Seacrest" Tuesday.
RELATED: Gwen Stefani addresses Blake Shelton dating rumors on 'On Air With Ryan Seacrest'
"Blake? Who's Blake?" she said, playing coy when asked about Shelton, her fellow coach on NBC's "The Voice." "I think he's hot, don't you?"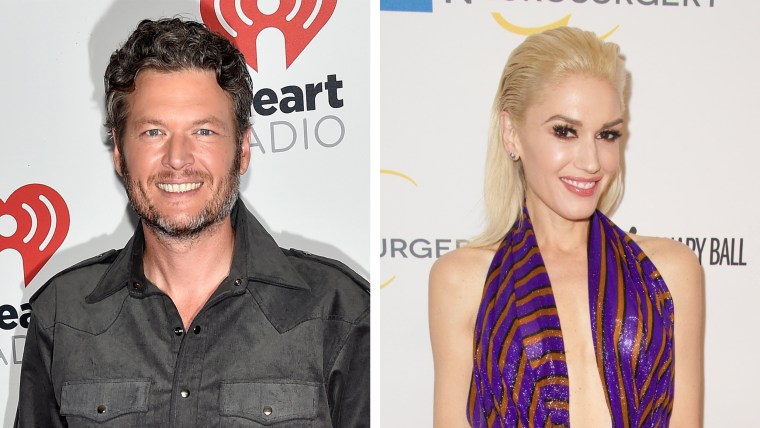 Stefani joked of recent tabloid rumors, "I think that NBC did that. Two divorced people at the same time."
She added, "But to be super honest, it is kind of crazy we both went through the same thing at the same time. There's been so many people that I've gotten comfort from."
Shelton split from Miranda Lambert after four years of marriage in July, and less than a month later, Stefani announced that she and Gavin Rossdale were divorcing after 13 years together.
Last week, Shelton told Seth Meyers he was prepared for some jokes from the close-knit country community when attending the Country Music Association Awards without Lambert by his side.
RELATED: Blake Shelton, Miranda Lambert divorce after 4 years of marriage
"It's such a family. Everybody there is friends, you know?" Shelton said. There's gotta be a joke about me and Miranda. [Co-host] Brad Paisley is not doing his job if he doesn't look down there and go, 'Haha!' I mean, he's gotta do it."
And the CMAs didn't disappoint: Paisley and co-host Carrie Underwood kicked off Wednesday night's ceremony with a mention of this year's numerous celebrity breakups — noting that one such pair was in attendance. But it was only after the camera panned to Miss Piggy and Kermit the Frog that Paisley delivered the punchline: "On a completely unrelated topic, howdy, Blake!"