It wasn't until Blake Shelton started dating Gwen Stefani that he realized she's the artist who sings all those hit songs he knows from the radio.
The country singer confessed to "Late Night" host Seth Meyers that he's now a little in awe of his girlfriend's decades of hits, both solo and with her band No Doubt — and he's learning about new ones every day.
"About a month ago, she flew into Oklahoma and I was driving to pick her up at the airport and I was flipping through XM radio and I stopped on this song and [I thought] 'Well, that voice sounds like Gwen. How do I not know this?'" Shelton, 40, recently told the host.
"It's a song called 'It's My Life,'" Shelton continued as the audience began laughing. "Which was a huge record for them."
"And I'm going, 'I didn't know Gwen sang that song!'"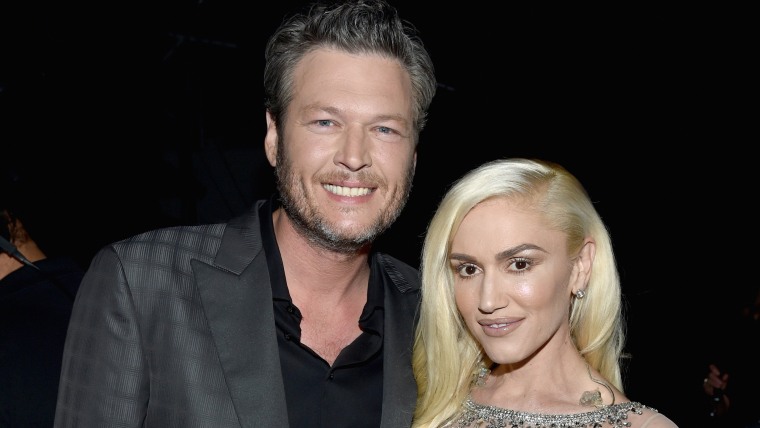 The singer, who's a chart-topping country star in his own right, admitted he was sideswiped —in the best possible way — to learn his lady love sings some of pop's best-loved songs.
"I've always known 'Hey Baby.' [But] I didn't know she sang that freaking song!" Shelton gushed. "All these songs. It's like, 'Wow, that's you? And we've kissed?'"
RELATED: Blake Shelton: Gwen Stefani finished 'Go Ahead and Break my Heart'
Of course, Shelton is not the only one playing catch-up. Stefani, 46, has been learning country music from scratch since the two got together last November.
Shelton said he's grateful to have won his fellow "Voice" judge's heart, even if they do make an unlikely duo.
"I still can't believe it. She must have, like, some vision problems," he joked. "Maybe she needs help. I don't know."