It was a rollercoaster of emotion for Ryan Reynolds as he cheered on his soccer team in Wrexham, Wales, on Sunday — and Blake Lively was living for every moment of it.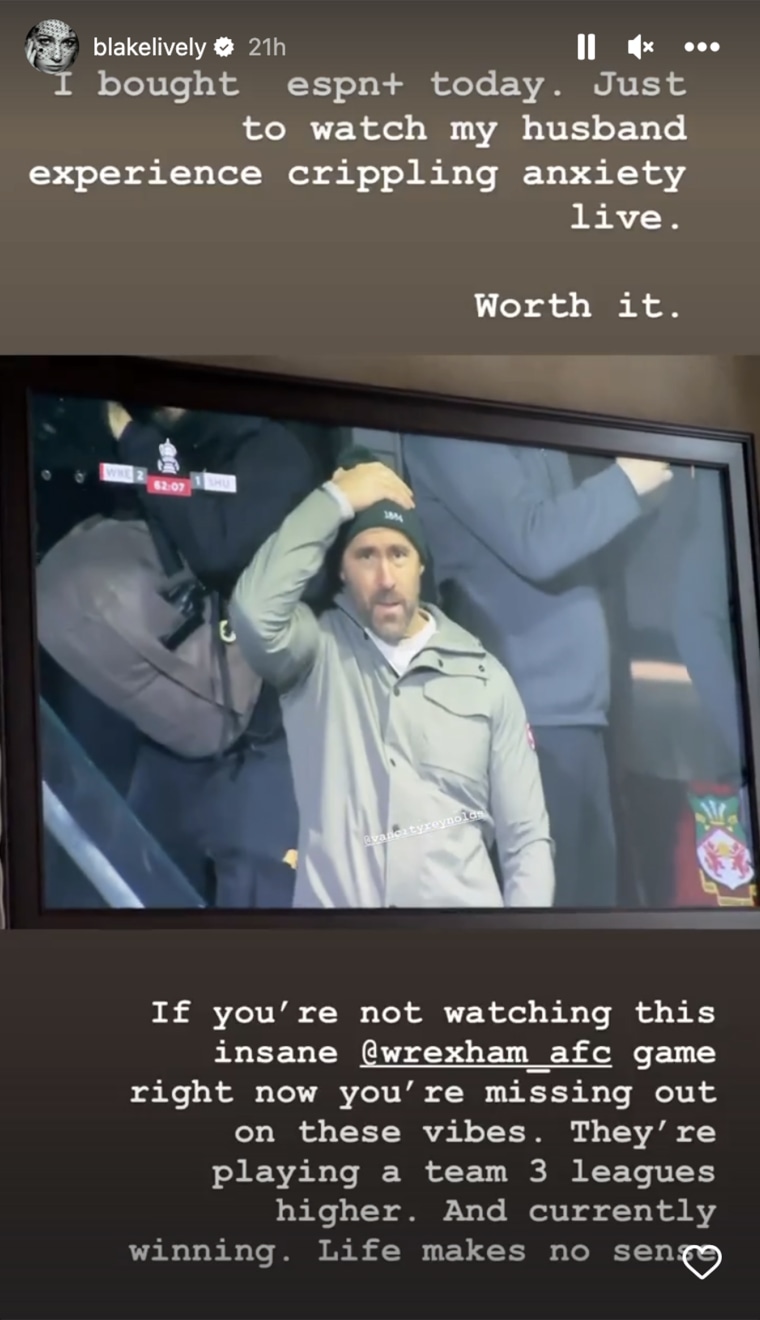 His wife and No. 1 fan shared a hilarious clip in her Instagram story of Reynolds, 46, clutching his forehead as he watched the nail-biting match between the Welsh soccer team he co-owns, Wrexham AFC, and English team Sheffield United. 
"I bought espn+ today. Just to watch my husband experience crippling anxiety live. Worth it," Lively, 35, captioned the clip.
"If you're not watching this insane @wrexham_afc game right now you're missing out on these vibes," she added. "They're playing a team 3 leagues higher. And currently winning. Life makes no sense."
Reynolds has co-owned the Wrexham club with "It's Always Sunny in Philadelphia" creator and star Rob McElhenney since 2021.
As he told the BBC, he is now fully obsessed with soccer, and described Wrexham's match against Sheffield United as "a classic David vs. Goliath story."
"I get about 10,000 steps up here (in the stands)," he said. "Each match, I'm walking back and forth up here, pacing around like a caged lion."
Lively and Reynolds, who are expecting their fourth child, rarely miss a chance to hilariously poke fun at each other on social media — like in November, when the "Deadpool" actor shared a video of himself and Will Ferrell practicing their dance moves for their holiday movie, "Spirited."
"Can you get pregnant while pregnant??," Lively joked in the comments. 
Back in December, the "Rhythm Section" star also called out Reynolds for failing to alert her that she was having a less-than-perfect hair day.
"How did not one person find the time to mention to me that this is what my hair looked like today?" she wrote in her Instagram story, tagging her husband and other family members.
While Reynolds's Wrexham team performed brilliantly during Sunday's game, the match ultimately ended in a 3-3 draw. 
The game is set to be replayed in February, and no doubt Reynolds will be cheering himself hoarse from the stands — as Lively documents his reactions.