/ Source: The Associated Press
Anna Nicole Smith's ex-boyfriend arrived in Kentucky from the Bahamas on Tuesday with their infant daughter and said he is looking forward to introducing the baby to his family.
"It just feels good to be home," Larry Birkhead said after stepping off a private jet and walking up to a fence where more than a dozen photographers and a handful of reporters were gathered.
Birkhead said he plans to show off 7-month-old Dannielynn to his family in Louisville and "relax and horse around."
He said his plans include attending the Barnstable Brown party on Friday, an exclusive celebrity-packed gala on the eve of the Kentucky Derby. The event is where he and Smith first met when he was working as a freelance photographer.
He said Tuesday the baby had an easy flight.
"She did great," he said.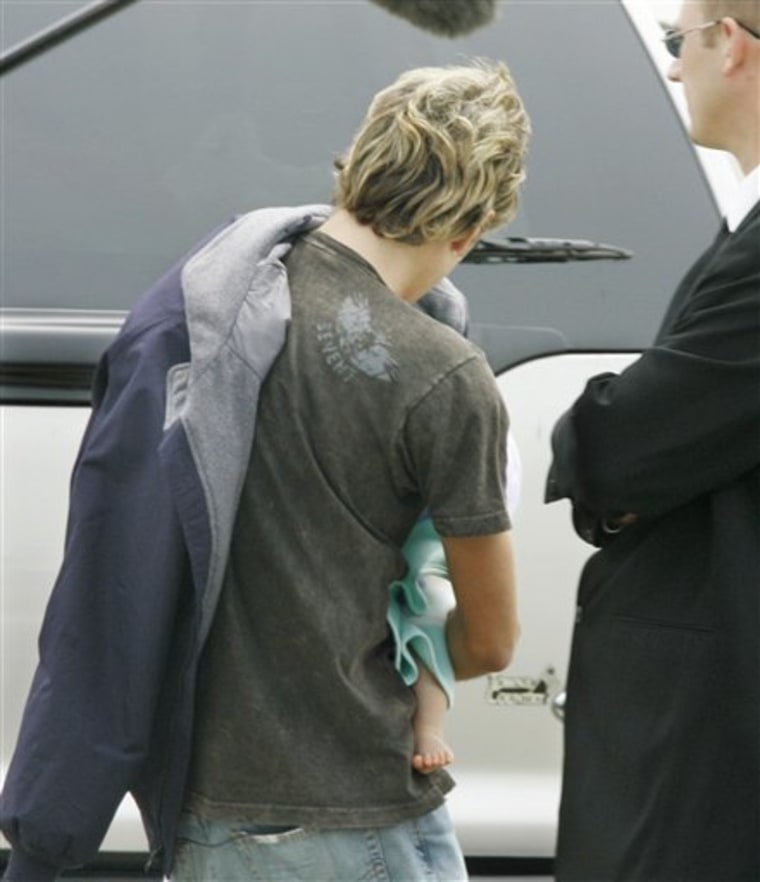 At a private terminal at the Louisville airport, people could be seen moving a variety of baby gear off the plane and into the back of an SUV. Birkhead, dressed in a dark T-shirt and jeans, shielded the baby from view with a jacket.
Birkhead, a 34-year-old photographer based in Los Angeles, said he's unsure if he will stay in Louisville with his daughter.
"This is one pit stop," Birkhead said.
It is the first trip out of the Bahamas for Dannielynn Hope Marshall Birkhead, who was born in September only three days before Smith's adult son, Daniel, died at her hospital bedside from a lethal combination of drugs.
Smith, 39, collapsed and died in February from an accidental drug overdose. She was buried beside her son at a Nassau cemetery.
Birkhead was authorized by a judge last week to take Dannielynn out of the Bahamas. The ruling followed legal battles by Birkhead to prove his paternity claim and gain custody following the former Playboy playmate's death in February.
A new Bahamian birth certificate listing Birkhead as the father was issued in line with a court order last week, removing the name of Smith's last companion, Howard K. Stern. Stern had been caring for the girl in the oceanfront home in the Bahamas he shared with Smith.
A publicist for "Access Hollywood," which has promoted its planned coverage of a family reunion in Kentucky, said the program did not compensate Birkhead for its exclusive access. She said the program's parent company, NBC Universal, does have a deal with him but she could not describe the terms.
Legal wrangling continues over the estate of Smith's late husband, Texas oil tycoon J. Howard Marshall II, who died in 1995. It remains unclear how much, if any, of the $500 million Marshall estate Dannielynn might inherit and whether her guardian would have access to the money.
Birkhead is a Kentucky native who graduated from the University of Louisville in 1999.