Iconic "Piano Man" Billy Joel took a break from his baby grand Monday night to offer a rare glimpse at his personal life in a SiriusXM Town Hall Q&A moderated by Howard Stern and Robin Quivers.
The three-hour event — held before an audience of about 100 pre-selected fans and celebs such as Pink, Melissa Etheridge, Tony Bennett and TODAY's own Matt Lauer — was a rarity for the normally media-shy Joel.
During the candid discussion, Joel shared "could have been" stories about his career, mistakes he's made in music and life, and, as Rolling Stone reported, some salty language. 
Revelations gleaned from the interview, which was broadcast on SiriusXM's Howard 100 and Billy Joel stations, included:
The muse isn't speaking to him, and he's OK with that.
Don't expect Joel to compose an opus anytime soon. "I just don't want to," he said. "Everybody has a hard time understanding that. 'Why don't you write new songs?' Well, you have to want to write new songs. ... Elton (John) would say the ultimate: 'Why don't you write another album?' And I used to say to him, 'Why don't you make less albums?'"

Heroin was his drug of choice. Once.
Joel tried heroin — for the first and last time — during a late-'70s stop in Amsterdam. "It got me so high I didn't know how to deal with it," he said. "It scared me." The experience inspired him to write "Scandinavian Skies," which appeared on the 1982 album "The Nylon Curtain."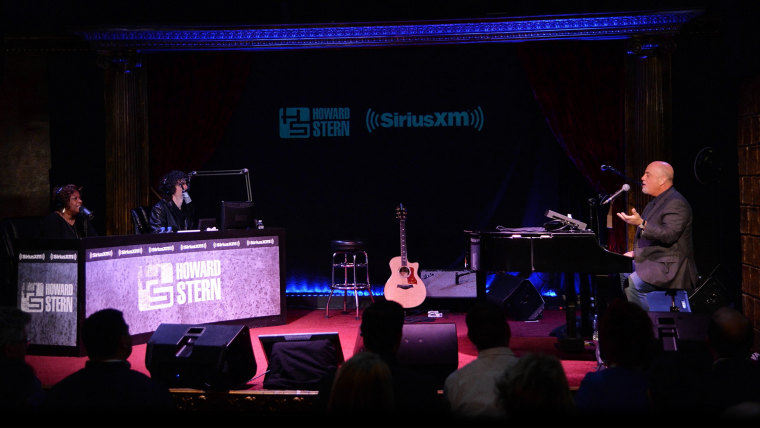 His tunes have typos.
"There's an error in the original sheet music of ('Just the Way You Are')," Joel told the crowd. "So people always play two chords in one spot. It's wrong; it's a suspension. So I gotta go over and correct the guy every time I go into a place. I go over, and I go, 'wrong.'"

Supergroup? Could happen.
Joel has always wanted to jam with Sting and Don Henley. "I like being in a band," Joel said. "Someday we might put together a silly supergroup."

He (grudgingly) accepts baldness.
"It sucks. I started losing my hair when I was in my 50s," said Joel, who turns 65 May 9. "I said, 'Oh, no, please, I'm in rock 'n' roll, I need my hair. ... I saw too many bad rugs in my life. If you're gonna go bald, embrace it."

On TODAY Tuesday, Lauer praised Stern's interrogative skills. "Howard is a fantastic interviewer, and it's amazing what he gets out of people," he said.

The night wasn't all talk. Joel played a few tunes, too, including his "Vienna" and a cover of Procol Harum's "A Whiter Shade of Pale," The Hollywood Reporter noted. Joel's fellow musicians pitched in, with guest Idina Menzel duetting on "Honesty," and Pink sharing the mic on "She's Always a Woman." Etheridge played Joel's "Only the Good Die Young," while Boyz II Men performed "The Longest Time" and Tony Bennett covered "New York State of Mind."
Though he's quiet on the new music front, Joel did allow that he had recently recorded a Christmas single with Johnny Mathis, and will continue to perform his monthly Madison Square Garden residency "as long as there is ticket demand, and I have the wherewithal to do it."
Joel's "Matter of Trust: The Bridge to Russia" DVD/CD set, an expanded reissue of 1987 concert material, is due out May 19.