Robin Williams' longtime friend, Billy Crystal, says memorializing the late comedian during the 2014 Emmy Awards was the toughest assignment he's ever been handed. 
"He's my closest friend, and to do it with some humor and only in a short period of time that I had to do it was difficult," the comedian and actor told Matt Lauer in an exclusive interview on TODAY Tuesday. 
"It's the hardest thing I've ever had to do," he said, likening the process to being "the spokesman for everybody in front of 17 million people."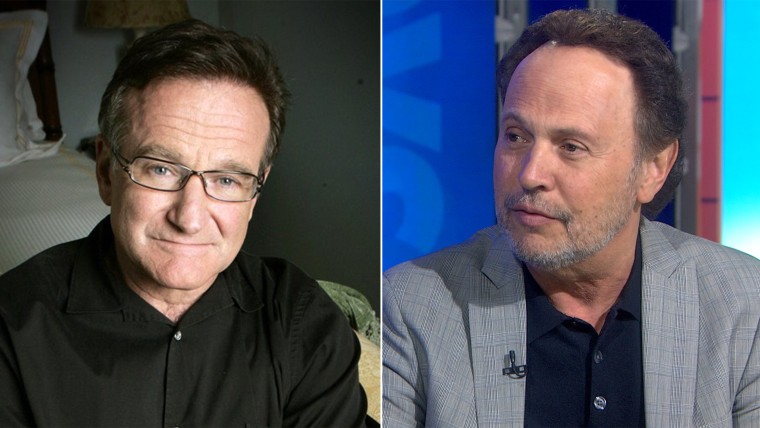 On Williams, Crystal also described:  
How they developed their close friendship: "Mostly it started deepening with Comic Relief," he said, as the two personally delivered money raised by the telethons. "So it was on those plane rides or on the car rides, being those quiet moments where we weren't just doing comedy, we were just talking as friends."


Their talks as Williams suffered with bouts of depression: "We'd talk three, four times a day, sometimes, but then the riffs were still great. We'd go late into the night like two jazz musicians who just got new horns."

Crystal also spoke about his family and the paperback release of his latest book, "Still Foolin' 'Em: Where I've Been, Where I'm Going, and Where the Hell Are My Keys?" 
On his wife of 44 years, Janice: "She makes me laugh, hard…. I can't imagine a day without her."


On new social media abbreviations he invented (including DMMLIMNWD: Don't make me laugh, I'm not wearing Depends, or DTLSTY: Does this look swollen to you?): "These are things that I find most people my age are saying."
Follow TODAY.com writer Eun Kyung Kim on Google+ or on Twitter.