Carrie Fisher's daughter has spoken out against the stigma of drug addiction after toxicology results revealed that Fisher had cocaine and heroin in her system at the time of her death last year.
The report from the Los Angeles County coroner's office released on Monday found that Fisher had multiple substances in her system, including cocaine, methadone, alcohol, opiates and traces of MDMA, most commonly known as ecstasy.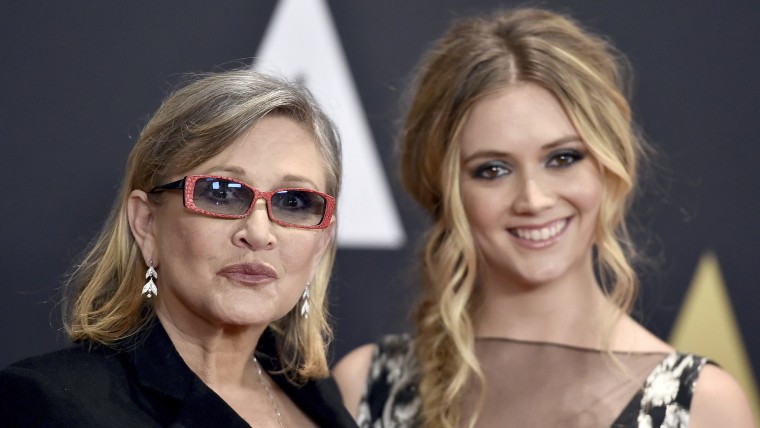 Fisher's daughter, actress Billie Lourd, 24, released a statement to People addressing the findings of Monday's toxicology report.
"My mom battled drug addiction and mental illness her entire life,'' Lourd said. "She ultimately died of it. She was purposefully open in all of her work about the social stigmas surrounding these diseases.
"She talked about the shame that torments people and their families confronted by these diseases. I know my Mom, she'd want her death to encourage people to be open about their struggles. Seek help, fight for government funding for mental health programs. Shame and those social stigmas are the enemies of progress to solutions and ultimately a cure. Love you Momby."
The coroner's office said it could not determine whether the drugs contributed to the 60-year-old Fisher's death in December.
"Ms. Fisher suffered what appeared to be a cardiac arrest on the airplane accompanied by vomiting and with a history of sleep apnea," the report states. "Based on the available toxicological information, we cannot establish the significance of the multiple substances that were detected in Ms. Fisher's blood and tissue, with regard to the cause of death."
On Saturday, the Los Angeles medical examiner initially listed sleep apnea and "other undetermined factors" as the cause of Fisher's death.
The "Star Wars" actress fell ill on a flight from London to Los Angeles and died four days later on Dec. 27. Her mother, Debbie Reynolds, died a day later.
Fisher had spoken openly about her struggles with alcohol, drugs and bipolar disorder. She chronicled her fight in her first book, "Postcards from the Edge," as well as subsequent books and a one-woman show called "Wishful Drinking."
Just last month, Lourd issued a touching tribute to Fisher on the first Mother's Day since her death, posting a childhood picture of herself on Fisher's lap with a symbol of a heart.
Follow TODAY.com writer Scott Stump on Twitter.