Billie Lourd is opening up about the passing of mother Carrie Fisher and grandmother Debbie Reynolds, calling their deaths "impossible to deal with."
The 25-year-old actress told Ellen DeGeneres on Tuesday that the experience has been "completely surreal," adding that "there's no way to really explain it."
"It's so hard to talk about," Lourd said. "I don't know, if I say that I'm doing good, I'm too happy. And if I say that I'm not doing good, then I'm a mess. So it's really hard to know what to say about it because it is just so surreal and impossible to deal with."
Fisher made her final TV appearance on DeGeneres' show before dying of sleep apnea and other "undetermined factors" on Dec. 27 of last year. Reynolds died the following day after suffering a stroke.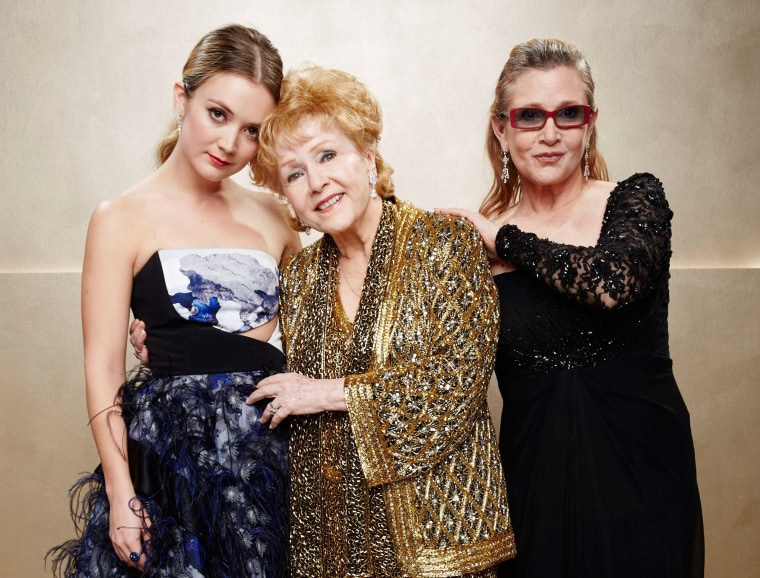 Despite the painful ordeal, Lourd said she was grateful to appear alongside her mother a couple of years ago in "Star Wars: The Force Awakens."
"It was incredible," she said. "I'm a big believer of things happening for a reason, and I think I ended up in that movie for a reason. It was really incredible for us to get to have that experience together."
After seeing how comfortable Lourd was on the set, Fisher suggested that her daughter further pursue acting.
Lourd, who now stars in "American Horror Story," recounted, "I came home and my mom said, 'You know, this is really weird that you're comfortable here. This is one of the most uncomfortable environments in the world. If you're comfortable here, you should do this.'"