Break out your air guitar, because Bill and Ted are back for a most excellent reunion.
Keanu Reeves and Alex Winter, the stars of the 1989 time-traveling comedy "Bill & Ted's Excellent Adventure," sat down with Entertainment Weekly to share their memories of the film — and to step into a phone booth one more time.
It's been nearly 30 years since we first met Bill S. Preston, Esquire (Winter) and Ted "Theodore" Logan (Reeves), two dim-witted high school students who needed to pass their oral history report in order to keep their Wyld Stallyns band together and bring peace and harmony to mankind. (Obviously.)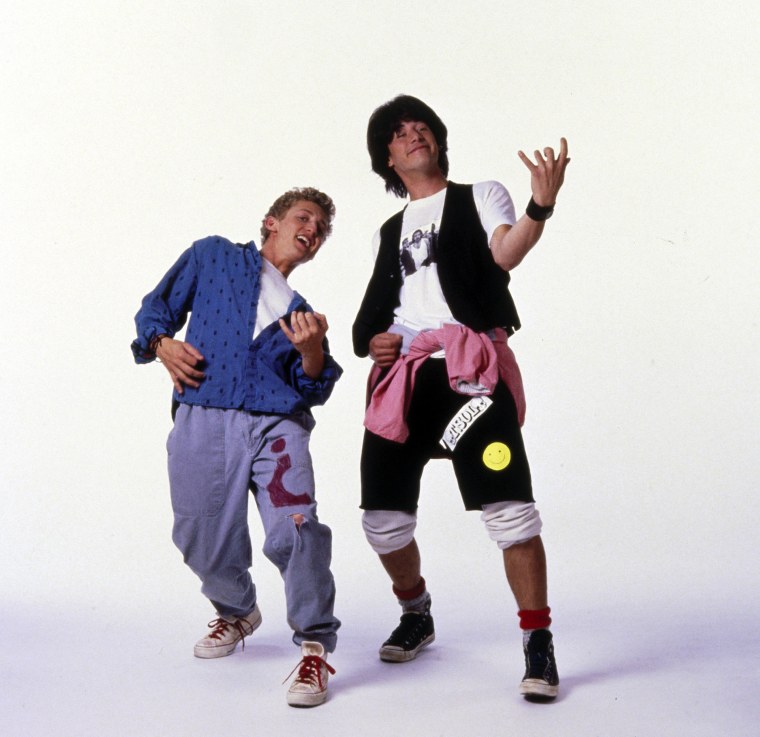 With help from their mentor, Rufus (played by the late George Carlin), Bill and Ted went back in time using a phone booth to collect Abraham Lincoln, Napoleon Bonaparte, Billy the Kid and other well-known figures for their report.
Along the way, they gave fans several quotable moments.
"You can't go wrong with, 'Be excellent to each other.' 'Party on!'" Reeves, 53, says in the triumphant video above. "It might actually be the beginning, one of the first examples of contemporary modern apocalyptic art."
Winter, 52, adds, "Now we have to make the third one. Before the apocalypse!"
A follow-up to "Excellent Adventure" and its 1991 sequel, "Bill & Ted's Bogus Journey," has been rumored for years. The good news: There is a script, titled "Bill & Ted Face the Music," which follows the characters as middle-aged men, having yet to fulfill their destiny to save the world.
"Everybody's a little older now," Reeves explained to Entertainment Weekly. "A little afraid."
"There's certain comparisons," Winter said. "A rock band that never goes to the place it thought it was going to get to. Having that moment in their life of going: 'Do we try to get there, or give up the dream?'"
"Indomitable spirits confronted with, 'Is this the end?'" Reeves added. "Of course, there is a little caveat in that someone comes from the future and says: 'Not only do you have to save the world, you have to save everything.'"
Producers are still working on getting "Bill & Ted Face the Music" to the big screen. We'll cross our fingers that it'll happen. Until then, we'll continue to party on, dude!
Follow Shane Lou on Twitter.