For eight seasons, Bill Hader (and his recurring characters, including the unforgettable Stefon) was one of the highlights of any episode of "Saturday Night Live." But that doesn't mean that being on the show from 2005-13 was ever easy for Hader, who explained on TODAY Friday how it took a lot of heavy breathing to calm him down each week.
"My wife would have to come down and actually do breathing techniques that she learned in Lamaze class with me," he recalled. "Like, 'Horse breath — look at me — horse breath, relax.' And we would go through my sketches. ... But then you keep going, and was a lot of fun."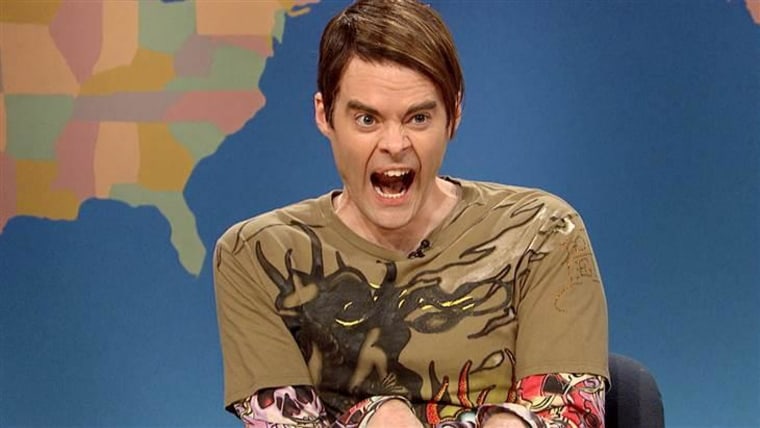 Hader will appear on the upcoming special celebrating "SNL's" 40th anniversary, but that won't be a cakewalk, either — for one thing, he's totally in the dark about what he'll be doing.
"I have no idea!" he said. "I was just talking to [former cast member] Andy Samberg and I go, 'What are you doing?' And he's like, 'I don't know! Do you know what you're doing?' We're all texting each other, going 'What are you doing? Are are you in town? Does anybody know anything?'"
Which should make for a very interesting Sunday night (live) experience!
Check out Hader and dozens of others appearing in the "Saturday Night Live 40th Anniversary Special" on Sunday, Feb. 15. The fun kicks off on the red carpet at 7 p.m. ET on NBC, and the main event starts at 8.
Follow Randee Dawn on Google+ and Twitter.
This article was originally published Feb. 13, 2015 at 9:51 a.m. ET.