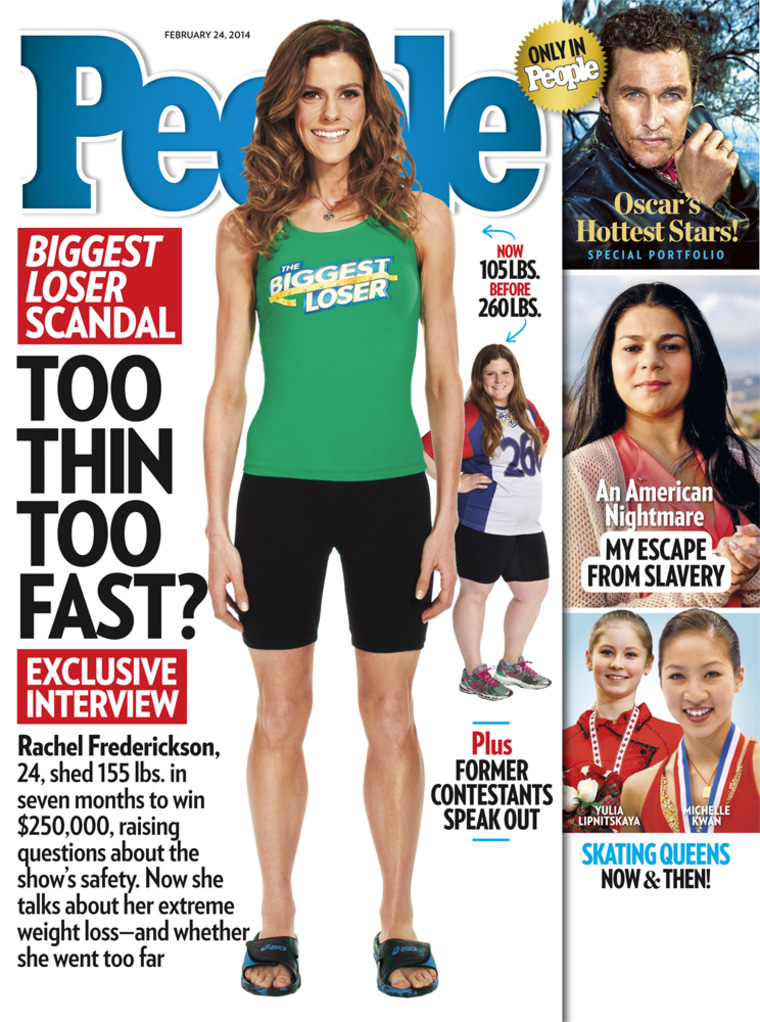 "Biggest Loser" winner Rachel Frederickson went from 260 pounds at the start of season 15 down to just 105 pounds on finale night. The dramatic transformation earned her the win, but it also earned shocked reactions from fans and even the show's trainers. Now Frederickson admits she might have gone too far in an effort to win.
"Maybe I was a little too enthusiastic in my training to get to the finale," the 24-year-old told People in the wake of the controversy.
Despite that, Frederickson maintains that she didn't exactly sacrifice her health for the win.
"I am very, very healthy," she said when asked if she had an eating disorder.
Still, Frederickson's own trainer, Dolvett Quince, told the magazine he was surprised when he saw her moments before her record-breaking win.
"The first thing that went through my mind was, 'That's just too much,' " he said.
He wasn't the only trainer who was taken aback. On finale night, "Biggest Loser" vets Bob Harper and Jillian Michaels weren't able to hide their shock when Frederickson walked out.
Harper explained his reaction in a interview set to air on Thursday's "Rachel Ray Show."
"What people don't understand is, when the contestants leave to go home ... they're in charge of themselves. So, I had not seen her until that night, and so when she walked out, I was just kind of like, 'Whoa!' And I've been on the show since the beginning, forever," he explained. "I was stunned. That would be the word. I mean, we've never had a contestant come in at 105 pounds."
After weeks of grueling workouts and big changes to their eating habits, the contestants of season 15 show off their fab new bodies.
But it wasn't a surprise to everyone. "Biggest Loser" executive producer Dave Broome told People that the show closely monitored Frederickson throughout her weight-loss journey.
"Rachel passed all the required medical tests ensuring she was healthy," he assured.