Bobby Saleem knew he might encounter a few celebrities when he headed to Los Angeles to compete on the upcoming 15th season of "The Biggest Loser," but he never expected that he'd be sweating off the pounds alongside one. The Chicago attorney was shocked when he learned that one of the 14 contestants he'd be competing against during his stay at "The Biggest Loser" Ranch was Ruben Studdard, who he'd watched take the title of "American Idol" in 2003.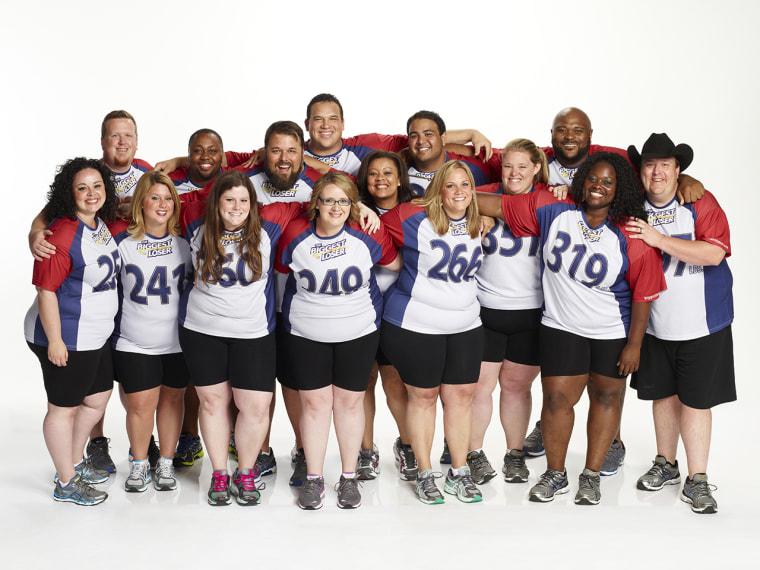 "I had to do a triple take, I won't lie," Saleem told TODAY.com. "I didn't know if it was really him. I mean, we're in Hollywood right now so I thought maybe I was just star-crazy or something!" 
Saleem said he quickly realized that, although Studdard is a platinum-selling recording artist and reality TV star, he faces the same problems that all of the other contestants have dealt with. 
"He has a lot of work to do, he has a lot of weight to lose as well," Saleem said. "He has a lot of courage to come here; I have the utmost respect for Ruben. I think it takes a lot of courage for a public figure to come on this show. It will show everybody the vulnerable side of him."
While all of the contestants went on the show to lose weight, there is still a $250,000 paycheck waiting for the last "Loser" standing, a point not lost on any of the contestants. However, most insist that Studdard won't be cut first simply because he doesn't need the prize money. 
"I don't think the money factor should be in anybody's scope of thinking," Saleem said. "I certainly wouldn't use that as a factor to kick Ruben out because he has money. I think if anybody thought of the money first that would be a little selfish."
All the same, Studdard admitted that he was worried his celebrity status would cause the other contestants to want to eliminate him early on in the competition.
"That was most definitely a concern of mine, but I had to let that go," he told TODAY.com. "However long I'm here for, that's an opportunity to work hard and get tools that can change my life. I don't really care about what they want to do. If they feel like that's something that they have to do while they're on the show, that's fine. For me, I have to be here for the time that I'm here and take with me those things that I've learned so I can go home and really live this forever.
Studdard, who was invited by the show's producers to participate this season, said he knows there will be people who have negative things to say about his appearance on the show.
"My concern is not what people at home think about me," he said. "I have to take care of myself, and I can't concern myself with people that I don't know. I don't know them, but I know me, and what 'me' needs is to get small!"
According to his fellow contestants, it's not Studdard's fame that they really care about; it's his dedication.
"I would say the most intimidating thing about Ruben is how hard he works in the gym," said contestant Tumi Oguntala. "It's sheer determination and he has it in spades, and I think that's how he's gained the respect of this group. He just wants to lose weight like we all do. 
"In the end, his voice can't help him (lose weight)," Oguntala added.
While it can't help him shed pounds, Studdard's soulful singing does keep the spirits up around the ranch. 
"Sometimes he'll do a few bars here or there," Saleem said. "He'll be jolly. He's a great guy to be around."
See how Studdard and the others fare when "The Biggest Loser" returns Oct. 8 at 8 p.m on NBC.