Jim Parsons is God — on Broadway, at least.
The "Big Bang Theory" star has taken on the divine new role in "An Act of God," a (mostly) one-man show based on "The Last Testament: A Memoir by God" and @TheTweetofGod Twitter feed by David Javerbaum, which just began previews in New York City on Thursday night.
So what was Parson's level of anxiety before walking out on stage?
"Excessively high," he admitted on TODAY Friday. "I thought learning the lines alone would be one of the most stressful things, and it was, but leading up to it I found myself a tiny bit terrified at about 7:30 last night."
Parsons was wholly committed to the role from the very start, but once he'd signed on the dotted line he realized not everyone might share his enthusiasm.
"I read [Javerbaum's book] and I thought this is funny, this is thoughtful, there's something even sweet to it I think," he recalled. "And it was only once I completely committed that I started going, 'Not everyone is going to be thrilled you're playing God.' But you know what? Haters gonna hate."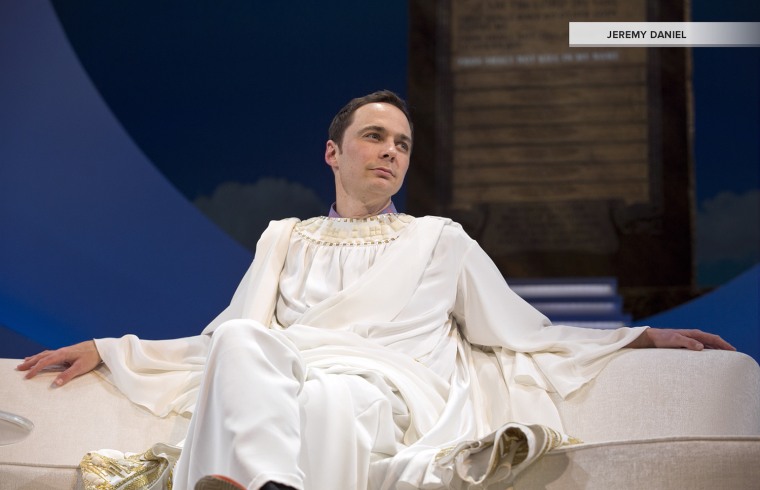 Parsons is about to return to his multi-Emmy-winning role of Sheldon on "Big Bang," but he doesn't mind filling his spare weeks off with stage work; in fact, playing God right now has put a new spark into his joy for the show, he said.
"Theater is so rejuvenating for me," he said. "Every time I go back it's like touching home base again. ... Sometimes you get tired, but again the spiritual emotional rejuvenation from it makes going back into the season of 'Big Bang' all the sweeter."
"An Act of God" officially opens at Studio 54 on May 28, and is currently in previews. "The Big Bang Theory" returns for a ninth season this fall on CBS.