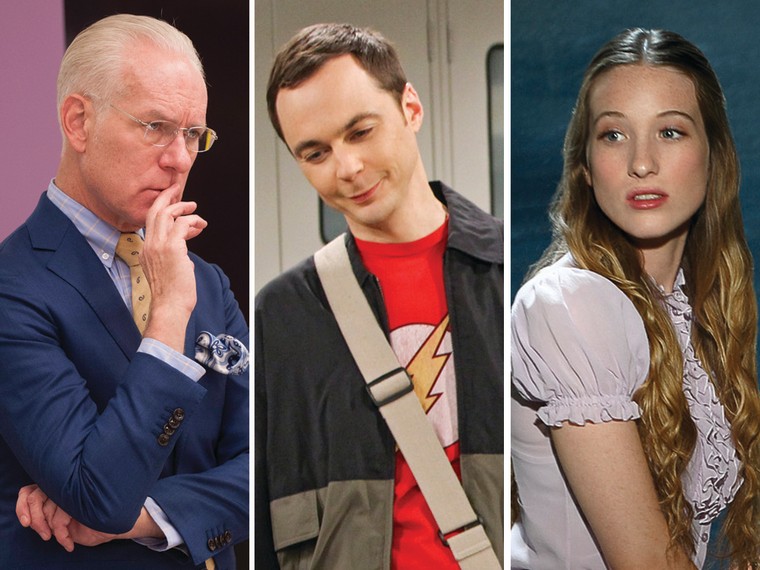 If you don't have multiple DVRs, Thursday night could present some pretty tough TV decisions. With an anticipated new series (and recently premiered shows) going up against old favorites, it might get difficult to make viewing choices in the 8 and 9 p.m. hours. But we're here to help. 
Watch live at 8 p.m.: The spin-off to ABC's hit fairy-tale drama "Once Upon a Time" is finally here! It's going up against CBS' mega successful sitcom "The Big Bang Theory," but hey, this is the "Wonderland" series premiere we're talking about. DVR the lovable and hilarious geeky gang and get a dose of magic instead. (If you really want, you can spend maybe just 22 minutes watching "BBT" off your DVR right after the drama. No commercials, more funny! Bazinga!)
'Once Upon a Time in Wonderland'
"Wonderland" features many of the same things fans have come to know and love from the original "Once": beloved storybook characters, lovely costumes, whimsy and cheesy scenes with the obvious green screens. (Wonderland does lend itself to imaginative scenery and creatures.) But the spin-off also boasts quite a cast, with John Lithgow voicing The White Rabbit and "Lost" alum Naveen Andrews playing "Aladdin" baddie Jafar. (The character strongly suggests that like "Once," "Wonderland" will be borrowing from various Disney tales.)

"Once" is a pretty family-friendly show, but "Wonderland" seems a little bit darker when its grown-up Alice (played by Sophie Lowe) is still at home in Victorian England. In fact, shortly after the show starts, the young lady is in a rather gloomy mental institution that features a creepy doctor ... not that "Wonderland" is all fun and games with its share of evildoers.
DVR for later: 
"The Big Bang Theory" at 8 on CBS

"The X Factor" at 8 on FOX (or, just save yourself some DVR space and knock this off the list; few are watching anyway, so spoilers be damned!)

"Parks and Recreation" at 8 on NBC

"The Vampire Diaries" at 8 on The CW

Watch at 9 p.m.: It's a tie! We know you can't watch two shows simultaneously, but pick one to watch live, and watch the other one on DVR right after so you'll be in the know the next morning at the watercooler. (Tip: Have some tissues ready.)
'Glee'
It doesn't matter whether you're a fan of FOX's musical dramedy, you should watch this week's emotional episode dedicated to star Cory Monteith, who died earlier this year after overdosing on heroin and alcohol. His beloved character, Finn Hudson, will also be dying in this episode, though viewers may never know the cause of his death.

Regardless, don't expect the show to shy away from the topic of drug and alcohol abuse. Kevin Reilly, FOX's chairman of entertainment, revealed in August that the network would air PSAs during the show about drugs and addiction featuring the stars of "Glee."
'Project Runway'
In the interest of keeping "Project Runway's" penultimate episode of the season from being spoiled for you, we recommend Lifetime's long-running fashion competition for its first part of the season finale. Since judges Heidi Klum, Zac Posen, Nina Garcia and guest judge Emmy Rossum couldn't decide last week who'd miss out on the chance to show at Fashion Week, Justin, Helen and Alexandria are all vying for the final spot. (Challenge champ Bradon and runner-up Dom are both guaranteed spots in the finale.) 
Mentor Tim Gunn will be visiting the homes of each hopeful to critique their in-progress collections, so if you're in the mood for something emotional, you know you'll see tears. (When was the last episode that Helen didn't have a breakdown and cry?)
DVR for later:
"Grey's Anatomy" at 9 on ABC
"The Crazy Ones" at 9 on CBS

"The Michael J. Fox Show at 9:30 on NBC