The MTV Video Music Awards put some serious star power up front and at the show's end Sunday night, first blasting audiences with a star-studded opening medley including Ariana Grande, Jessie J, and Nicki Minaj, and closing with a crowd-pleasing medley from Beyonce that included her husband Jay Z and toddler daughter, Blue Ivy.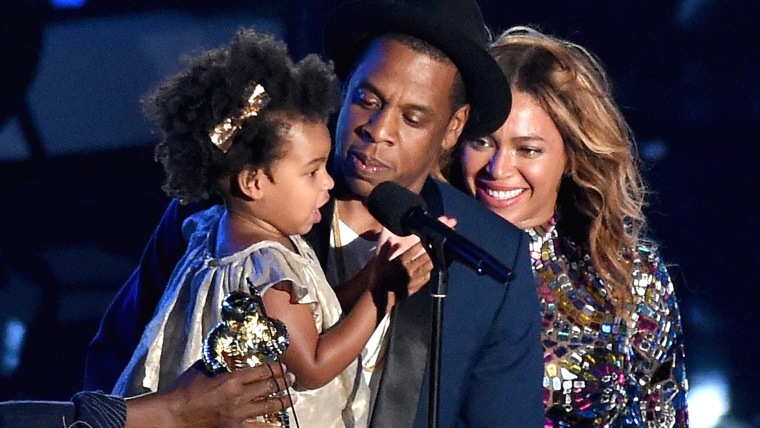 Queen Bey and family
Beyonce was the night's leading nominee, with eight. Leading up to her acceptance of the Michael Jackson Video Vanguard lifetime achievement award, she performed a medley of songs from her new self-titled album while clad in a gem-studded outfit. Her 2-year-old daughter, Blue Ivy, watched her mother perform from the audience, was seen in a photo montage, and later was brought onstage by dad Jay Z to the delight of viewers.

"I'm so full," said Beyonce as she stood next to her husband and daughter. "I have nothing to say, but I am filled with so much gratitude."

Beyonce also won three more Moon Men awards. She won for best cinematography and video with a social message for "Pretty Hurts," and along with Jay Z, won the best collaboration award for "Drunk in Love."
Opening segment dress malfunction
The star-studded opening medley flowed from Grande's "Break Free" into Minaj's risque "Anaconda" and then into "Bang Bang," performed by Grande, Minaj and Jessie J. While Minaj's twerk-filled performance wasn't as shocking as last year's Miley Cyrus segment, she earned plenty of Twitter buzz once she returned to the stage. As she performed with Grande and Jessie J., she clasped her short dark dress as if she was trying to hold it closed.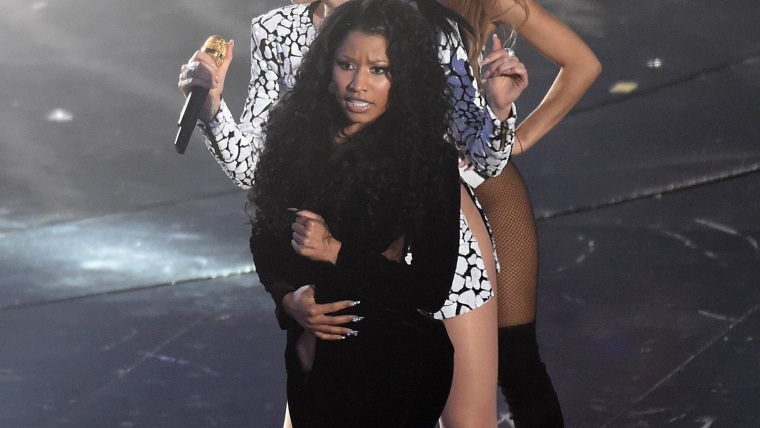 Recognizing runaways and homeless youth
When Miley Cyrus won the video of the year award for "Wrecking Ball," the controversial singer didn't go up to accept the award herself. Instead she sent a young man who identified himself only as "Jesse," and said he was one of the 1.6 million runaway and homeless youth of the nation. As his hands shook, he read a statement about how in Los Angeles, home of the $7 billion music industry, 54,000 people have no place to sleep. 

He encouraged viewers to go to Cyrus' Facebook page to learn more about the cause.
"A dream we dream alone is only a dream," he said. "But a dream we dream together is reality."
More winners
Other winners included Katy Perry for best female video, Ed Sheeran for best male video, and Lorde for best rock video. 

Related story: Full list of VMA winners
Moment of silence for Ferguson
Hip-hop artist Common, presenting the award for best hip-hop video, asked the crowd for a moment of silence to honor the events surrounding the shooting of Michael Brown in Ferguson, Missouri. "Hip-hop has always presented a voice for the revolution," he said before requesting the tribute.

Robin Williams remembered
Robin Williams will get a full tribute Monday night at the Emmys, but for some reason he was briefly mentioned in a blink-and-you'll-miss-it photo homage just after Fifth Harmony won the artist to watch award. Fans were split about whether the tribute was touching or cursory.
Fast and furious fashions
Taylor Swift brought a splash of blue to the red carpet in a bright leotard splattered with letters.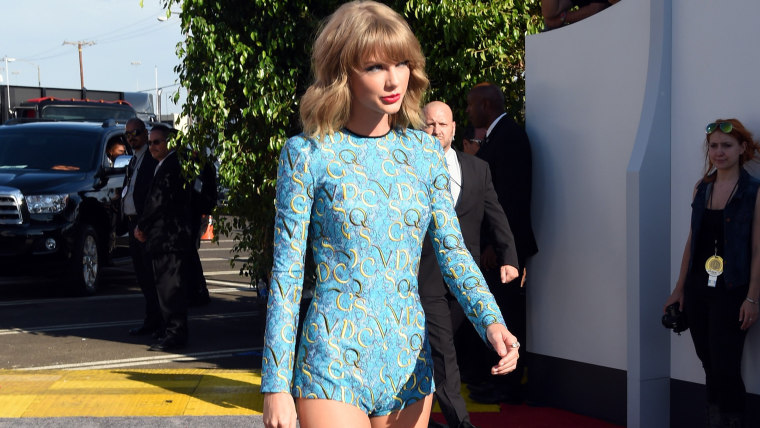 Other red-carpet notables included Amber Rose in a sexy gown made seemingly out of string, Kim Kardashian wrapped in a magic carpet-style dress, and Perry in a denim dress. The youngest fans may have missed the homage, but Perry and rapper Riff Raff, also in denim, were paying homage to Britney Spears' and Justin Timberlake's 2001 American Music Awards outfits.

From meat dresses to snake accessories, the MTV Video Music Awards is known for its stunning — and shocking — looks. Here are 13 of the most memorable coifs the MTV Moonman has ever seen.
Follow Gael Fashingbauer Cooper on Google+.