Call them the women who can't help but give more.
Houston's waterlogged streets were graced with musical royalty on Friday when megastars Janet Jackson and Beyonce toured the city and made stops around the area's shelters that house thousands of flood victims from Hurricane Harvey.
While Janet Jackson took a tour of the city with Houston Mayor Sylvester Turner and visited evacuees at one of the city's largest shelters, Houston native Beyonce helped serve meals and listened to survivors' stories before speaking at a downtown church, St. John's.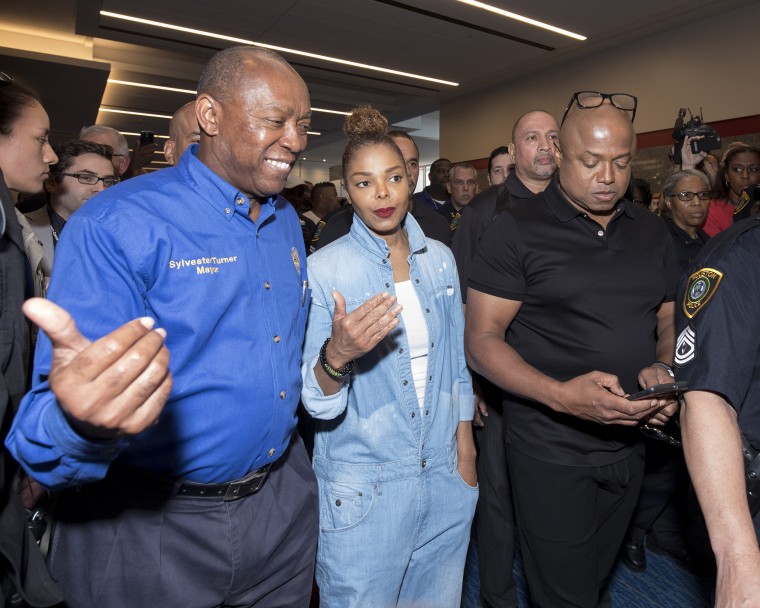 Jackson performs Saturday night in Houston, which was a previously scheduled stop on her 56-city tour, "State of the World."
"I'm here to tell you that we are going to do the show in Houston ... but we're going to roll in early because we want to visit some of the shelters," Jackson told her fans on Twitter on Sept. 6. "And not just visit some of the shelters, we also want to do something special for some of the victims," she said, and promised to see the city on Friday.
The singer, who gave birth to a son in January, was mobbed during her visit to the George R. Brown Convention Center, where 1,600 evacuees are staying. Fans eagerly posted Instagram photos of the star, who greeted people with Randy Jackson.
In one widely-shared post she's seen embracing an elderly woman with a smile.
In an Instagram video, Jackson held a toddler in her arms.
Beyonce, meanwhile, appeared on social media serving people with an organization called Bread of Life. Her mother, Tina Knowles, recapped the day for fans.
According to the Houston Chronicle, Beyonce's appearance came only coincidentally at the same time as Jackson's. The publication reported that St. John's, where she spoke on Friday, was the church she attended as a child. While she was there, Beyonce praised the congregation as an "incredible example of what life and love is." She continued: "This today is a celebration of survival. Y'all are my family. Houston is my home ... All that really matters is your health and your children, and I just want to say I love you."
But those two women weren't the only celebrities in the area to help: Singer Demi Lovato, along with comedian Kevin Hart and NBA star Chris Paul were on hand to package and deliver meals with the Houston Food Bank, and later on Hart and Jennifer Garner also visited the NRG Center shelter, according to the Houston Chronicle.
Hart alone has been helping to raise at least $800,000, thanks to a viral challenge he posted asking his celebrity friends to kick in $25,000 and match his contribution to Harvey recovery efforts.
In another video posted to Instagram, Hart is seen volunteering at a food bank. "In Houston making sure that the money that was raised is being used properly," he captioned the post.
Here are some ways you can help hurricane victims.