Major, established pop stars dominate the nominations for the MTV Video Music Awards this year, with a few artists who broke out in the past year, like Iggy Azalea, Miley Cyrus and Sam Smith, getting recognized in major categories. The awards ceremony will be broadcast live from the Forum in Inglewood, California on Sunday, August 24th at 9 p.m. EST. Ariana Grande, Usher and 5 Seconds of Summer will all perform at the event.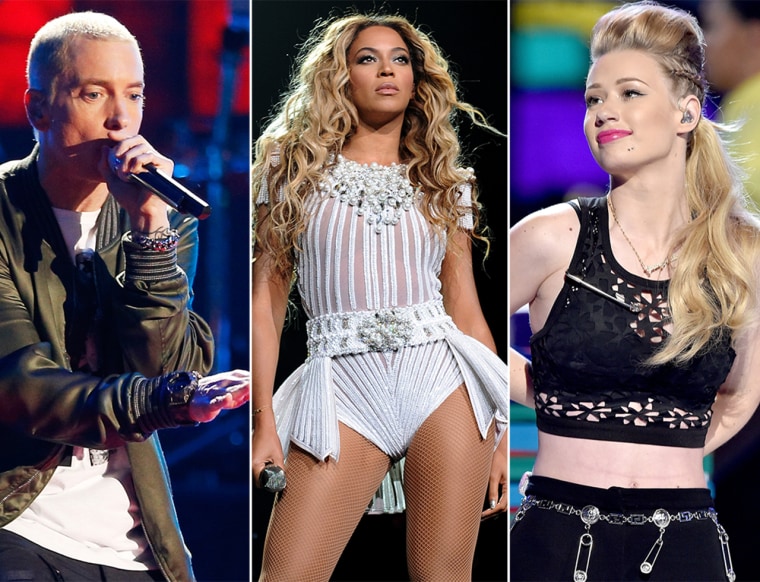 45 Best Albums of the Year So Far
Beyoncé leads the pack with eight nominations, including Video of the Year for her duet with husband Jay Z, "Drunk in Love," as well as for Best Female ("Partition") and Best Choreography (also "Partition"), among others. Eminem is up for seven, including Best Hip Hop Video for "Berzerk," as is Iggy Azalea, whose seven noms include Video of the Year and Best Female (both for "Fancy," her breakout hit recorded with Charli XCX).
Other artists who received multiple nominations include Jay Z, Katy Perry, Miley Cyrus, Pharrell Williams, Ariana Grande, Lorde, Sam Smith, Sia and Avicii. Music fans can vote on several categories on MTV's website. Voting for the MTV Artist to Watch is done by texting a nominee's name to 22444.
Nominees for a new category, Best Lyric Video, which will be voted on via social media, will be announced at a later date.
Click here to see the full list of this year's VMA nominees.
Related stories in Rolling Stone: