/ Source: msnbc.com contributor
Say what you will about BET's regular programming. Yes, it can sometimes be rather whack. But when it comes to award shows, the network that Bob Johnson built and sold usually gets it right.
In fact, the only thing that could have topped Tuesday night's BET Awards '07 at the Shrine Auditorium was if the original Temptations — four of whom are dead — had miraculously come back to life and serenaded lifetime achievement honoree Diana Ross with "My Girl."
Stranger things have happened at the BET Awards and that's why show tickets are harder to score than prime seats at the Academy Awards. On the day before the show I was offered $1,000 for one ticket, but I sensed something special was going to happen so I turned it down.
I'll get that iPhone during the next wave.
"The best thing about this show is that it is always live," said LL Cool J after the show while he was waiting for his limo. "You never know what's going to happen and who's going to pop up. Plus, it's like being at a big family reunion. You don't get this feeling at any other awards show. You just don't. That's why you have to be there."
Added P. Diddy: "It's a party — a straight up party with plenty of food."
Jake Johnson and Damon Wayans Jr. on the "Let's Be Cops," red carpet, Selena Gomez is immortalized in wax and more.
He's right. The show hosted by Mo'Nique, who revisited her infamous 2005 impersonation of Beyonce Knowles with a rendition of B's "Déjà vu," is a virtual buffet of tasty treats.  It's come a long way in the seven years it's been on the air, which is why it's now cable's No. 1-rated awards show and the hottest ticket in town.
And while the show was entertaining from start to finish, there were some audio glitches, time issues — four awards weren't even presented on stage because the show went over — and at least one tribute that kind of fell flat. But thanks to all the surprise appearances, the hot performances and the emotional tributes, the show's weaknesses were easy to overcome.
One of the biggest surprises was the pairing of J.Hud and J.Hol. Oscar winner Jennifer Hudson opened the show by belting out the first few bars of "And I Am Telling You I'm Not Going," and then introduced her favorite "Dreamgirl," Jennifer Holliday, who originated the role that won Hudson an Academy Award in February. Two divas with two big voices put all four of their feet into a number that brought the house down. It was one of those magical moments that spanned generations and even brought a smile to 63-year-old Ross's face.
You could feel that heat 43 rows back!
Strong and loud for Gerald LevertAnd if that sounds as though it was hard to top, it was, but a quartet of old school R&B singers and a new school gospel queen were up to the task. In one of the night's more emotional moments, a teary-eyed Patti LaBelle introduced a tribute to the late Gerald Levert, who died last year from a heart attack at 40. When LaBelle exited stage left, the spotlight shone on Levert's father, O'Jays crooner Eddie Levert who began singing "Wind Beneath My Wings" center stage with video and still images of him and his son looping behind him. Eddie was soon joined by Gladys Knight, Yolanda Adams and LaBelle, who closed it out in a way that only she can. Strong and loud.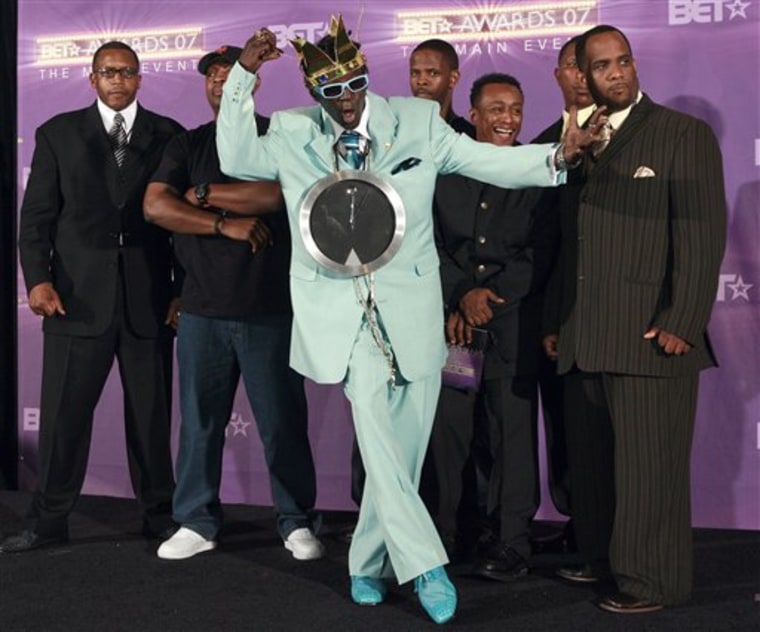 There was hardly a dry eye in the house. Among those shedding tears were P. Diddy, Flava Flav, Alicia Keys and Nelly, who I think might have rusted his grill.
Son, we need to talk about that. It's kind of played out, ya dig?
Other highlights included Knowles' performance, capped by the surprise appearance of her Destiny's Child partners Kelly Rowland and Michelle Williams, as well as her baby sister Solange; P. Diddy and Keyshia Cole being joined onstage by Lil' Kim; Public Enemy reuniting to salute the late James Brown; Don Cheadle's humble and inspiring speech after accepting BET's Humanitarian Award for his efforts to raise awareness about the genocide in Darfur; and Best Hip Hop Artist winner T.I. apologizing for punching the manager of his Dirty South rival Ludacris at a party on Sunday.
One of the most anticipated moments was the salute to Ross, but by that time the energy in the room had waned. Plus, there were a few things that went wrong here. The selected performers — Erykah Badu, Chaka Khan and Stevie Wonder were all less than stellar. It would have been more prudent to have folks like Knowles or Keys in on the tribute, as well as Motown legends like Knight or Martha Reeves.
It was cool, however, that Ross's five kids — Tracee, Evan, Rhonda, Chudney and Ross — presented their mom with her award. And it was even cooler when Ross schooled the new kids about career longevity and sent a special shout-out to Mary Wilson. Their relationship has been rather strained since Ross left The Supremes in 1970.
"And to all the Supremes — especially Mary Wilson — I want to really, really send my love out to her," she said.
Wow. Yet another surprise. I'm sure glad I kept my tickets.
Party over here, party over there
Normally, you never want to show up too early for a Hollywood party. It's kind of like trying to watch streaming videos on your dial-up computer. It's just a good thing. But Tuesday night's parties hosted by Jermaine Dupri, Snoop Dogg, Robin Thicke, BET and Interscope/Geffen/A&M Records were such hot tickets that if you were on the late freight the only door you were going to get in was the one leading to the 24-hour Taco Bell.
Even though I didn't have tickets, a friend told me that he could get me in to the official BET VIP after-party at the Hollywood Roosevelt Hotel's trendy Tropicana Bar. That plan hit a snag when we arrived before him and couldn't get past the beefy security guards who weren't at all sucked in by my considerable charms. Fortunately, another friend was already in the party and arranged for us to get in.
This was definitely the place to be — if you arrived before 9 p.m.
The music was pumping, the free drinks were flowing, the food was edible and everyone was buzzing about Mike Tyson's arrival with Busta Rhymes. Also in the mix were Bootsy Collins, who at one point was playing air bass from the balcony overlooking the pool; Vivica A. Fox shimmering in gold lamé and claiming that she was going to try and "hit every party in town"; NBA all-star Dwyane Wade, who could barely move two inches before someone asked him to pose for another cell phone photo op; and Cedric the Entertainer, who was chilling with a group of friends in a corner booth by the bar.
But about 20 minutes after we arrived a huge crush of people flooded the areas around the pool and the dance floor making it difficult to see or be seen. And the crowd outside had all the locals asking what was happening and when was it going to end.
The second stop was the Dupri party across the street at the Highlands club in the Hollywood & Highland complex. If you weren't in there by 10 p.m., there was a taco supreme in your future because the fire marshal put the club on lockdown.
Although Dupri's main squeeze Janet Jackson wasn't in the mix (she was in Miami), the hip hop mogul had plenty of folks to keep him company. Ne-Yo, winner of the Best Male R&B award was in the house as well as Chris Brown, Doug E. Fresh, Omarion, Ciara, Jordin Sparks, Keyshia Cole, Tichina Arnold and Eve, who claimed she was kind of "partied out" after three straight days of parties leading up to Tuesday's show.
We did roll up to Thicke's party at Mr. Chow's in Beverly Hills, but got our feelings hurt even before we reached the door. "This is a private affair, have a good night," said the guard. In other words, have fun at Taco Bell! Rumor had it that Snoop hadn't even shown up at his party way across town, but when you roll with the Dogg you can't expect anything to jump off before 2 a.m. and it was barely midnight.
And from what I was told through a series of cell calls to various reporter friends, there was no way to get into the Interscope party unless you a) had an agent; b) had won some kind of major award or c) had slept with a rapper with a rap sheet.
"I'll have a bean burrito with no sauce and no onions please."
Miki Turner is a freelance TV producer/writer in Los Angeles. She can be reached at