/ Source: msnbc.com contributor
Mash-up was the major theme at the 47th Annual Grammy Awards. Nominees mashed their songs with the competition. Queen Latifah was mashed into some really bad outfits. Jennifer Lopez and Marc Anthony mashed in public for the first time ever. A bunch of Lifetime Achievement Award announcements were mashed with the real awards. And a few stunning performances were mashed with a whole lot of dull.
A precious few Grammy Awards were actually handed out during Sunday night's live broadcast. The winner's circle included no real travesties or big surprises. The late Ray Charles won the sentimental vote, collecting six awards for "Genius Loves Company" before the show began. He had eight total by show's end, including record of the year for "Here We Go Again with Norah Jones. Grammy kept with tradition and awarded Alicia Keys best R&B album. Green Day rightfully won best rock album for "American Idiot." Grammy also did the right thing awarding music veteran Loretta Lynn best county album for "Van Lear Rose" over newcomer Gretchen "Red Neck Woman" Wilson. John Mayer won song of the year for "Daughters," but really, it wasn't that much worse than any of the other songs nominated. And U2's iPod jingle, "Vertigo" won for best rock performance.
Unfortunately, the much-feared came to fruition when the soon-to-be-forgotten group won for best new artist. Approaching the stage to collect their award, each band member stopped to give fellow nominee Kanye West a big hug. Perhaps Maroon 5, like everyone else, expected a replay of the notorious hissy fit West threw at the American Music Awards after he lost best new artist to Gretchen Wilson. Certainly, the show's producers expected it, as the camera switched to a teeth-gritting West while Maroon 5 made their acceptance speech.
It's all mine!The source of West's apparent irritation was not the loss, but the attention to his reaction. Accepting the much-deserved award for rap album, West took the opportunity to tell everyone what-for. Alluding to the broken jaw he suffered just before recording "The College Dropout," West told the audience, "If you have the opportunity play this game of life, appreciate every moment." He then answered everyone's question. "I know everybody wants to know what I would if I didn't win — I guess we'll never know," he said, holding the gold-plated gramophone over his head.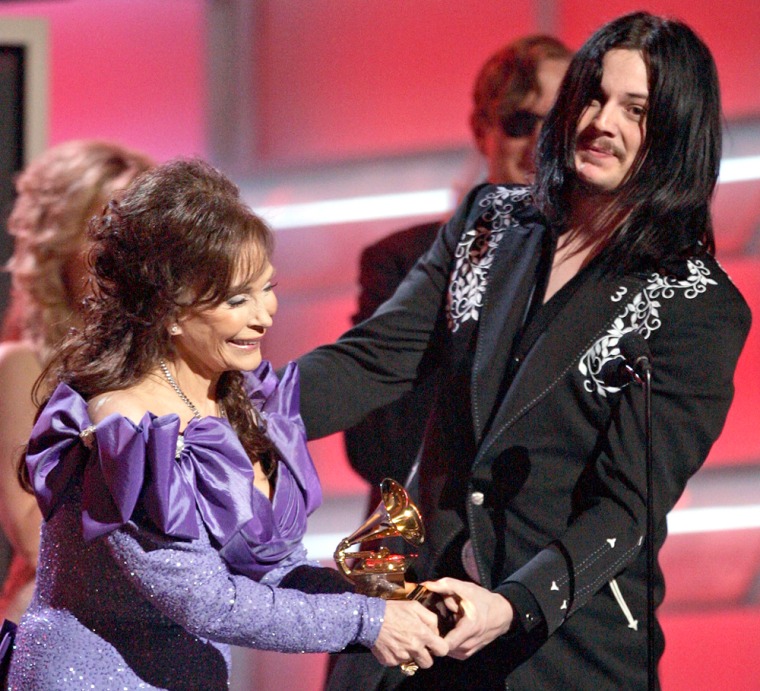 Loretta Lynn provided the other great acceptance speech of the evening. The seemingly tipsy Lynn dragged "Van Lear Rose" producer Jack White (of the White Stripes) to the stage and told the audience, she loved country music and she loved Tim McGraw. Apologizing to the country music star's equally famous wife, Lynn said, "I'm sorry Faith, I can't help it." Lynn then insisted White spend some time at the mic, chastising him for not thanking enough people. While White tried to defer to her legend, Lynn was determined to share the victory.
Water-cooler moments no doubt include the star-packed real-live mash up featuring Black Eyed Peas, a pantless Gwen Stefani and Eve, Maroon 5, Los Lonely Boys and Franz Ferdinand, as the Grammy promos shouted, "ALL IN THE FIRST FIVE MINUTES!" Linked via the Peas, "Let's Get It Started," each act got to perform a truncated version of their own big hit before the Peas hopped on each of the four stages to bring it back down to their own stadium anthem. While "Started" will never be the "Hey Ya!" Grammy producers pretend it is, this was one tight and entertaining performance. Obviously everyone stayed after school to practice. Audience reactions included a chest-thumping "much love" from Usher and a glazed stare from Ellen DeGeneres (who was totally sitting with Portia de Rossi — they are so dating!)
Green Day smoked the stage with a kick-butt performance of "American Idiot," complete with strobe lights and pyrotechnics. Kanye West, Mavis Staples and the Blind Boys of Alabama performed what amounted to a three-act play set around West's song "Jesus Walks." Melissa Etheridge won more than the sympathy vote when she emerged bald-headed post-cancer treatment to wipe the floor with Joss Stone during a tribute to Janis Joplin. All deserved the standing ovations they received. Meanwhile, Tim McGraw's performance got a one-person standing ovation from McGraw's currently brunette wife, Faith Hill.
Bilingual star power
Marc Anthony and Jennifer Lopez's much-anticipated first live performance together as husband and wife or whatever was more confusing than anything else. Sung completely in Spanish, the duet was performed on a set that appeared like a hotel bedroom, while Anthony and Lopez acted out some sort of romantic conflict. To the non-Spanish speaking members of the audience, it might have seemed as if the channel skipped to a Latin soap opera on UHF.
Equally annoying and confusing was the off-key Southern Rock tribute performed by Tim McGraw, Gretchen Wilson and a couple of dudes from the Allman Brothers and Lynyrd Skynyrd. The medley started out predictably enough with State Fair favorite, "Free Bird," and in the end became "Sweet Home Alabama," with Wilson stepping in to sing those famous anti-Neil Young lyrics, "Well I hope Neil Young can remember, a Southern man don't need him around anyhow." C'mon Gretchen! There's no room for negativity at the Grammys! Hate the player, not the game!
Perhaps Wilson shed some of the negativity during the obligatory all-star Tsunami Relief performance of "Across the Universe." As Bono and Stevie Wonder began the song, it was almost as if they had reassembled the old cast from "We are the World," until the kids like Alicia Keys and Billy Joe from Green Day joined in. The well-intentioned, if mediocre performance was followed by a Grammy official who urged viewers to log on to CBS.com and iTunes.com and donate, and oh yeah, just like last year, don't steal music off the Internet.
Oh yeah! Queen Latifah allegedly hosted the Grammys. You wouldn't know it though, because after a few lame jokes, unflattering costume changes, and a performance from her Jazz standards LP, "The Dana Owens Album," the Queen was MIA for most of the evening. Only her pre-recorded introductions remained to eerily remind us of her host status. In her stead appeared a couple of stars from CBS crime dramas, "CSI: New York" and "Without a Trace." The Grammys, after all, are on CBS.
During U2's acceptance speech, Bono commented on how this was the best Grammys ever. Funny, one would think he's been to more than one.
Helen Popkin lives in New York and is a regular contributor to MSNBC.com.