From Sting to Kanye West to Justin Bieber, virtually no one turned down the chance to appear in "Zoolander No. 2" — even TODAY's Matt Lauer. But former first lady Laura Bush did — and now we know she made a very wise decision.
Turns out that, if she had said yes, director and star Ben Stiller was planning to cast her in an orgy scene!
"There is a group of people that Hansel, Owen [Wilson's] character, is having a relationship with — a group of people — and I was going to ask her to be a member of that group," Stiller told Lauer on TODAY Tuesday.
RELATED: Kristen Wiig, Will Ferrell dish to TODAY about their make out scene in 'Zoolander No. 2'
Back in January, we learned from TODAY correspondent Jenna Bush Hager that her mother had declined a chance to appear in the film.
But it wasn't until today that we learned the back story to that rejection.
As Stiller explained, he did work up the courage to ask Mrs. Bush to be in the film — minus any specifics.
MORE: Ben Stiller sets selfie stick Guinness World Records at 'Zoolander 2' premiere
"And she was so smart to politely say no," Stiller said.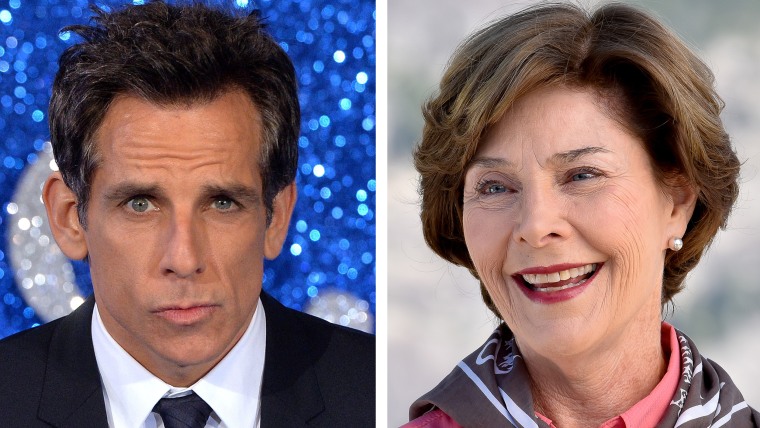 "Actually, I just asked her if she would be interested; she politely declined and then I was so glad I didn't have to ask her to be a part of this group of people Hansel's having a relationship with," he added.
MORE: Will Ferrell, Kristen Wiig talk their hilarious make out scene in 'Zoolander 2'
"'Group' is the key word here," Lauer clarified. "You [almost] asked Laura Bush to be part of an orgy scene in 'Zoolander 2.'"
"Yes. That is correct," Stiller said with a laugh. "When the reality ... came out of my mouth I realized I was insane."
And we have to agree, things did work out for the best.
"Zoolander No. 2" opens in theaters on Friday, Feb. 12 .
Follow Randee Dawn on Twitter.