It almost happened: Matt Damon was nearly a guest on "Jimmy Kimmel Live!" Sunday night.
Fans of the late-night show know there's a long-running joke that has led to Damon essentially being permanently banned from being a guest. But that hasn't stopped him from trying — or enlisting mutual friend Ben Affleck from attempting to mend fences.
Affleck walked onto the stage of Kimmel's post-Oscars special Sunday looking a little ... bulky underneath a button-down winter coat. "I hate to say it, but you've ballooned," said Kimmel.
"I didn't know tonight was about body shaming," Affleck shot back.
Needing to get to the bottom of the mystery, Kimmel unbuttoned the coat and revealed ... a hidden Damon, delighted to finally have made it onto the show as a guest.
The audience was naturally delighted, but Kimmel was not. "You are ruining my Oscars show!" he shouted, then had Damon wheeled off the set.
MORE: 8 reasons why Matt Damon is a star worth loving
For those who haven't been keeping track, Kimmel has never seemed to have the time to work Damon into his guest lineup. He's been serially "bumped" from the show so much Kimmel often ends an episode with "Our apologies to Matt Damon; we ran out of time."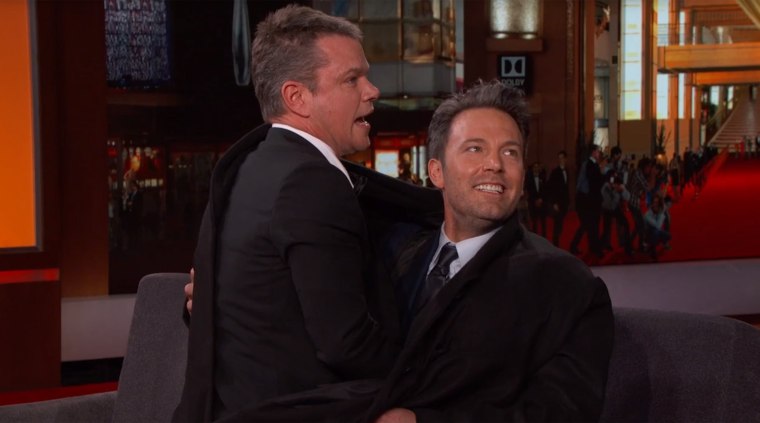 When Kimmel made a 2012 Oscars parody called "Movie: The Movie," Damon's brief clip got cut, leading to his storming out of the studio. Then there's the infamous "I'm [expletive] Matt Damon" video created by Kimmel's ex-girlfriend Sarah Silverman from 2008, which probably didn't improve matters between the pair.
MORE: Jimmy Kimmel pranks 'Estupido' Matt Damon during 'Elysium' interview
And in 2013, Damon took over the entire "Live" show and renamed it "Jimmy Kimmel Sucks," during which he held the host bound and gagged for most of the episode.
So this was a peace mission doomed from the start. But points to Affleck and Damon for trying! If Damon can get himself off Mars, surely he can some day get himself on Kimmel.
Follow Randee Dawn on Twitter.