Ben Affleck wasn't among the famous faces who showed up in Venice over the weekend to attend George Clooney and Amal Alamuddin's wedding, because, as he joked to TODAY's Matt Lauer, "Some of us have to work!"
As it turns out, Affleck was hard at work promoting his new big-screen mystery, "Gone Girl," on his pal's big day.
That was just one of the topics he talked about Monday morning. Here are a few of the best bits:
On whether or not 'Gone Girl' could affect real-life relationships: "It's not hostile to the institution of marriage. It just asks searingly honest questions."


On the backlash he faced after it was revealed that he would play Batman in the upcoming 'Batman v Superman: Dawn of Justice': "You have all of this attention — some of it's positive, some of it's negative. I think, in the end, you make the movie and it either works or it doesn't."


On the impact Robin Williams had on him and Matt Damon: "They weren't going to make 'Good Will Hunting' without a star, and Robin was the biggest star in the world. … He took a shot at two nobodies, made the movie, and it made our careers."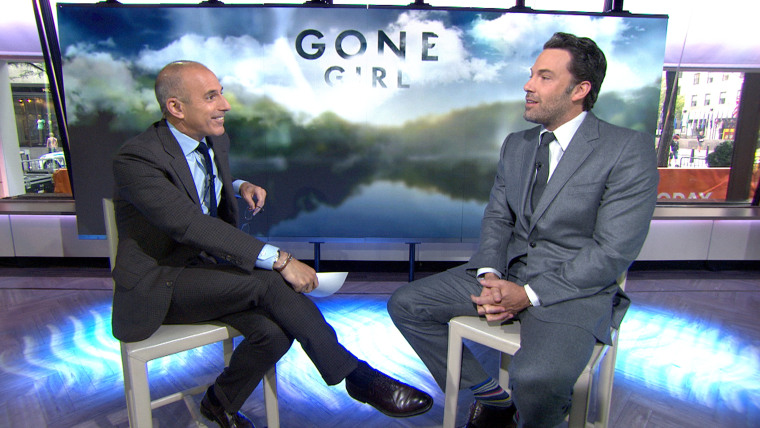 "Gone Girl" hits theaters Oct. 3, but fans waiting to get a glimpse of Affleck as the Caped Crusader will have to wait much longer. "Batman v Superman" is set to come out March 2016.
From acting in "Good Will Hunting" to doing good works as an activist — and finding happiness as a husband and father.
Follow Ree Hines on Google+.